How to make money on bouquets of fruits.
Eating of bouquets has not become a common practice, therefore, it is easy to be seen among friends and friends as a great original. We give a head to the cut-off, that, having come to visit with a fruit bouquet, at least for 15 minutes will become the most popular person on the holiday. On this human weakness, some individuals manage to earn well. And as calculations show no less than 3.5 thousand UAH per month.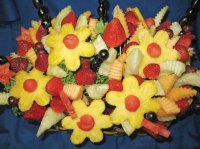 Advantages for the business of making fruit compositions are two. The first is a free niche, which is not hard to see. The second is the minimum starting investment.
For the organization of the "bouquet business" it will require a room for the production of compositions, refrigeration equipment for storing fruits and berries, figured knives for their processing, baskets, skewers, devices for fastening products to the bouquet, and also manpower. To start the whole thing from scratch, it will take at least 2 people - a direct executor-technologist, as well as a buyer of products that will carry out courier delivery of ready-made tracks.
Now calculate the minimum starting amount. So, for renting premises for the production of fruit compositions, you will have to spend no more than 3 thousand UAH. per month. In the long term, prices will decline, and since the requirements to the office are minimal in this case - there is no need for a facade, city center, crowded place, etc., this expense item is very easily amenable to a smaller one.
Next, you need to purchase refrigeration equipment. At the initial stage it will be enough to have 2 refrigerators for 2 500 UAH. each. Total: 5 thousand UAH. To purchase knives, appliances for slicing fruit and fastening a bouquet, you will initially need 1 thousand UAH. In the future, these costs can be transferred to variables, as the devices lose their properties.
And, of course, it will be necessary to purchase fruits and berries. This sweet pleasure will devastate your pocket for another thousand UAH. But again, the amount will depend on the season and the ability to find a common language with the sellers.
Price idea «Fruit atelier», UAH

Items of expenditure, UAH

One-time

Monthly

Refrigeration equipment
5000
Knifes, molds for carving
500
Fruits and berries:
Pineapple, 5 kg
200
Strawberries, 4 kg
150
Grapes, 4 kg
150
Melon, 4 kg
150
Kiwi, 5 kg
100
Apples, 5 kg
100
Orange, 5 kg
50
Grapefruit, 5 kg
50
Mango, 3 kg
50
TOTAL for fruit
1000
Premises for rent
3000
Baskets, skewers and other fasteners
500
Salary of staff
3500
Advertising costs
500
Total expenses
5500
8500
It should be noted that the costs of purchasing fruit and berries are given at the maximum, so-called "off-season" prices, as these products can be bought all year at inflated prices. The list of products listed in the table is purchased within a month as required.
The ratio of fruits can vary depending on technological skills and imagination. In our case, we will calculate this volume as a one-time purchase. If you consider that the average weight of one bouquet is 1 kg, then with this set of products you can make 40 bouquets. And you can make bouquets not only from fruits but also from vegetables. View the master class for the production of bouquets from vegetables.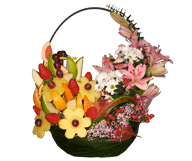 Analyzing the market segment of this product, it should be noted that the average cost per kilogram of fruit bouquet fluctuates within 300 UAH. Thus, the average monthly income will be 12 thousand UAH.
Given that the average monthly expenses are about UAH 3,500, it is easy to calculate the expected profit - UAH 3,500. per month. Little? So after all it from start. Moreover, even this amount of profit will allow you to recoup the initial costs within the first three months.
Beautiful and to the same delicious bouquet can be effectively advertised in the press, the Internet, postal dispatch. An unexpected and bright fruit bouquet will always be a pleasant gift for any holiday.
A source: Kontrakty.ua