Full, constantly updated map of Electricity in Kiev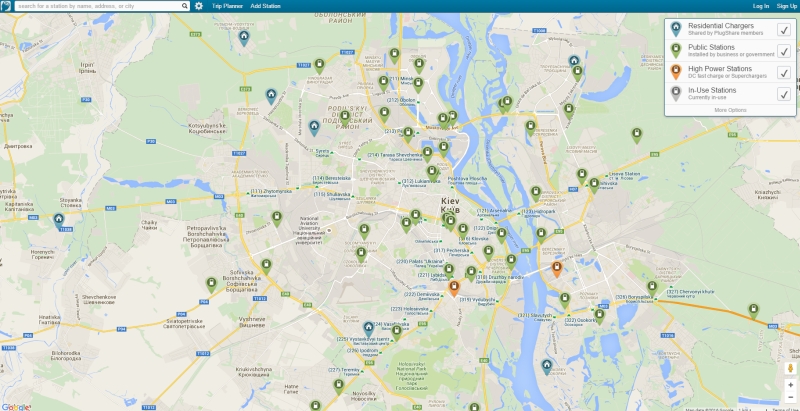 An electric car is a car driven by one or more electric motors powered by an independent source of electricity (batteries, fuel cells, etc.), and not by an internal combustion engine. An electric car should be distinguished from cars with an internal combustion engine and electric transmission, as well as from trolley buses and trams.
And in Kiev, already really dofiga electric stations. More than in Moscow - a fact. In Ukraine, in general, there were many electric stations. In the direction of Lviv, Kharkov - every 70 km.

Electric car - Wikipedia, the free encyclopedia.
Kiev electric stations put on the world map
Users of electric cars will become easier to navigate. On the world map of electric stations put three public points of charging of electric vehicles installed in Kiev.
The map is convenient in that it shows both the usual charging points for electric cars and the points where devices for express refueling of cars are installed.
You can also find out on the given map which electric vehicle charging points are currently occupied and which ones are free. However, it is worth noting that at the moment Kiev refills do not allow charging electric vehicles in express mode (up to 80% in 1-1.5 hours).
To date, there are three public filling stations for electric vehicles in Kiev: at OKKO gas stations (at the intersection of Moskovsky Prospects and Heroes of Stalingrad), at WOG gas stations (Naddnipryanskoe Highway 8) and near the Mitsubishi auto show on Podol (Naberezhno-Lugovaya Street 4 ). A gas station on Vozdvizhenka, near Crab's Burger, should open soon.
It is worth recalling that the first electric refueling station in Ukraine, which opened in 2012, initially charged cars for free.
In Kiev (ul. Konstantinovskaya, 57) yesterday opened another electric refueling station. There are already several of them in the capital.