"Tsapev - fascism! Boone from Ukraine!", - the people's deputy arranged a "warm" reception in Nikolaev. VIDEO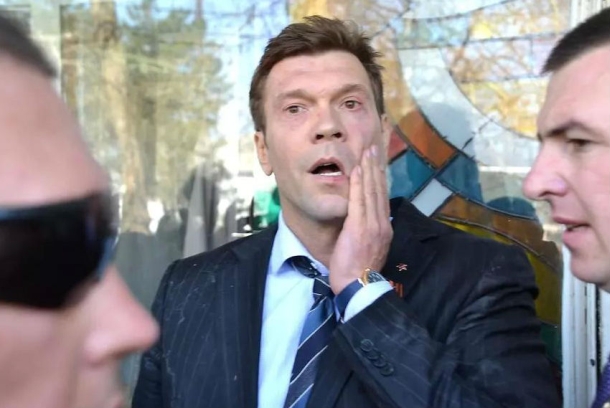 The presidential candidate, People's Deputy Oleg Tsarev was given the promised "warm welcome" in Nikolaev.
Tsarev came to visit Putin's supporters in the Emergency Hospital who suffered during the demolition of a tent camp near the monument to the Heroes-Alshans. The day before, during a live broadcast on TV, one of the leaders of the People's Militia of Nikolaev, Alexander Yantsen, promised the pro-Russian people's deputy Tsarev to show the anger of the people if he came to Nikolaev.
When the people's deputy Tsarev got out of his car and headed to the entrance to the hospital, Yantsen approached him with several activists and asked him: "Why did you come here?" Tsarev was thrown with chicken eggs.
After that, a verbal skirmish began, to which Tsarev reacted and began to shout at Yanzen, using profanity at the same time. Then Yantsen hit the candidate in the face, and brawls began, during which Oleg Tsarev himself pushed his bodyguards and climbed into the fray. Tsarev once again got his fist in the face.
The people's deputy escaped from the crowd and began to go to the entrance to the hospital. People blocked his way to prevent him from passing. As a result, the people's deputy was stopped on the porch. People shouted: "Get out, Russian fascist!"
The blows on Tsarev's face were so strong that bruises appeared almost immediately.