Agapanthus (African lily) / Agapanthus
Refers to the family of the lily. Fatherland - South Africa.
General description: A fairly large herbaceous plant. Ribbon leaves reach 50cm. Throws arrows with blue inflorescences (adult specimens over 100 umbrellas). Blossoms throughout the warm period every five to six years. Fleshy roots. It's unpretentious. Translated from Greek means the flower of passion.
Recommendations for caring for the plant Agapanthus:
Illumination: Loves the light, shading does not bloom.
Irrigation regime: In summer it is abundant, in winter unusual, especially in cool conditions, to avoid decay. Water is well defended, so that the land does not become alkaline, rain or melt water is useful.
Humidity of the atmosphere: In spraying does not need.
Temperature regime: Moderate. In winter it is better to have in a cool room up to 6 ° C.
Soil: Drainage is mandatory. It is allowed to add charcoal. The soil is acidic or weakly acidic. When a snow-white deposit appears on the surface of the soil, the top layer must be replaced. Recommended soil mix: 2 elements of humus, 2 elements of clay-turf ground, 2 elements of leaf ground and 1 share of sand. In the warm season requires mineral fertilizing for flowering plants ("Rainbow", "Ideal", etc.) every two weeks.
Breeding: Seeds or crushing of the bush after flowering.
Transfer: Transplant every three to four years. Do not transplant until until the bush does not grow and the pot will not become too small. Care must be taken with the roots during transplantation.
Pests: In an extremely dry atmosphere, a scarlet spider mite may be affected in a place. Perhaps it looks like defeat with scutes.
In such cases, plants are treated with a soap sponge, then sprayed with the solution of an actinic (1-2 ml per 1 liter of water).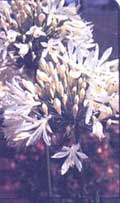 agapanthus (African lily) - agapanthus