2014 FIFA World Cup Brazil / World Cup 2014 (Facts, statistics, infographics)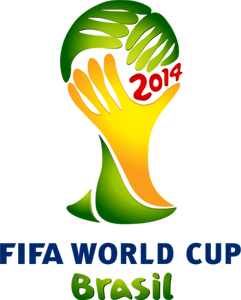 World Cup 2014 (port. Copa do Mundo FIFA de 2014, Eng. 2014 FIFA World Cup) - the 20th FIFA World Cup , the final tournament which takes place from June 12 to July 13, 2014 in Brazil.
The opening match between the national teams of Brazil and Croatia took place at the Arena Corinthians in Sao Paulo.
The final match will be held at the Maracana Stadium in Rio de Janeiro.
World Cup 2014 (Online Statistics)
World Cup 2014. The final
| | | | | | |
| --- | --- | --- | --- | --- | --- |
| | Germany | 1: 0 | Argentina | | 07.13.14 |
World Cup 2014. Final for 3rd place
| | | | | | |
| --- | --- | --- | --- | --- | --- |
| | Brazil | 0: 3 | Netherlands | | 07/12/14 |
World Cup 2014. 1/2 finals
Brazil
1: 7
Germany
07/08/14
Netherlands
0-0
(2: 4)
Argentina
07/09/14
World Cup 2014. 1/4 finals
France
0: 1
Germany
07/04/14
Brazil
2: 1
Colombia
07/04/14
Argentina
1: 0
Belgium
07/05/14
Netherlands
0-0
(4: 3)
Costa Rica
07/05/14
World Cup 2014. 1/8 final
Brazil
1: 1
(3: 2)
Chile
06/28/14
Colombia
2: 0
Uruguay
06/28/14
Netherlands
2: 1
Mexico
06/29/14
Costa Rica
1: 1
(5: 3)
Greece
06/29/14
France
2: 0
Nigeria
06/30/14
Germany
2: 1
Algeria
06/30/14
Argentina
1: 0
Switzerland
07/01/14
Belgium
2: 1
USA
07/01/14
World Cup 2014. Group A
| | | AND | AT | H | P | H | - | P | ABOUT |
| --- | --- | --- | --- | --- | --- | --- | --- | --- | --- |
| one. | Brazil | 3 | 2 | one | 0 | 7 | - | 2 | 7 |
| 2 | Mexico | 3 | 2 | one | 0 | four | - | one | 7 |
| 3 | Croatia | 3 | one | 0 | 2 | 6 | - | 6 | 3 |
| four. | Cameroon | 3 | 0 | 0 | 3 | one | - | 9 | 0 |
| | | | | | |
| --- | --- | --- | --- | --- | --- |
| | Brazil | 3: 1 | Croatia | | 12.06.14 |
| | Mexico | 1: 0 | Cameroon | | 13.06.14 |
| | Brazil | 0-0 | Mexico | | 06/17/14 |
| | Cameroon | 0-4 | Croatia | | 06/19/14 |
| | Cameroon | 1: 4 | Brazil | | 06.23.14 |
| | Croatia | 1: 3 | Mexico | | 06.23.14 |
World Cup 2014. Group B
| | | AND | AT | H | P | H | - | P | ABOUT |
| --- | --- | --- | --- | --- | --- | --- | --- | --- | --- |
| one. | Netherlands | 3 | 3 | 0 | 0 | ten | - | 3 | 9 |
| 2 | Chile | 3 | 2 | 0 | one | five | - | 3 | 6 |
| 3 | Spain | 3 | one | 0 | 2 | four | - | 7 | 3 |
| four. | Australia | 3 | 0 | 0 | 3 | 3 | - | 9 | 0 |
| | | | | | |
| --- | --- | --- | --- | --- | --- |
| | Spain | 1: 5 | Netherlands | | 13.06.14 |
| | Chile | 3: 1 | Australia | | 06/14/14 |
| | Australia | 2: 3 | Netherlands | | 06/18/14 |
| | Spain | 0: 2 | Chile | | 06/18/14 |
| | Australia | 0: 3 | Spain | | 06.23.14 |
| | Netherlands | 2: 0 | Chile | | 06.23.14 |
World Cup 2014. Group C
| | | AND | AT | H | P | H | - | P | ABOUT |
| --- | --- | --- | --- | --- | --- | --- | --- | --- | --- |
| one. | Colombia | 3 | 3 | 0 | 0 | 9 | - | 2 | 9 |
| 2 | Greece | 3 | one | one | one | 2 | - | four | four |
| 3 | Ivory Coast | 3 | one | 0 | 2 | four | - | five | 3 |
| four. | Japan | 3 | 0 | one | 2 | 2 | - | 6 | one |
| | | | | | |
| --- | --- | --- | --- | --- | --- |
| | Colombia | 3: 0 | Greece | | 06/14/14 |
| | Ivory Coast | 2: 1 | Japan | | 06/15/14 |
| | Colombia | 2: 1 | Ivory Coast | | 06/19/14 |
| | Japan | 0-0 | Greece | | 06/20/14 |
| | Japan | 1: 4 | Colombia | | 06.24.14 |
| | Greece | 2: 1 | Ivory Coast | | 06.24.14 |
World Cup 2014. Group D
| | | AND | AT | H | P | H | - | P | ABOUT |
| --- | --- | --- | --- | --- | --- | --- | --- | --- | --- |
| one. | Costa Rica | 3 | 2 | one | 0 | four | - | one | 7 |
| 2 | Uruguay | 3 | 2 | 0 | one | four | - | four | 6 |
| 3 | Italy | 3 | one | 0 | 2 | 2 | - | 3 | 3 |
| four. | England | 3 | 0 | one | 2 | 2 | - | four | one |
| | | | | | |
| --- | --- | --- | --- | --- | --- |
| | Uruguay | 1: 3 | Costa Rica | | 06/14/14 |
| | England | 1: 2 | Italy | | 06/15/14 |
| | Uruguay | 2: 1 | England | | 06/19/14 |
| | Italy | 0: 1 | Costa Rica | | 06/20/14 |
| | Italy | 0: 1 | Uruguay | | 06.24.14 |
| | Costa Rica | 0-0 | England | | 06.24.14 |
World Cup 2014. Group E
| | | AND | AT | H | P | H | - | P | ABOUT |
| --- | --- | --- | --- | --- | --- | --- | --- | --- | --- |
| one. | France | 3 | 2 | one | 0 | eight | - | 2 | 7 |
| 2 | Switzerland | 3 | 2 | 0 | one | 7 | - | 6 | 6 |
| 3 | Ecuador | 3 | one | one | one | 3 | - | 3 | four |
| four. | Honduras | 3 | 0 | 0 | 3 | one | - | eight | 0 |
| | | | | | |
| --- | --- | --- | --- | --- | --- |
| | Switzerland | 2: 1 | Ecuador | | 06/15/14 |
| | France | 3: 0 | Honduras | | 06/15/14 |
| | Switzerland | 2: 5 | France | | 06/20/14 |
| | Honduras | 1: 2 | Ecuador | | 06/21/14 |
| | Honduras | 0: 3 | Switzerland | | 06.25.14 |
| | Ecuador | 0-0 | France | | 06.25.14 |
World Cup 2014. Group f
| | | AND | AT | H | P | H | - | P | ABOUT |
| --- | --- | --- | --- | --- | --- | --- | --- | --- | --- |
| one. | Argentina | 3 | 3 | 0 | 0 | 6 | - | 3 | 9 |
| 2 | Nigeria | 3 | one | one | one | 3 | - | 3 | four |
| 3 | Bosnia | 3 | one | 0 | 2 | four | - | four | 3 |
| four. | Iran | 3 | 0 | one | 2 | one | - | four | one |
| | | | | | |
| --- | --- | --- | --- | --- | --- |
| | Argentina | 2: 1 | Bosnia | | 06/16/14 |
| | Iran | 0-0 | Nigeria | | 06/16/14 |
| | Argentina | 1: 0 | Iran | | 06/21/14 |
| | Nigeria | 1: 0 | Bosnia | | 06/22/14 |
| | Nigeria | 2: 3 | Argentina | | 06.25.14 |
| | Bosnia | 3: 1 | Iran | | 06.25.14 |
World Cup 2014. Group G
| | | AND | AT | H | P | H | - | P | ABOUT |
| --- | --- | --- | --- | --- | --- | --- | --- | --- | --- |
| one. | Germany | 3 | 2 | one | 0 | 7 | - | 2 | 7 |
| 2 | USA | 3 | one | one | one | four | - | four | four |
| 3 | Portugal | 3 | one | one | one | four | - | 7 | four |
| four. | Ghana | 3 | 0 | one | 2 | four | - | 6 | one |
| | | | | | |
| --- | --- | --- | --- | --- | --- |
| | Germany | 4: 0 | Portugal | | 06/16/14 |
| | Ghana | 1: 2 | USA | | 06/17/14 |
| | Germany | 2-2 | Ghana | | 06/21/14 |
| | USA | 2-2 | Portugal | | 06.23.14 |
| | USA | 0: 1 | Germany | | 06/26/14 |
| | Portugal | 2: 1 | Ghana | | 06/26/14 |
World Cup 2014. Group H
| | | AND | AT | H | P | H | - | P | ABOUT |
| --- | --- | --- | --- | --- | --- | --- | --- | --- | --- |
| one. | Belgium | 3 | 3 | 0 | 0 | four | - | one | 9 |
| 2 | Algeria | 3 | one | one | one | 6 | - | five | four |
| 3 | Russia | 3 | 0 | 2 | one | 2 | - | 3 | 2 |
| four. | South Korea | 3 | 0 | one | 2 | 3 | - | 6 | one |
| | | | | | |
| --- | --- | --- | --- | --- | --- |
| | Belgium | 2: 1 | Algeria | | 06/17/14 |
| | Russia | 1: 1 | South Korea | | 06/18/14 |
| | Belgium | 1: 0 | Russia | | 06/22/14 |
| | South Korea | 2: 4 | Algeria | | 06/22/14 |
| | South Korea | 0: 1 | Belgium | | 06/26/14 |
| | Algeria | 1: 1 | Russia | | 06/26/14 |
The data is automatically updated every 2 hours, the latest update date: 15 January 2015 12:55
And - games
B - won
H - draws

P - losses
W - clogged
P - skipped
O - glasses
Final tables of groups: 2014 FIFA World Cup Brazil World Cup 2014 (INFOGRAPHICS)