Your Questions The Sims Free Play - From Babies to Teens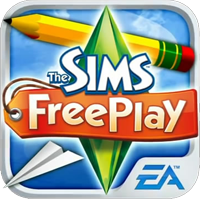 The Sims FreePlay is a free game for devices with Apple iOS operating systems (since December 15, 2011), Android (since February 15, 2012), Kindle Fire (since October 2012), BlackBerry 10 (since July 31, 2013) and Windows Phone, which was developed by EA Mobile, and later in conjunction with Firemonkeys Studios. The application makes it possible to create your own town, fill it with completely different characters and develop relations between them, all this - right from your device. Unlike other games in the The Sims series, The Sims FreePlay comes in real time. In the game you can reach level 52 and create 31 sims.
Having taken part in a closed preliminary screening of the latest EA game for iOS, built on the model of "freemium" (from translation.-business model, according to which the basic services are provided free of charge, but for the additional ones you need to pay), we hasten to share a few screenshots, as well as first impressions .
"GAME" - Internet lotto with games and online casinos.
"GAME" is an online lotto with intuitive games and an online casino.
Exclusive games, automatic player registration during the first game, the presence of undeniable evidence of the honesty of all the games presented - "MD5 + ZIP non-interference control", high payout (> 90%), instant input / output - this is only a partial list of pleasantly distinguishing features of the project.
http://igrun.com - lotto and casino on one site!
Gameplay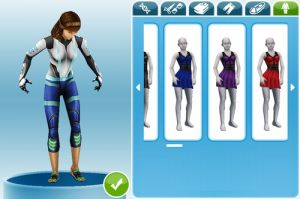 Six million players are already playing The Sims Social for Facebook, so we can assume that the new free version of the EA classic for iPhone, iPad and iPod Touch, called The Sims Freeplay, will definitely receive its well-deserved share of the downloads in the AppStore app store.
The gameplay is simple and consists of performing various tasks, from gardening outside the window of your Sim's house with the goal of earning money to raising the mood of your wards with snacks and sleep. All these actions take a certain amount of time - and since life in The Sims Freeplay flows in real time, you better sometimes look at how your Sims are doing there, without throwing the game away for long hours.
Sim creation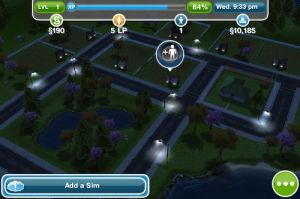 Since The Sims 3 Freeplay has many possibilities for creating unique characters, it makes sense to spend a little more time on this process, as something tells us that you will spend quite a lot of time with the Sims you created.
The game allows you to create up to 16 Sims, giving you the freedom to choose the details: from the hairstyles and the color of the eyes of the Sim to his clothes and shoes. Character traits range from Zaumny to Villain - however, if you do not want to spend too much time creating a character, you can always just press the random selection button.
Premium game example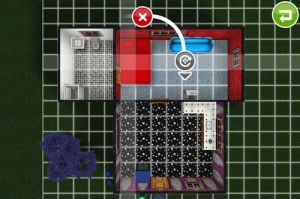 The Sims 3 Freeplay, like us, lives on day and night, and any action to earn money and game points takes a certain number of minutes or hours. However, as an alternative, simoleons and game points can be purchased for real hard currency in the allotted store. Players can also reduce the time required to complete an action using already earned game points.
As you rise in levels, you can add more Sims to the game, moving them to the residential areas of your city. Remember the codes to increase the amount of money from the games of the Sims series for PC? Yes, and we remember, however, no such features have been found for the iOS version at the moment. Most likely, the reason for this is EA's desire to sell simoleons to players for real currency.
Furnish your home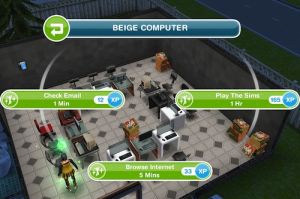 Part of the The Sims game's fun is decorating your bachelor's home - not just what we could afford to buy the latest home technologies for, but we still had to spend on the necessary items in Shopping Mode.
As for the theme of the house, we preferred a sci-fi style clever programmer's home to a medieval castle, stuffed with old computers and pizza boxes. Over time, players can also change city parks and shops to their taste - however, patience is worthwhile before opening this opportunity.
Version for iPhone, iPad and iPod Touch
Although we tested the preliminary version of The Sims Freeplay only on the iPhone, we are still confident that the game will look no worse, but rather even better on iPad devices. And, at first glance, EA is not going to cheat on those fans of the series who are not ready to pay real money for digital bonuses for their wards - so do not let the freemium model of the game scare itself away earlier than necessary.
In the fourth add-on, The SIMS 3: All Ages, everything revolves around the Sims, around their daily lives.
Questions Regarding Babies and Adolescents
Addon brought a lot of new things for the younger generation of Sims. Whether there is a kindergarten or a university in the new addition, you can find out in this section.
Babies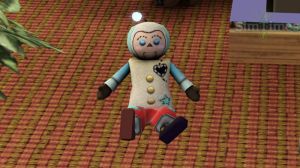 What new interactions have the smallest?
Babies have no specific innovations. However, Sims almost immediately after birth can receive an Imaginary friend, who is delivered in the form of a doll in a package and can be presented to a child as a toy.
Toddlers and children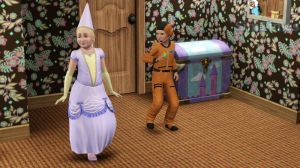 Will children play role-playing games together or singly?
Thanks to the new toy box with costumes, children will be able to turn into a dinosaur, prince / princess or astronaut, and then play with each other. One suit will have 3 color options.
Will the children be able to do something dressed in these costumes or will they only behave in accordance with the image?
Children completely associate themselves with their new role. For example, the Dinosaur does not walk, but runs with wide strides and with a fierce grimace on his face. Young "Godzilla" loves to destroy built sand castles and kick toy houses. Princesses, just like little fairies, move gracefully, waving the "magic wand" at any opportunity.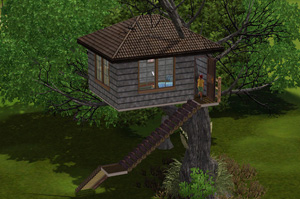 What specifically will children be able to do in the new tree houses?
Children can play in the house as if they were playing in a small children's club, or repel an attack by pirates, as well as they can pour water on other Sims and sleep in the same house. On occasion, children can look through a telescope from a window or slide down a hill. So that no one would catch them, they again quickly climb up the ladder. In addition, the child may limit the possibility of other children entering the house. For example, girls establish a "qualification" - no boys in their house or vice versa.
Will there be a kindergarten?
No, in our understanding there will be no kindergarten.
Will children be able to play any musical instruments?
Musical instruments offered in the purchase mode, as it turned out later, cannot be used by children. Nevertheless, children will probably be able to play some instruments in the out-of-school Musical Circle. Since we did not try to study there, unfortunately, we just can't say whether the child can play there or not.
Are there any toys with which the child can develop skills?
No, we did not find those.
Teens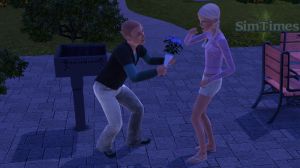 How far can teenagers go in romantic relationships? Teens can already choose romantic interactions with each other. Of course, there were new romantic interactions to choose from in The SIMS 3 expansion All ages. Sim teenager will be able to give a bouquet of flowers or sitting as a widow on the ground, look at the stars. In the latter case, it will be possible to hold another Sim's hand.
Will teens be able to kiss while looking at the stars? No, unfortunately, this is not possible. When the Sims want to kiss, they will stand up and everything will go on as usual.
Is teenage pregnancy possible? No, because they don't have wohoo in interactions.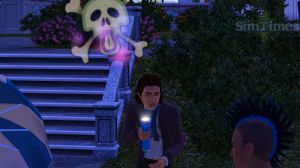 What is leprosy and what is necessary for their implementation?
It is possible to throw eggs at the front door of another Sim; to put on the threshold of a dear neighbor a burning stinking packet; slip a pillow-pillow on someone's chair; having made the necessary manipulations, one can invent a stinky liquid in a chemical laboratory, which will cause a massive attack of vomiting, and much more. If Sim is caught, the police will send him home, where dissatisfied parents can put the teenager under house arrest or forbid him to play with his favorite toy for a while.
From adolescence, Sims can tell ghost stories, after which some will spend a sleepless night. More Sims starting with The Sims 3 All ages will be able to dream! If Sim, for example, hears a terrible story at night, then it is likely that he will have nightmares.
Can I do leprosy together or singly?
Teenagers can be naughty both in the company, and separately.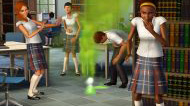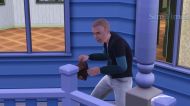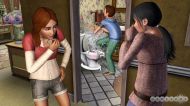 How is a house arrest or ban on video games carried out?
Basically, the offending Sim cannot leave the house or use a game console. At the same time, the Sims are still trying to do this secretly. For example, they will try to sneak out of the house. If Sim is caught, the punishment will be tougher.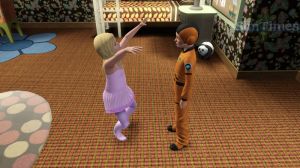 Will there be a university?
No, there will be no universities in the new expansion. At the same time, school education was supplemented by other extensive functions. On the one hand, parents will be able to send their children after school to special circles open on weekdays.
We sent our Sim girl to the ballet studio, and right after the first lesson, she was able to show several ballet pas and plie. Extracurricular activities are in the menu on the career tab and are carried out as usual work with the possibility of career growth.
There are 10 different circles:
Ballet studio
Young Rangers
Music club
Art club
Journalistic club
School partnership
Discussion Club
theatre studio
Skillful hands
Sports Society.
Another opportunity to take advantage of an alternative to an ordinary school education for young Sims will be boarding schools, which there are 5 different types in the game:
Sport school
Regular school
Army school
Art school
School of Love and Friendship
By phone, the parent can arrange a child in a boarding school. Then the taxi picks up the child from the house. During the training, the child becomes unplayable. In boarding schools, Sims get the skills appropriate for the name of the school and call their parents only on weekends. In the new add-on The SIMS 3 All ages, developers have introduced school trips. With your consent, the child may participate in them. Sometimes at the end of school hours, a window appears asking if your children can go on an excursion. At the same time, all children at school automatically become participants. After returning, children may receive one or more gifts.
Will the school be replaced by a regular community site?
No, the school will continue to be a "rabbit hole."
How can you imagine a graduation party?
Shortly before the teenager's birthday, the game will notify you that your Sim wants to take part in the graduation party. Your Sim can ask another Sim whether he / she wants to accompany him to the prom. Sims with chic ride in a limousine to the place of celebration. At the ball, graduates even have a chance to be elected queen / king of the prom, and even get crowns.
Does the graduation have any advantages and how to get a diploma?
On the teenager's birthday, the player will be asked if he wants to have a graduation party for his Sim. In both cases (with or without a ball), Sim will pass a diploma upon transition from adolescent to young adult, which will be in the inventory and can be hung on the wall.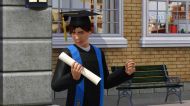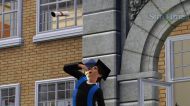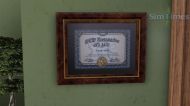 Graduation does not provide a professional or other advantage. In principle, everything related to the school remains the same, only now it is possible to arrange a celebration for Sim at its graduation.
Questions regarding adult and old sims
When your Sim grows up, his life can change dramatically over time. He will marry, get a midlife crisis or become an old man.
Young adults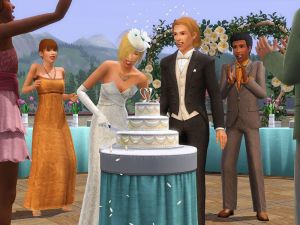 How is the bachelor party / bachelorette party?
If your Sim is engaged, he can invite his friends to a party with a lot of nectar about parting with a bachelor life in order to enjoy the last hours of freedom. At the party you can propose toasts. It is also possible to invite some frivolously dressed guests to revitalize the holiday. However, in the revelry of fun, Sims should be on their guard so that her (his) partner does not watch them with a new video camera, while he / she is immorally behaving.
Will there be male dancers?
Yes, for the farewell of brides with an unmarried life, of course, there will be strippers dressed as, for example, policemen or firefighters.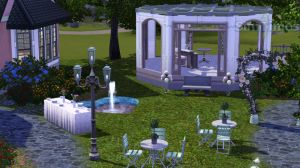 How is the wedding going?
From now on, Sims will be able to arrange weddings. This means that, as usual, Sims invite guests over the phone and wait for their arrival. When guests arrive, you can use the new wedding arch to carry out the planned ceremony. Following this, the freshly baked spouses will be able to cut the wedding cake. All this significantly improves the mood of the participants and contributes to the success of the event.
Will there be an opportunity to give wedding gifts?
Wedding gifts appeared in the new addition as a new gift interaction.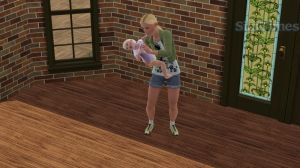 Will interactions with children change?
In the main essence, nothing has changed, however, now interactions with children are displayed on the menu faster. Although outwardly, the interactions look a little different. For example, now you can tickle the baby all over the body or use new objects, such as a water track or a video camera, which can capture important moments in the life of Sim and his family in exciting images.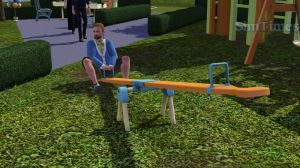 What is a midlife crisis?
At the end of the adult period, Sims enter a midlife crisis. At this time, they will have several special desires that can be recognized by the red background. If you fulfill Sim's desire, it will not be removed until other wishes, respectively, are fulfilled. These desires will stop appearing only when Sim overcomes the midlife crisis. If the desires in the end do not come true, Sim will have a bad mudlet for a long time.
If the psychological crisis is overcome, a bunch of additional dates will appear in the biography, and also, depending on fulfilled desires, a good mood. Of course, you can completely ignore the midlife crisis, however, in this case you will not receive any additional bonuses, as well as possible negative consequences. If Sim wants to complete this stage ahead of schedule, he can just visit the hospital and get treatment there.
Does a midlife crisis relate to the eponymous bonus reward for life benefit points?
No, the midlife crisis has no connection with this bonus award, it just allows you to change the character traits of your Sim without using special codes.
Older sims
What new interactions have appeared for the older age group of Sims?
The only new thing that old people can do is indulge in memories along with other Sims.
Sims can talk about the following topics:
Good old time
Childhood
School
Music
Wohoo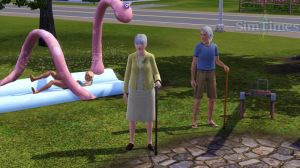 Do Sims get a cane in their luggage automatically when they move to an older age group?
If an elderly Sim uses a cane, you must first put this cane in his luggage, having previously bought it in the Buy mode and put it on the floor. Then, in Sim's luggage, you must select an action on the cane so that Sim starts using it. After that, the Sim will always walk with the cane until you cancel the use of the cane in Sim's luggage. You can also choose 2 different walks. On the one hand, it's a stereotypical senile hunched walk, on the other hand, the walk of a "gentleman from the south," when She walks, straightening her aristocratic back. The cane can only be used by older Sims.
Will there be a shelter for older Sims?
No, such a shelter is not planned.
General gameplay questions
The new memory system has paved its way into the gameplay. Also, learn more about the new creature - an imaginary friend!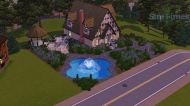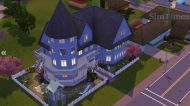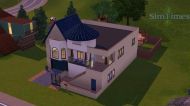 Will there be a new town in The Sims 3: All Ages?
For the first time, a new town will not appear in the upcoming addon. According to the developer Graham Nardon, the addition of "The Sims 3: All Ages" is entirely focused on the sims themselves, and in accordance with this, the main attention was paid to developing the greatest number of character interactions with each other.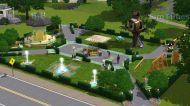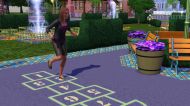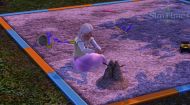 Will there be new buildings?
Although there is no new town, a "ton" of houses with landscaped areas will appear in the game. Along with nine beautiful large residential buildings, there is a new public lot, namely, a children's playground with imitation of a carousel. But this is only a podium with spring-mounted rocking chairs in a circle made in the form of animals.
How does the new memory system function?
The new memory system is very different from what we knew from The Sims 2. Now the memories are represented by something like a photo album or diary. The book is divided into 3 parts, each of which you can activate using the appropriate bookmarks.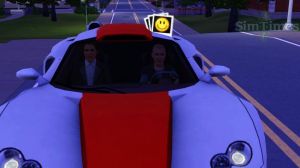 In the first part are the memories of the sim, presented by screenshots. For special events, such as a wedding, the camera shutter automatically clicks, capturing a memorable scene. Then a message box appears asking if you want to record this memory. If you confirm this, the following window appears, where you can write the name of the picture and a small text explaining it, as well as characterize the event as a good, neutral or bad memory. For other events, such as the first driving lesson that the father taught the teenager, you will also be asked if this should be recorded in the book of memories. However, in this case, instead of a screenshot of the scene, a label-icon appears - in this case, an icon with a car - with an appropriate title, to which you can add a description text yourself. In general, a sim can have up to 300 events in its book of memories. You can also post saved screenshots of memorable events from the life of sims on TheSims3.com or on Facebook. To contact the site, you need to find the necessary icon in the book of memories that leads directly to the window for entering personal data on your account. Also in the options you will find the appropriate gadget to communicate with Facebook.
In the second part of the book, statistics are presented for each sim living on the lot. It contains information about the number of memories, about unique / different / special moments, information about the sim's reputation, about the longest period of his romantic relationship, about the characters with whom this relationship was, about the number of novels in general, and about how often This sim cheated on a partner.
In the third part of the book, you can invent and write down a biography of a sim, giving complete freedom of fantasy.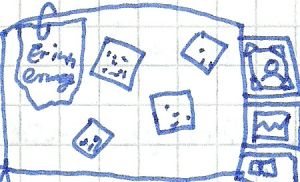 System of memories.
Since it was forbidden to take screenshots with the user interface, we tried to draw a book of memories from the screen. We apologize for the poor design (Erinnerungen - means "memories") .
Can I add my own pictures to the memory system?
Yes, you can take your own screenshots and add them to your memories. To do this, on the edge of the bookmark with information about the mood of the sim is a purple icon with a camera that directly launches the desired mode. You can then give the screenshot taken a title and add a short description text, as well as set the appearance of the memory.
Is there a new career?
In the new expansion of The Sims 3: All Ages, Sims can make a nanny career that is very suitable for caring, family-oriented characters. As a nanny, your Sim will become a "day mother", so the work is carried out mainly during working hours and in your own "four walls", that is, at home. On weekdays, parents instruct their children to take care of your children during the work day. As for the career, the description says that you must maintain the needs of the kids at a high level, provide them with toys, cook food for them, and so on, until the parents pick up the children. At the same time, can you also identify your children as a nanny, we, unfortunately, do not know.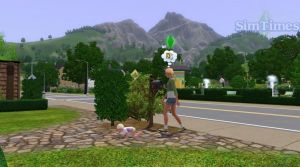 If the "day mother" is successfully "growing" professionally, then her responsibilities, of course, will become more complicated. More children will come to her. At the same time, the age of the children is not limited to the younger group, these may be primary school students who come after school, whom you will need to inspire to do your homework. In addition, daytime professional educators will have to come to terms with the fact that on the weekend the mother suddenly gives them her naughty child, who is not so easy to pacify.
Can I have costume parties and play skits?
No, costume parties are not possible. Fancy dresses can only be used by children for role-playing games.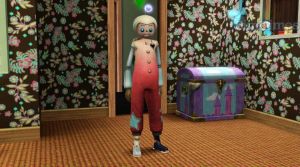 What is an imaginary friend?
The new creature in The Sims3: All Ages is an imaginary friend. An imaginary friend can see only one sim that interacts with him, like with any other character. He can play with an imaginary friend, like with an ordinary child, for example, start a pillow battle, hug him or have a tea party. What happens may surprise other characters, because for them it looks at least strange: they see a sim talking to himself, or a wild fight with a pillow flying through the air. Actually, an imaginary friend is a robot-like doll, which a sim-baby can receive as a gift. If he plays with this toy a lot of time and develops a relationship with it, then the doll comes to life after a certain period. In this case, an imaginary friend has the same age as the sim. If the sim is a child, an imaginary friend will also be a child and will celebrate a birthday at the same time as your character. He will become a teenager when your child grows into a teenager. If a sim dies, an imaginary friend turns back into a doll and thus can build a relationship with another sim in order to come back to life.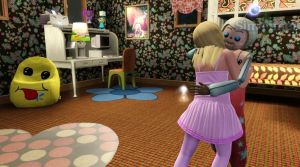 Does an imaginary friend disappear automatically if the sim grows up?
Not necessary. An imaginary friend lasts as long as you interact with him. If the level of your relationship is low or you do not play with him for a long time, one fine moment he will disappear.
What needs to be done to turn it into a real sim?
To make an imaginary friend real, visible to other sims, you need to get one brown drink, which you can create in a chemistry lab. You must put the finished drink in the inventory of the sim whose friend you want to make real. If the level of relationship between this character and an imaginary friend is high enough, the sim can offer him to become real. A real friend no longer looks like a robot doll; he looks like a real sim with colorful hair in a special suit.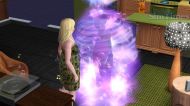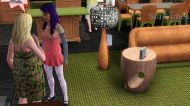 Does the possibility of getting an imaginary friend depend on the qualities of a sim?
Whether the sim will receive an imaginary friend does not depend on his character. The only condition here is that the parents order a special doll when the sim is still a baby. The next day, the doll is delivered by mail. Then you can give her baby to play.
How exactly do movie movies work, and what can be done with them?
In purchase mode, you will now find a video camera with which your sims can shoot neighborhoods or important events. To shoot a movie, you must instruct the active sim to start shooting video. Then you switch to camera mode and start the "motor" by pressing the "C" key. The video is always 60 seconds long. During shooting, you, as always, can zoom in or out of focus of the camera, as well as stop shooting at will. If the video is ready, you will find a video cassette in the sim's inventory, which you can then watch on your home TV. It's very convenient that the developers introduced something like an external hard drive into the game where you can download videos, so that every member of the family has access to the "video library" of the captured memories, and the tapes are not scattered throughout the house.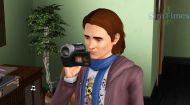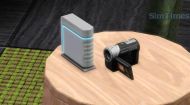 Are there new types of death?
No, there's no new death in The Sims 3: All Ages.
Are there new places for WooHu?
With the addition of "All Ages" it will be possible to do WooHu in the shower, also in a treehouse. However, before visiting the house, you must first make sure that there are no children there. ; P
Are there any new recipes?
We could not find new recipes.
Are there any new rewards for receiving points of happiness?
There will be three new rewards: a hovercraft bed that hovers above the floor, a drink that freezes the sim's age, and a legacy.
How many potion drinks are there?
In chemical laboratories, you can synthesize up to 10 different drinks. Including there are drinks that improve mood or teleport Sim. There is even a drink that stops age - a reward for points of vital benefit.
Questions about buying and building modes
Of course, several questions were asked about the modes of purchase and construction. Here you will find your questions and our answers.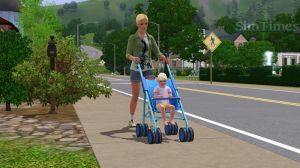 Are baby strollers fully functional?
Yes, baby strollers are fully functional. In order for an adult sim to actually carry a child in a stroller, it must be in the adult's inventory. If you click on a specific place and choose that you would like to go there with a small child, the sim puts the baby in a stroller.
It is difficult to answer the question whether the process is correctly animated when the child is placed in the pram or pulled out of it from there. Sim takes the child and immediately begins to move, as if he put someone in a stroller. In an instant, the child suddenly finds himself in a stroller, and the adult is already pushing her in front of him.
Will there be a changing table?
No, the game will not have a changing table.
Will bunk beds also be fully functional?
The game will have four different options for bunk beds, of which, in our opinion, only one can be used for teenage or adult sims. In addition, each of these four options is available in the form of only one upper tier, and in the form of exactly two beds on which two Sims can sleep. The upper bed is fully functional.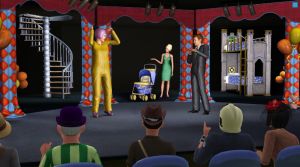 The area under the bed, which has only the upper tier, can be used at your discretion. For example, a desk is miraculously installed there, along with a computer and an office chair.
Will there be a new "chemistry" skill for a chemistry lab?
No, they did not make a special skill for the chemical laboratory. With its help, Sims will be able to improve the skill "logic" when they create new drinks-potions. If the sim invented the potion, he can then create it as often as he wants.
Will the collections come back?
The return of the collection sets, as it was in The Sims 2, perhaps you need to wait a little longer. But in "The Sims 3: All Ages" they added the function of filtering objects in the purchase and construction mode by source - add-on or catalog. On the right, next to the objects, you can find a star that is already familiar in appearance, which usually marks downloads. By clicking on it, you can choose which objects you want to show - only from the base game, or from some specific add-on, or from The Store, or only downloaded objects.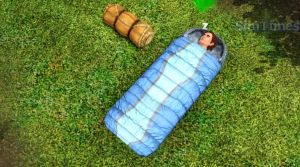 What subjects are used for new objects?
Basically, the objects in the new addition are made for the younger generation of sims, so they look very funny and colorful.
How many spiral staircases will there be?
There are only two options for spiral staircases, but they are designed in such a way that they can be suitable for any room by changing the textures and colors using the Style tool.
Do spiral staircases have a certain size or are they variable in parameters?
No, they are only 2x2 fields in size.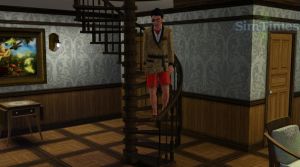 Will there be other forms of stairs (e.g. L / or U-shape)?
The only new staircase shape in The Sims3: All Ages is a screw.

What other innovations are available in the construction mode besides spiral staircases?
The construction mode in the new addon contains a few new products. In addition to two spiral staircases, there is a single new window and not so significant for mentioning the number of new carpets and tiles.
Is the "tree house" already built on a tree or is it necessary to plant a tree for it?
The treehouse is already on the tree. There are 3 different designs.
How they look, you can look at the following pictures: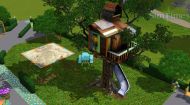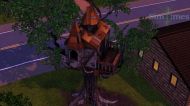 Is there a water slide or diving board?
No, for the pool there is neither a springboard, nor a water slide.

How many new objects are there in the game?
We were able to count in the game almost 130 new objects, of which 30 are only in the children's category. In addition, 2 new sports cars will appear in the game.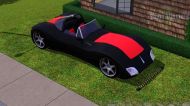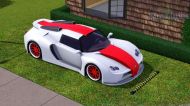 Is there really a raised indoor podium?
The ledges that appeared in The Sims 3: Late Night remain the only way to build elevations indoors without the use of codes.