Furniture decoration.
Hello, dear friends. I often visit similar sites with business ideas, because This is a good source for inspiration. Frankly, more than one idea brought to life. Something turned out better, something did not go. In any case, he didn't regret for a minute that, more than 5 years ago, he quit his job as "uncle" and began to work independently. Just want to say a big thank you to people who find time and energy to publish their ideas. At one time, many of them helped me a lot. Finally, and having gained experience and sowing for my laptop, I decided to pay tribute to business ideas with imaginary investments. You look, someone will come in handy. Since I have 3 permanent business lines, I will describe in detail my most basic (in terms of the ratio of profits and labor costs).
For 5 months now I have been engaged in decorating furniture to order. I do not know how to paint myself, and it's expensive for the client. Therefore, using stickers. The idea itself this time did not come from the business idea site, but, directly, from the store. I saw in the store for repair sets of stickers for tiles and furniture. Pretty ugly dolphins, drawn by tyap-lyap, shells and flowers.
All in blue or brown. Trusting the label itself did not cause, but I liked the way the goods were presented. Packaging quality, detailed instructions, attractive photos. I became interested and, despite the "bourgeois" price (500 rubles. For a format of approximately A6), I bought a sample. At home, it turned out that the sticker not only seemed to pump up, but was also "not a fountain" in quality. But the idea itself is hooked. And I decided to look for any material to replace, the most important qualities of which were to be ease of use, the possibility of digital printing on this material and the minimum visibility of the material itself. I found several options, the descriptions on the sites suited me. I bought everyone for a sample - I chose the most optimal for the price-quality.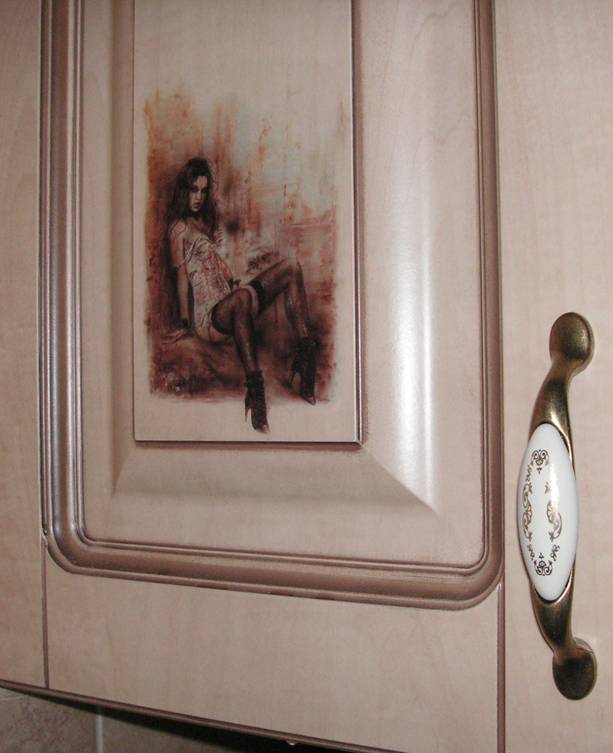 The first profit received in 2 weeks. This time was taken to slowly place free ads with photos, find a suitable varnish to protect products and prepare a database of pictures. At first I was engaged only in drawing pictures and photos on furniture, i.e. directly by the decor with the departure of the house. For furniture decor, I take from 500 rubles (high chair).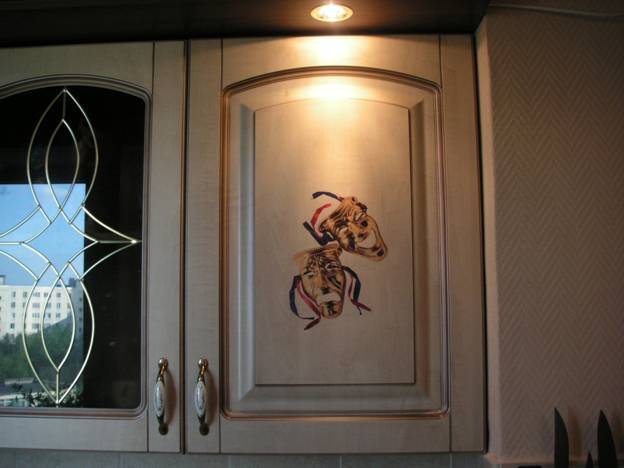 Given the fact that the cost of the decor of the same highchair is 38 rubles, you can estimate the profit. I note immediately that I leave for a house only when I order at least 1,500 rubles. In the first month, starting with the first profit, I earned 27,000 rubles. Even during this very first month I realized that in vain I ignore the sale of finished stickers.
I am light on the rise and I take it seriously and thoroughly to the fresh impulses of my ideas. On trial I placed a mini-advertisement on the boards of free announcements with the text from the category "I will sell the finished one or I will make a new life according to your sketches for the things you are used to. Price 250 rubles. The purpose of this ad is to intrigue, attract a potential buyer. Here is a link to my page on the Internet with a bunch of photo pictures for application and finished work. Human psychology is such that when he sees the beautiful thing in the photo, he will continue to thumb through the album, regardless of whether he needs this product right now or not. Then it's not the high price that attracts 250 rubles. After all, it's not a pity to give 250 rubles for beauty (by the way, the cost price is 14 rubles). Next comes the next secret weapon under the name of "SETS!" During the first month of home visits, I realized that most often they want to decorate simple kitchen sets. So why not make a single set of sets, tile on the apron, cutting boards, glasses, cups, etc.? I offer a set! You can collect from 1 to 10 different elements in the same style (not to mention the fact that they can be repeated), and this is 2,500 rubles at a cost of 140 rubles. and minimum labor costs.
In general, by connecting extra. The "option" to sell ready-made stickers, I received another 56,000 rubles in addition to the "exit" 32 thousand (in the second month there were more orders). Now I earn on this business from 90 to 120 thousand rubles, depending on the month. I prepare a full-fledged online store, because I understand that a lot depends on the ease of site navigation. I am sure that sales will still rise.
It remains only to add that now my 17-year-old daughter is joining the case. Subtracted everything in the same business ideas about the decor of phones and women's accessories (all sorts of bracelets, earrings, brooches, jewelry boxes). While at the design selection stage. Let's see what happens. I have been teaching her experiments since childhood.
So my most important advice to you - do not be afraid to experiment! Look for, invent, dare and everything will work out for you! If you have questions about this business - write me at kolesnikovv@mail.ru I will try to help. Yes, and maybe someone else will have interesting thoughts on this subject.