Earn on products made of plexiglas.
Products from plexiglas are distinguished by their beauty and always attract attention. If you learn how to handle plexiglass and make various beautiful things from it, then you can easily earn on it.
Make to order can holders for price tags (pricelists), transparent or colored supports for goods, for example: jewelry, cosmetics, telephones, shoes, dishes, wallets.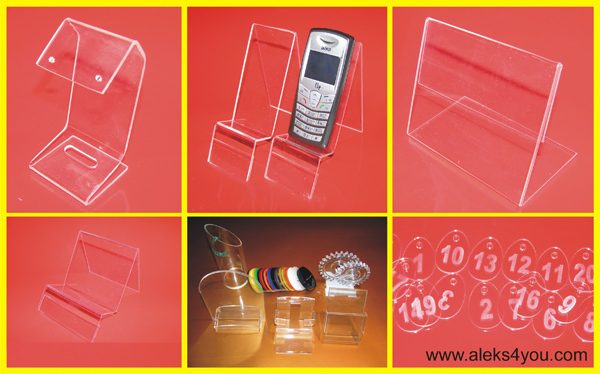 As well as in demand stands for printed products - booklets, prices, etc. A separate topic is different number plates, tags and tokens from Plexiglas.
It's enough to go shopping and see that such products are needed, because occur quite often.
This means that they are bought somewhere, why not you?
On single orders you can earn, and if you find customers who open new points, then orders will be much more. For example, such customers will need holders for price tags and stands for goods very often.
In addition, there are firms that offer to buy from them such products through the Internet (enough to drive into the search word " products from plexiglas " and you'll see everything yourself.
Why do not you offer your services, and make such products a bit cheaper than at large companies? After all, you will work for yourself and set your prices, sizes and quantity of products.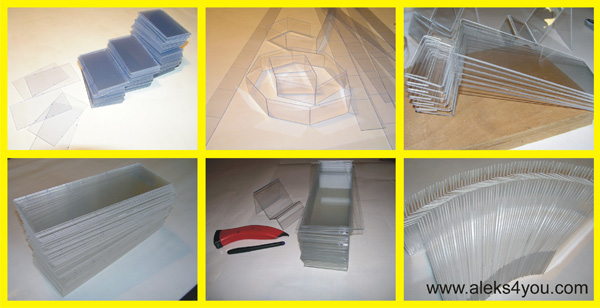 Here are approximate calculations of the cost of products and the price for the customer:
1 sq.m. PVC transparent 0.8 mm is worth 163 rubles.
1 sq.m. Plexiglas 1.5 mm. costs 378 rubles.
The price holder is 3 cm by 5 cm.
The total area of ​​the material is 0.003 square meters. The cost price of 0.57 rubles. The price for a customer is 5-6 rubles:
Stand under the purse (or other goods).
The total area of ​​the material is 0.023 square meters. The cost price of 8.7 rubles. Price: 52 rubles.
Stand for mobile phone.
The total area of ​​the material is 0.015 square meters. The cost price of 5.7 rubles. The price: 33 rbl.
Prices for materials and prices for finished products may vary slightly depending on your place of residence. But still you saw that you can make good money making such products. Moreover, such products are ordered by tens, hundreds, and sometimes thousands.
How to organize a small production directly at home is on the site aleks4you.com/polnorgsteklo