Segway rental (electric scooters) is a real idea for good money.
1. What is a Segway?
2. How to open a Segway rental?
3. How to make money on renting and renting a Segway?
4. What about taxes?
5. How much can you actually earn on renting a Segway?
6. How much should I invest?
7. Conclusion.

1. What is a Segway?
Let's start in order. What is a segway? Segway - electric scooter or electric scooter! But not simple, at the moment, and now 2011, this is an absolutely unique device. There are no qualitative analogs yet, and it is unlikely that Segway himself will be made better by someone else. Sigvey is a platform + 2 wheels parallel to each other + 2 batteries + a wheel + gyroscopic sensors. What is unique in segway? And what is unique is that, firstly, contrary to the laws of physics and the understanding of man, Sigvey maintains balance with a person standing on it on two wheels parallel to each other. It looks fantastic, believe me, the person on Segway draws the attention of all, without exception, people who see him. He becomes the center of attention of others.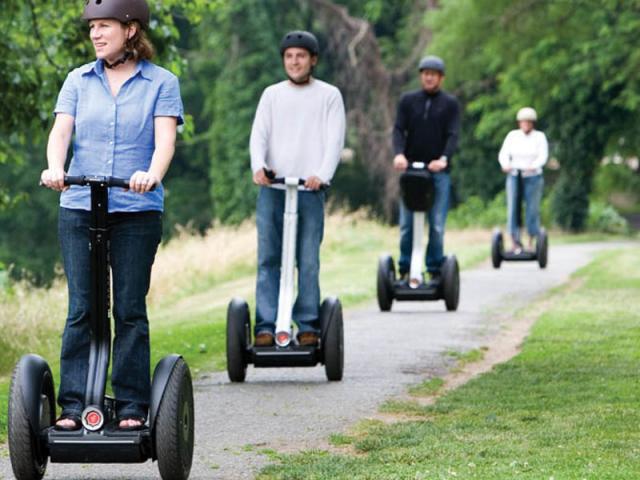 Secondly, Sigvey has no buttons and knobs. People often ask, "Where is the brake and gas?" In response, they hear "Brake and gas are you yourself!". Indeed, Sigway has a unique control system; in order to drive forward or backward, you only need to lean forward or lean back, thereby shifting the center of gravity and the computer system tracking your body 100 times per second understands you and Segway accelerates forward or brakes. And the stronger your slopes, the stronger the Segway accelerates or stops. No matter how difficult it may sound, but in practice each person needs 5 seconds to understand all this and go on his own, and after a couple of minutes you already feel like one with Segway. All age groups can ride a Segway, including children from 5 years old (the main thing is that the weight was more than 20 kg), and also people of quite old age, in our practice it is 95 years old. Sigway is completely eco-friendly - and this topic is now gaining popularity around the world. Segway is a transport ahead of its time! That seems to be the main thing, what is Sigway and for whom it is suitable, we figured it out.
2. How to open a Segway rental?
To open a rental, we recommend choosing a stationary place, it can be a Leisure Park, a Shopping Center, a Sports Complex, the Embankment, the Central Square. Any site with a mass gathering of people, your potential customers will do. You will need one or two Segways, an instructor (at the initial stage you can be one yourself), protective helmets, an advertising pillar, or signs bearing information that you did not go out for a drive, and you have a rental Segway. That's all you need. And go to work!
3. How to make money on renting and renting a Segway?
In addition to the stationary rental point, which is recommended to keep and as an advertisement, people will learn about it from your existence in your city, one of the main areas should be renting Xigway for Promo events, Holidays, Corporate parties, Weddings, Presentations, any other events. Segway is perfect as a marketing tool - it attracts the attention of 100% of others! Segway usually rent companies, put promoters on them, brand Segway and carry out Promotions. Segway got accustomed well at corporate events, everyone can ride a Seagway during the event. Such an experience is unique! Segway is very small in Russia, and abroad it is still available to fairly wealthy segments of the population. Famous comedian Jackie Chan gave SEGWAY for his birthday ... to himself. And at the same time he said that none of the people who congratulated him presented more original things. As a rule, the owners of Seagway in our country are people of politics and show business. Everyone will surely remember how Kirkorov and Bogdan Titomir traveled to the scene on the Segway. You can enter into contracts with country clubs and hotels, and they will include them in the list of their services, and you make money. Possibilities of use when renting and renting Seagway - limited only by your imagination. You can cooperate with organizations for the holidays, each of their customers - this is your potential customer!
4. What about taxes?
Everything is very simple. Open the PI (individual entrepreneur) and choose taxation in the form of UTII (Single tax on imputed income). It is better to open the IP on a person who will work directly at the rental point (the tax rate depends on the physical indicator, that is, the number of employees). Under the condition of one employee (1-2 Segway), your tax, depending on the region (in each individual region, its coefficients K1 and K2) will be equal to 400 rubles / month (four hundred rubles)! Such a rental tax in Yekaterinburg. Truly a penny! You will need to submit the same tax return every 3 (three) months, any beginner accountant can do it for you, but believe there is nothing complicated there, do it yourself, but even if you charge an accountant, one tax return costs 500 rubles, Recall that she gives up once every three months!
5. How much can you really earn on a Segway?
Now about the most pleasant. So how much can you earn at a Segway rental? The average cost of renting in Russia in 5 minutes is 150-200 rubles. During this time, a person drives about 500 meters. A full Segway charge is enough for 30 km. As a rule, during the day Sigway works, at night it is charging. It turns out that charging the Segway is enough to ride about 60 people a day. The money is 9000 - 12 000 rubles. But it is unforgettable that this is a 100% load and as a rule it happens on holidays and weekends. We get that at 100% loading per month, one Segway can collect 270,000 - 360,000 rubles. And if Segway two or three? Count yourself.
Do not forget that Segway is being rented for events, the average cost in Russia for 1 hour is 2500 - 3000 rubles, for 1 day 10 000 - 15 000 rubles. Loading your Segway will also depend on your efforts. These are not simple numbers taken from the ceiling, this is a real rental experience!
6. How much should I invest?
New Segway in Russia cost about 400,000 rubles, for hire you can and should take the Segway from reliable hands with small runs (up to 500 km), mileage of about 1000 km is possible, this is also normal. Such Segway cost 250,000 - 300,000 rubles. Consider investment attractiveness, for example, regarding bank deposits. Now the average rate in the bank is 6% per annum, which is 0.5% of the investment amount per month. If you put 300,000 rubles to the bank at interest, then you will receive 1,500 rubles a month, and at Seat rentals, with even 30% loading, this amount will be about 100,000 rubles per month minus all expenses! These 100 000 rubles, this is your net profit!
7. Conclusion
Business is quite new, there are no competitors, it is simple from the point of view of organization and taxation, it's not very difficult to manage, with low investments it's a high income, it can be used for a wide range of consumers and events. You can rent, lease, sell the Segway, make repairs and maintenance of Xigway. The business is very positive - there are a lot of positive emotions from the skaters.
Niche is free! It's time to act!