Increase the strength of alcoholic beverages
Increase the strength of alcoholic beverages
Attention ! All paid and free information on this site is presented solely for educational purposes.
The author of the site does not bear any responsibility for any possible consequences of the use of bottom information.


Device to increase the strength of alcoholic beverages
THE PRINCIPLE OF ACTION CAN BE EXPLAINED SO:
When a strong magnetic field occurs in a liquid (in this case, an alcoholic beverage), the number of negative ions increases. Which break down the acid in the drink, which leads to an increase, by several percent, the strength of the drink.

MODE OF APPLICATION:
Vodka is set 2-3 hours before drinking, oh liqueurs, light wines - a day before drinking. The procedure can last from 5 to 15 minutes. For reliability, the procedure must be repeated 1-2 times. If you have an accurate alcohol meter with small divisions, you can check that the fortress increase can be from 3% to 7%.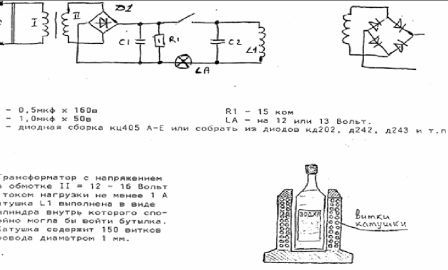 NOTE:
Water, standing in the device, you can water the plants and seedlings, ionized water increases the yield. This method has long been known and used this method to increase the yield, for example, in Holland.