Tweaking gmail mailbox

Now I do not know a single person who would not have e-mail. Many, even, not in one box.
As it turned out, it's not enough to choose a postal service, you also need to set up a box so that it is convenient to work with it.
This article describes how to make initial settings in your gmail inbox so that you can work with it more conveniently. And the most important thing is that these are not some complicated global settings, but elementary ones, which will take you no more than 2 minutes to complete.
By the way, if you now have mail on Yandex, mail.ru or somewhere else, then I advise you to switch to gmail as quickly as possible. You will understand later why MLM business is suitable only for a mailbox from Gmail. In the beginning, gmail may not seem very convenient to you, it's just because you changed the habit. But after a week, maximum two, you will not understand how you used other mail services before. In one of the following article, I will tell you how to make the transition from another e-mail address to gmail absolutely painlessly, while retaining all the letters and contacts. And even, you can send letters from gmail from your past address.
In addition, there will be a clearing up - how to combine all your mailboxes on one gmail account.
So, we proceed to setting up the mailbox . Go to gmail.com and register. Next, we get into the email interface of our email. The view is shown in the picture (in the screenshot, the username and the name in the chat are smeared):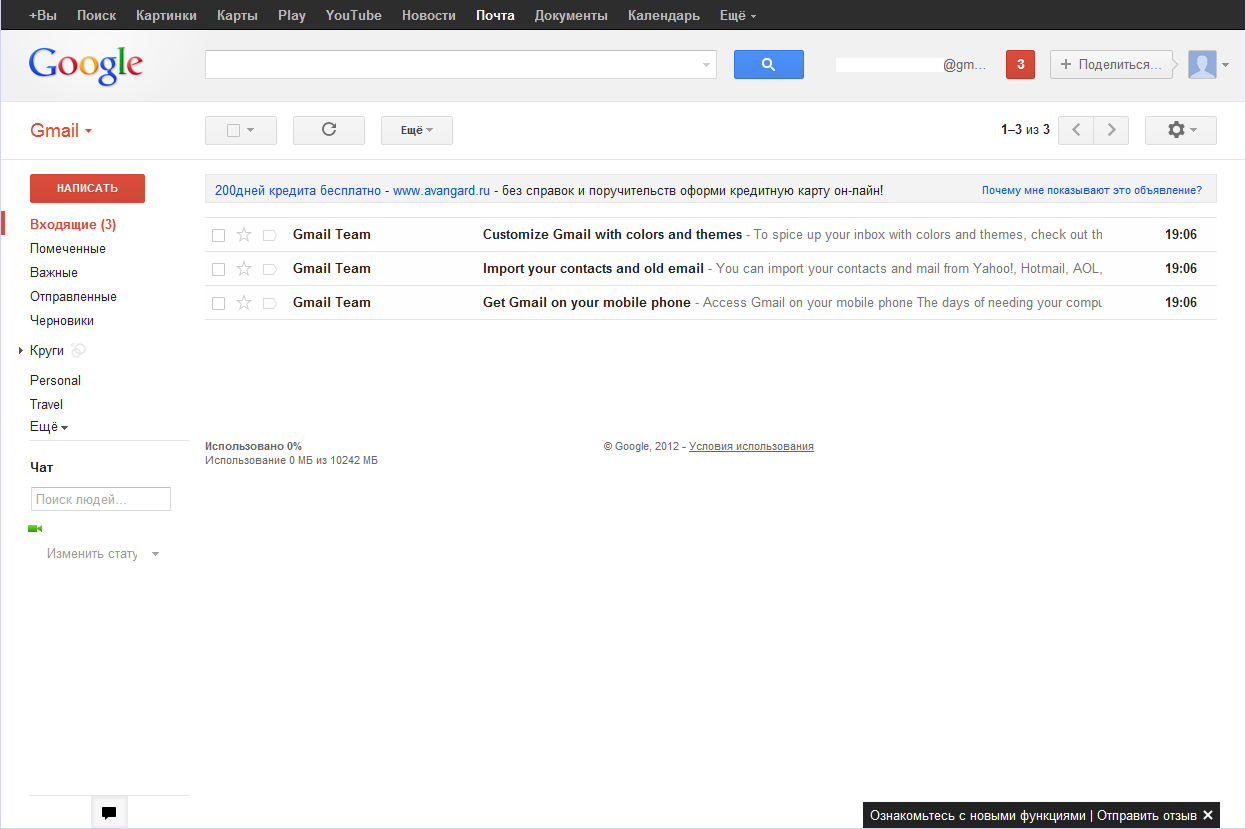 Gmail mailbox after registration - no settings
Begin to customize. The first thing we do is click on the gear at the top right and make the mail interface compact. Look what happened: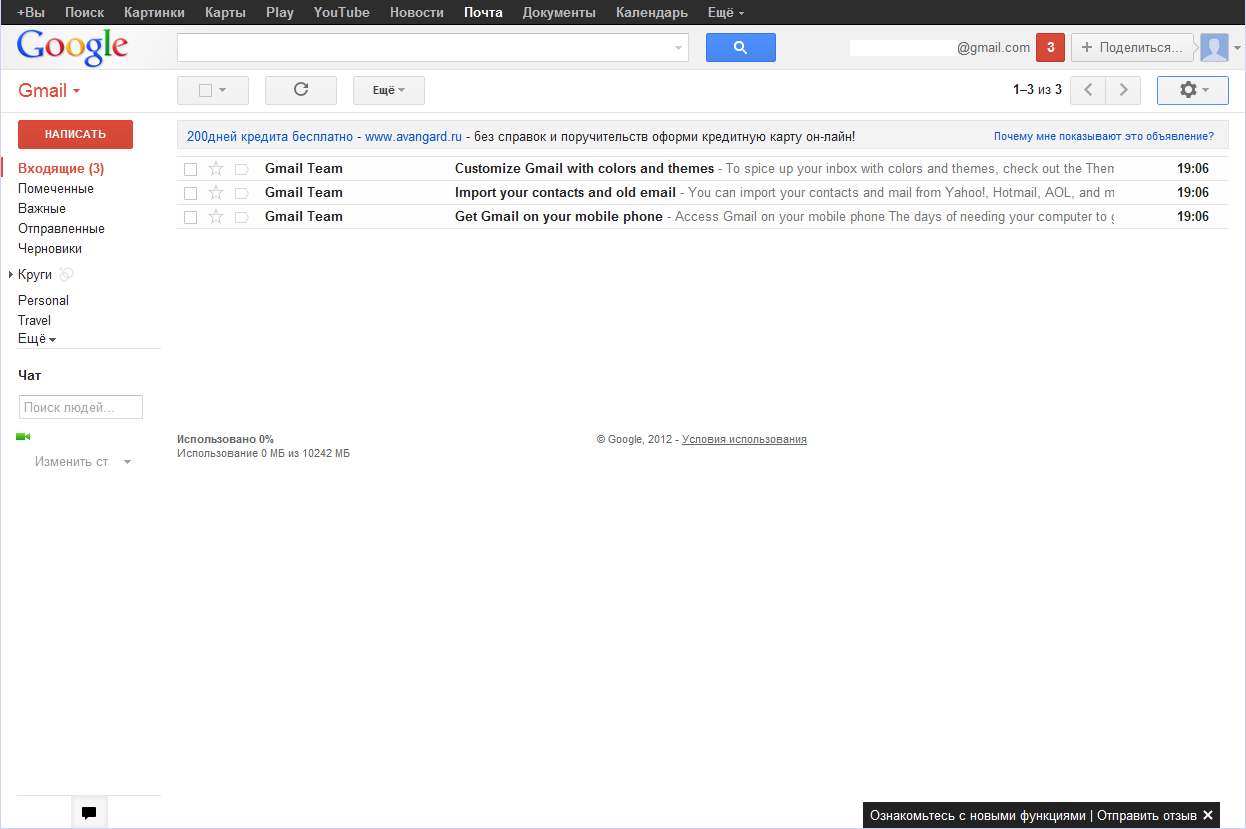 Compact gmail view
Now we change the topic. Again, click on the gear, select "Themes", and select the theme "High Contrast".
Next we will work with the settings. Again, click on the gear and select the settings:
Replace icons with text buttons:
 Settings - General - Shortcuts for buttons: select "text", click "Save changes". 
Disable the display of unnecessary shortcuts in the left menu:
  Settings - Shortcuts:
	 put "no" on the following lines: Important, Circles, Personal, Travel
	 put "yes if there are unread" - Marked
	
As a result, the following should appear in the menu on the left: Inbox, Marked, Sent
Labels Personal, Receipts, Travel, Work can generally be removed so as not to interfere.
Disable Chat
  Settings - Chat: put a checkmark "Disable chat" 
Remove advertising
  Settings - Web Clips: uncheck "Show my web clips over incoming ones" 
We look at our intermediate changes: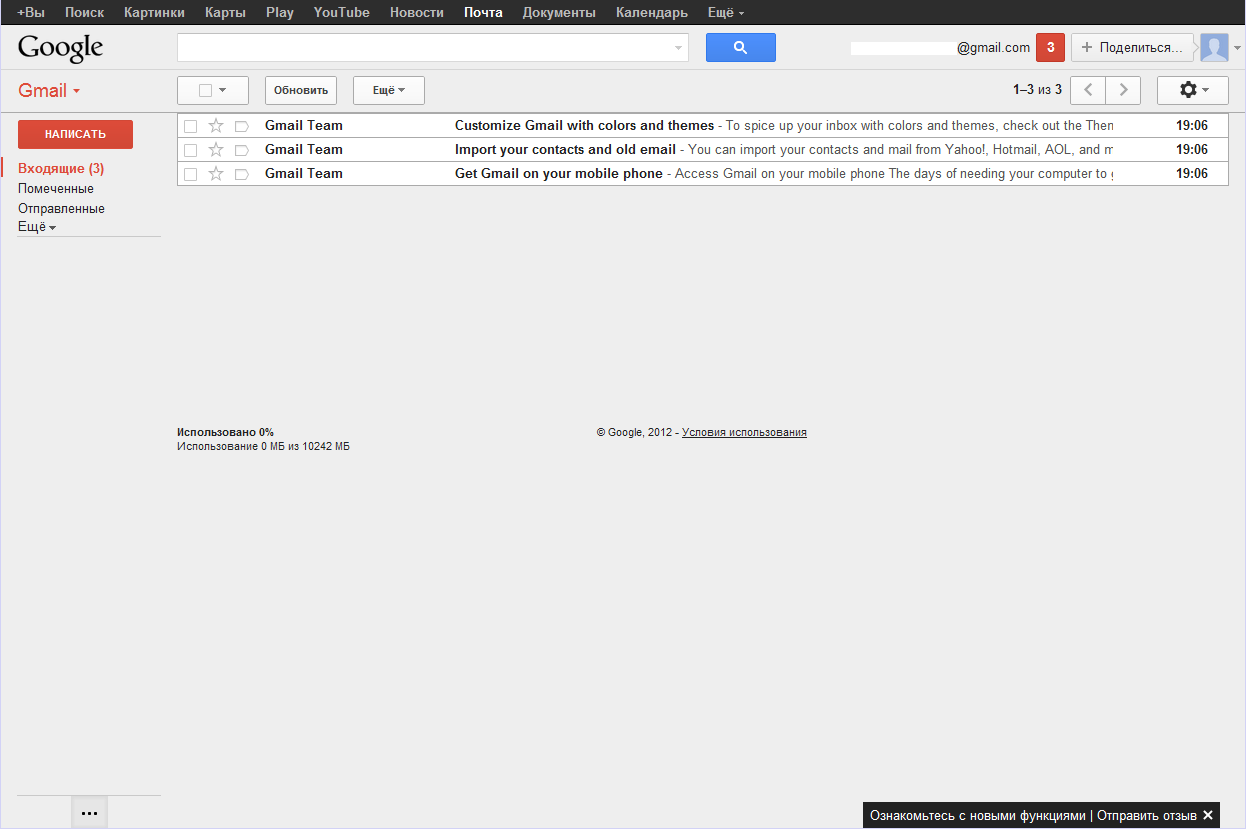 Intermediate changes in gmail
Customizable further.
Disable importance markers:
  Settings - Inbox - Markers of Importance: check the box "Turn off", click "Save Changes". 
We remove the chat notifications, and enable notifications about new letters (if pop-up windows are annoying, or you have a lot of emails, then you don't need to turn it on):
  Settings - General - Notifications on the desktop: 
	 Put checkboxes "Disable chat notifications" and "Enable notifications about new letters" 
Let us set the cancellation of sending letters:
  Settings - General - Cancel sending.
	 I'm worth 20 seconds.
	 After the changes, do not forget to click "Save Changes" below.
	
Make a note about reading the letter without delay:
  Settings - General - Viewport: set "immediately", click "Save Changes". 
We include useful chips:
  Setup - Lab:
	 - "Inbox": preview
	 - Unread message icon
	 - Setting the location of the signature
	 - Viewing area
	 - Cancellation of sending letters
	 - Sending letters in the background
	 - Preview of Google Docs in the mail
	 - Preview of Google Maps in the mail
	 - Preview message
	 - Answer Templates
	 Click "Save Changes" 
We see that another button has appeared, to the left of the gear (circled in red in the screenshot)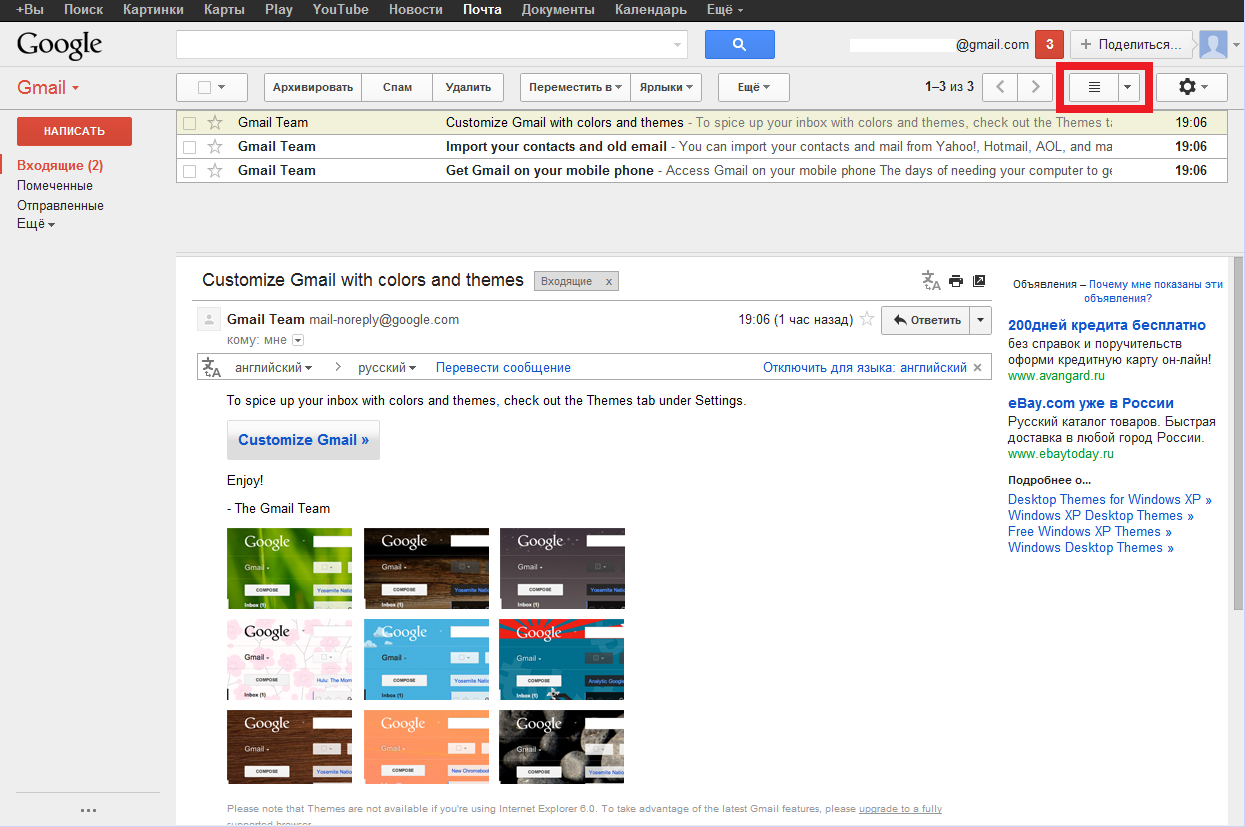 Additional gmail button
We press it and select "Vertical separation" , and now we read the letters, without switching to another page.
As a result, after all the settings of our gmail box, this is what we did: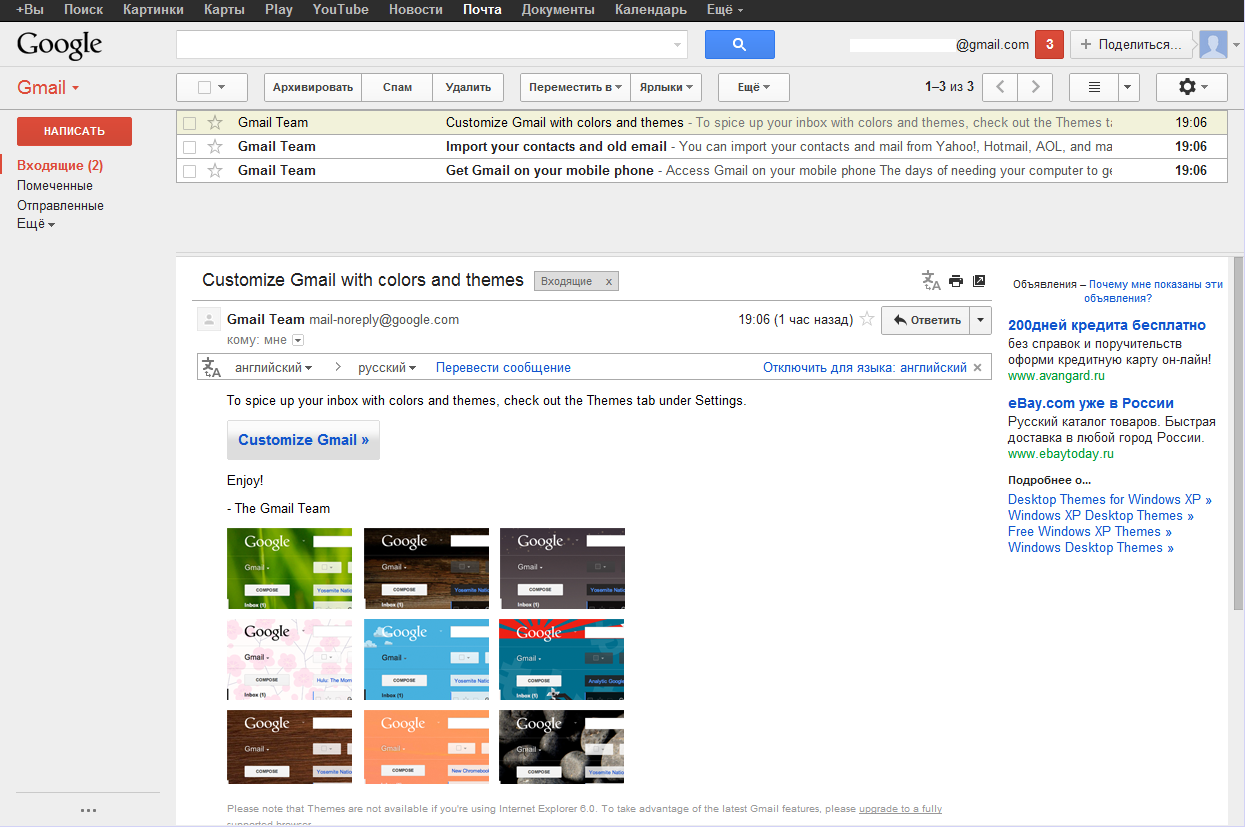 Gmail mailbox after all settings
Also, if you are not hiding from anyone, then I recommend adding your photo :
  Settings - General - My Picture 
Google constantly adds new features and makes the interface more convenient, so some points about which I told in this article, after a while, may no longer be relevant.
by sergeyabramov.ru