How to downgrade from iOS 7 to iOS 6 (6.1.3 / 6.1.2) [instruction]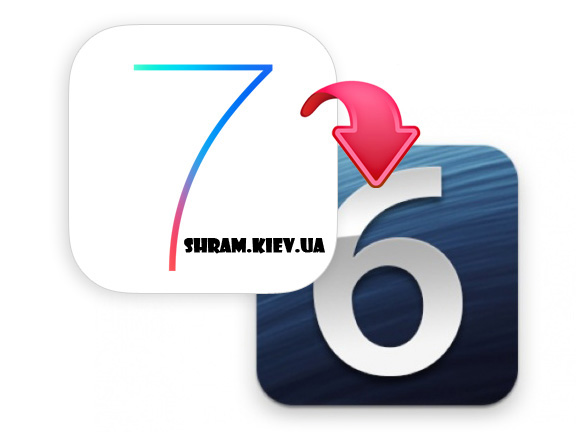 Most users of iOS devices have already appreciated the advantages of the seventh version of the Apple OS. And if not strange

many were not satisfied - half did not perceive the design, others complained about the brakes, comparing it in performance and optimization with Android. IPhone 4 owners who upgraded to iOS 7, if you installed and installed IOS6 * DJs and saved SHSH blobs certificates accordingly before installing, you can roll back to iOS 6. These are versions iOS 6.1.3 and iOS 6.1.2 .
To avoid problems with iGadget on iOS 7, you can use the instructions for downgrade from iOS 7 on iOS 6 for iPhone4.
Requirements and files:
How to switch from iOS 7 to iOS 6.1.3 or 6.1.2
Step 1: Make sure you have iTunes 11.0.5 or earlier installed. If you use iTunes 11.1 , uninstall the program and download the older build. In the latest versions of iTunes, Apple has blocked the ability to install custom iOS 7 firmware. When uninstalling the player, be sure to also remove the additional services - Apple Mobile Device, Apple Software Update, and Bonjour .
Step 2: After restarting your computer, download iTunes 11.0.5 from the link above. If you see an error with the iTunes Music Library.xml file, go to the iTunes Music folder and delete this file.
Step 3: Download the latest version of iFaith (v.1.5.9) from the link above.
Step 4: Launch iFaith . If you saved the SHSH certificate on Cydia's servers, click the "Show Available SHSH Caches on Server" button so that the program copies it to your hard drive. Now on the iFaith start screen, select the "Build" * signed * IPSW w / Blobs "option. You will be taken to the iOS 6 custom firmware creation page.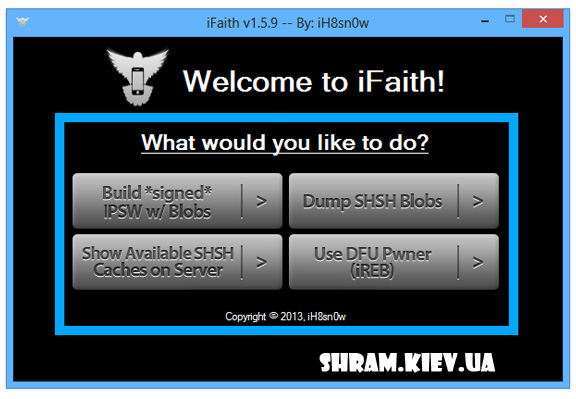 Step 5: Specify the location of the SHSH certificate and the uploaded iOS 6.1.3 / 6.1.2 IPSW file . In this step, iFaith will create a special firmware for installation on your iPhone 4.
Step 6: Put your smartphone in DFU mode. Without this, iTunes will display an error of 1600 . The sequence of actions is as follows: hold the lock button for 3 seconds; without releasing the lock button, press the Home button for 10 seconds; holding the Home button, release the lock button. Continue to hold the button for 30 seconds.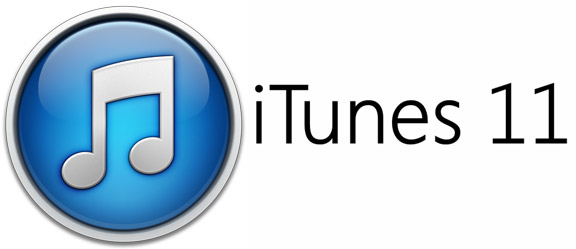 Step 7: Launch iTunes and connect iPhone to computer. The program will report that the connected gadget is in recovery mode. Holding the SHIFT key on the keyboard, click the Restore button.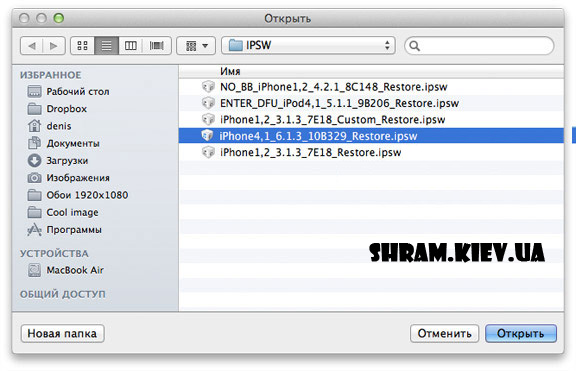 Congratulations! After installing the OS, you will have a fully functional iPhone 4 running iOS 6.1.3 or iOS 6.1.2, which you can use.