What Apple showed: new OS X 10.10 and iOS 8, smart home and an alternative to Dropbox
Yesterday's WWDC developer conference was very intense, but, interestingly, the company did not show either smartphones or the expected iWatch smartwatches. All updates related software. Apple even announced its own programming language and laid out manuals for it.
OS X 10.10 Yosemite - native file sharing and calls from Mac
Presenting the update for the desktop system, Apple tops joked for a long time about how they chose the name for it (even OS Weed sounded "weed").
They did not miss the opportunity to pin Windows, comparing the update rates of both operating systems: the latest version of OS X - Maverick - is already on 51% of computers, and Windows 8 - on 14%.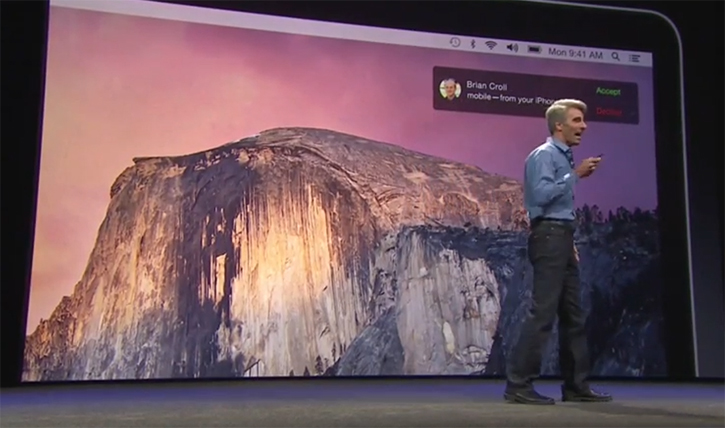 Key news for Mac owners:
The design of OS X has become more "flat", reminiscent of iOS 7
For fans of Apple has appeared its own analog Dropbox - iCloud Drive. Now here access to documents through the Finder is provided, it can be used to store any files, compatibility with Windows is planned. After the first synchronization, iCloud Drive gives access to files with Mac computers and iOS devices. Mail Drop allows you to send large files via iCloud (up to 5 GB in iCloud - for free, 20 GB cost $ 0.99 per month, 200 GB - $ 3.99 per month).
From Mac you can now call and write SMS - you can call directly from the site where there is a phone number. It works, even if the smartphone is at the other end of the room, on charge, promised in the company.
AirDrop wireless data transmission now works between iOS devices and Mac computers.
For developers, Yosemite should be available on the site, beta will appear in the summer, and release is expected in the fall, which will be free for users.
Highlights from the presentation (in English) - below in the video from Mashable:
iOS 8 - a sports platform and the beginnings of a smart home
Before the presentation of new products in the mobile OS, Apple tops went over competitors again: 89% of all users have already switched to iOS 7, and only 9% to Android 4.4 KitKat.
Users are allowed to install third-party keyboards. Appeared function QuickType, allowing faster typing.
Interactive notifications: you can reply to SMS from any screen without leaving the application.
Group messaging has appeared in iMessage. You can quickly send audio and video messages. (the creator of whatsapp app innovations Apple also really liked)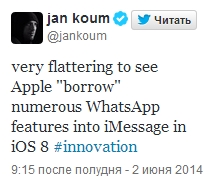 The HealthKit platform is introduced, which will give users the ability to keep track of all health and workout data by integrating application and gadget data. What is important, in HealthKit will be the ability to exchange data with third-party applications, one of the first to become popular Nike + applications. Integration with medical applications is possible, so that the doctor can monitor patient performance. Apple is already working in this direction with the American Mayo Clinic.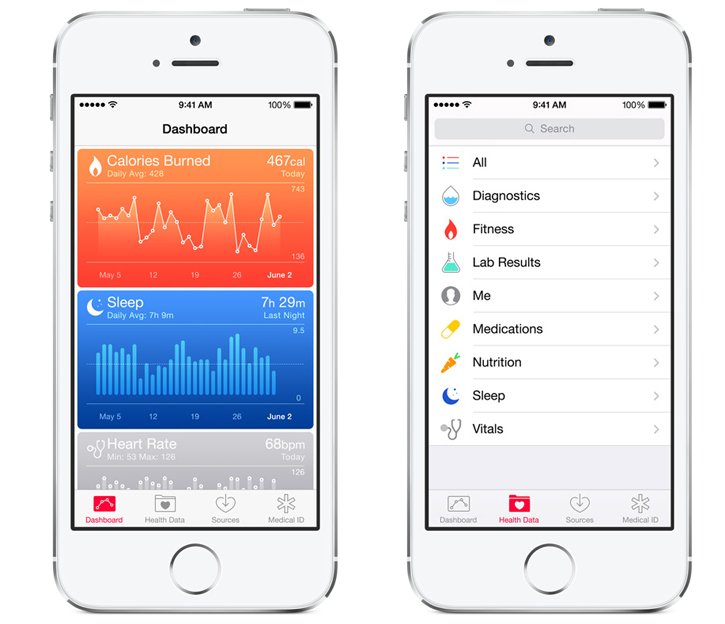 Family Sharing sharing function has appeared, which works simultaneously for six people (you can create shared photo streams, share events in the calendar, shopping, allow children to make purchases, etc.).
Siri Voice Assistant integrates with Shazam, a popular music recognition service.
Appeared access to Touch ID API - access protection technology using the fingerprint of the device owner. That is, in the future, for example, it will be possible to log in to Facebook from an iPhone by fingerprint.
In the App Store, you can now sell bundles ("bundles") of applications.
The ability to control the house - locks, lighting, cameras, thermostats, switches - using the application HomeKit. It will be possible, for example, to command the iPhone to turn off the light. In this area, Apple has already announced a partnership with Philips, Skybell, iHome, iDevices and other companies.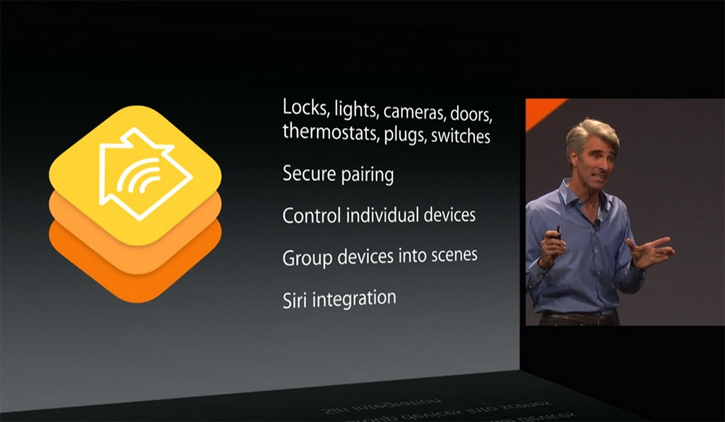 For iOS 8 and SDK developers available Online , the version for users will be released in the fall. The new system will be compatible with iPhone 4S and later versions of the smartphone, the fifth-generation iPod touch, iPad 2, iPad Air, iPad mini, etc.