Automatic website translation with page cache (SEO-Friendly)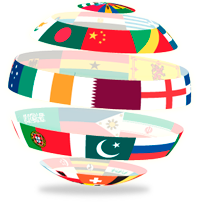 Auto-translator site can:
On the fly translate the website into over 100 languages
Store the translation cache n-days and auto update it
Transfer to subdomains of the site
Follow the links inside the cache
Work on requests through proxy
Work on a separate server
Attract more visitors
Increase the profit of your site
Increase the number of unique information
What is website translation?
You have probably seen country flags on various websites (they also exist on our website), when you click on them, the page is automatically translated into the selected language. I remember once I came across a Tajik-Tajik site, on which there was an answer to a question that had long troubled my mind and how I had been trying to understand the meaning for a long time, and therefore this function is very useful not only for increasing the amount of useful site content, but also for a non-Russian audience who accidentally came across useful information you left.
Now, using our automatic translation script with a cache of pages on your site (What does this mean? And this means that the whole translation can be considered as full-fledged pages of your site in a foreign language), foreign search engines will gladly accept your site, and foreign users will be able to read with that important information which is not found anywhere else except on your site. This could come up only come from the former Soviet Union.

How does the website translator work?
How the translation script works can be easily checked on our website. At the top of the site there are "translation flags". Just click on one of them and the translated page will open in the selected language (the Russian flag shows the original language of the page).

Example of translation of the current page into: English | German | French | Ukrainian .
You see the actual translated page stored on the server. The update frequency is "0" (zero), on this page are translated "on the fly" and display the most current fixes.
Translated pages are indexed by search engines.

Sample pages of our site in google index: en , de , fr , uk .
Script Automatic website translator (google / yahoo)

Included:

All updates for 2018
Translation via google or yahoo translators
Original + Modified Script (for subdomains)
Open code + comments inside the code
Storing the translation cache on the server and working with it
Auto-update transfer cache after n days
Ability to work through proxy
Flexible script customization through a single file

Support:

Detailed instructions and a small FAQ
Help with installing the script
Help with real problems
Updates are FREE.

CONTACT FOR
SCRIPT ORDER




Cost: $ 10



Personal certificate Webmoney since 2007


Business level [BL]:

Contact Form || Question by WM-mail || Comments || ICQ: 33443989 || Skype: shram.kiev.ua
What kind of script is this?
The script is written in PHP language, with the ability to send and receive translations from translators such as Google and Yahoo with the function of saving the cache pages on the server (hosting).
Translator can translate your website into world languages ​​(> 95 languages) in seconds. Users can freely switch the page language anywhere.
Your project will become multinational, will attract more visitors, increase traffic, ranking, increase page indexes, more profits!
How does the script work?
Translation script works instantly. You can send a request and get the HTML translated page or call the page from the cache.
If the page was once translated it is stored as a physical object (file) on the hosting, and when the page is repeated, checking the outdated parameter (configured in the config file) displays the saved page or a fresh page obtained from the online translator.
The script easily finds and translates sentences and phrases in the source code of your page. All text content of the web page will be translated, including links.
No changes in the design of your site are required, just add links to the translation;) The script only translates HTML, not the server code.
Translator works on Google / Yahoo API. The translated text is not as good as that of paid linguists, but it is perfectly understandable for the end visitor.
Is it easy to install and use?
The script is easily integrated into your site. You only need to upload files to the server and spend a couple of minutes on the configuration.
The code is written in PHP4 / 5 with the Curl extension. Compatible with most PHP hosting sites.
It can be used for static sites and dynamic site engines (Wordpress, Joomla, Drupal, ArcadeTradeScript, GameSiteScript, and others.)
It can be installed on a separate hosting and linked to another site (for those who do not have access to the file hosting system).
Files are saved in cache, this means you can edit them.
It is possible to exclude from automatic translation certain pages / sections / parts of the code. Use the <notranslate> ... </ notranslate> tag or the class for the <class = "notranslate"> block.
Complete installation guide and flag images included. Updates are FREE!




Other existing website translation methods
There are many options for installing an autotranslator to automatically translate pages of sites. First of all, a website is translated from any language to any convenient one, either manually (by pressing the "translate" button), or automatically. Such buttons can be added for all countries that are supported by the service, as many webmasters do. They add all available countries. In my opinion, you should select only a few countries whose audience visits your site. But the owner is the master. Secondly, there are a lot of useful functions, one of which is the auto-completion of forms, which saves time during registration. Well, a lot of useful features, such as site search, Google search directly from the browser window, and much more.

Google translate
http://translate.google.com/translate_s?hl=en - it's convenient to search for any text by setting the phrase in Russian, and the search is done in other languages ​​and automatically translated into Russian.
http://translate.google.com/translate_t?hl=en - automatic online translator from google. You can translate a text or page by entering its URL.



Convey this
http://www.ru.conveythis.com/ - how it works I do not know, have not tried.



Altavista babelfish
babelfish.altavista.com - translate text and web pages - english, dutch, greek, spanish, italian, chinese, korean, german, portuguese, russian, french, japanese



Imtranslator
freetranslation.imtranslator.net - text translation - english, arabic, dutch, greek, spanish, italian, chinese, korean, german, portuguese, russian, french, japanese
webtranslation.imtranslator.net - translation of web pages - english, spanish, italian, german, portuguese, russian, french



Translate.ru
translate.ru1 - text translation Without registration, translation quality is noticeably worse
translate.ru2 - translation of web pages - english, spanish, italian, german, portuguese, russian, french



Traduku
lingvo.org/traduku - translation of text and web pages - English, Esperanto



Webtrance
webtrance.skycode.com - translation of text and web pages - English, Bulgarian
translation-guide.com - Convenient start page. From here you can use five different translation sites (all of them are presented). There are all Scandinavian and almost all Eastern European languages.



InterTranguide.com
translation-guide.com - - directly from its main page does not work. Only through the form on extraneous sites, for example, translation of text and web pages - English, Bulgarian, Welsh, Hungarian, Dutch, Greek, Danish, Icelandic, Spanish, Italian, Latin, German, Norwegian, Polish, Portuguese, Romanian, Russian, Serbian , Slovenian, Finnish, French, Croatian, Czech, Swedish, Japanese



TranslationBooth.com
translationbooth.com - text translation - english, arabic, bulgarian, welsh, hungarian, vietnamese, dutch, greek, danish, icelandic, spanish, italian, chinese, korean, lithuanian, german, norwegian, polish, portuguese, romanian, russian, serbian , Slovak, Tagalog, Turkish, Finnish, French, Hindi, Croatian, Czech, Swedish, Japanese



WorldLingo.com
worldlingo.com1 - text translation
worldlingo.com2 - web pages translation - english, arabic, dutch, greek, spanish, italian, chinese, korean, german, portuguese, russian, french, swedish, japanese



Poltran.com
poltran.com - Text Translation - English, Polish



1-800-Translate.com
1-800-translate.com - free translation once a day - text translation - English, Arabic, Dutch, Hebrew, Spanish, Italian, Chinese, Korean, German, Polish, Portuguese, Russian, Turkish, Ukrainian, Farsi, French, Japanese

I hope I managed to shed light on the problem of automatic translation of sites into other languages.
If you know another way to translate a site into another language, please let us know in the comments.