Killer Targets «Shoot Somethin Different» - Interesting targets for shooting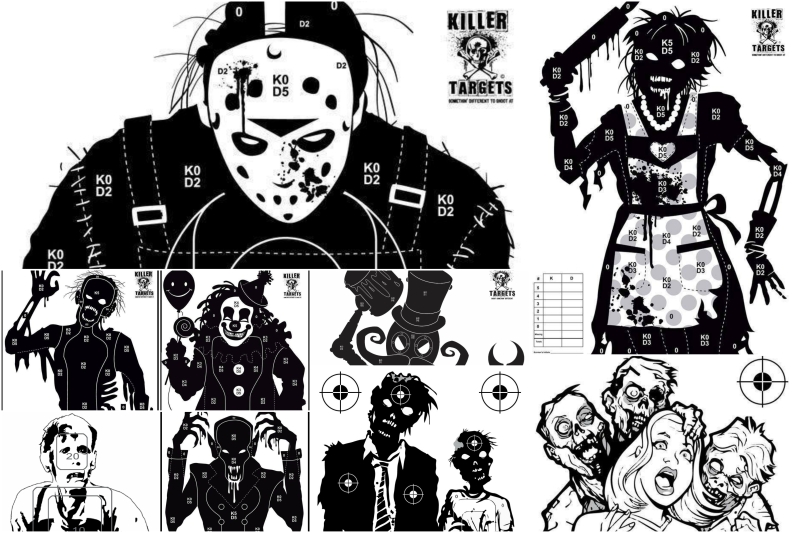 The target is an artificial target for training and shooting competitions at polygons and shooting ranges.
There are several types of targets:
Paper targets (usually with the image of concentric circles or the silhouette of a person / animal).
Targets for bench shooting ("plates").
Targets for bullet shooting (paper targets).
Animal models (for archery).
Mechanical or electron-mechanical targets (a device capable of returning to its original position after a bullet hit).
Targets for darts.
In this section you can download interesting targets for shooting. Download them, open the archive or image and just print. Now you do not need to buy the target in the store, just print them out at home and start the exercises.
Sports slang
Bullet shooting is one of the types of shooting sport. In this sport, shooting is made from pneumatic (4.5 mm), small-bore (5.6 mm) and large-caliber (7.62 mm for rifles and 7.62-9.65 mm for pistols) rifles and pistols. It is subdivided into shooting from a pistol, rifles, rifle shooting on a moving target. The procedure for awarding and confirming ranks and ranks in Russia is determined by the Unified All-Russian Sports Classification (EBC).
The apple is the center of the target. The use is connected with the tradition: in antiquity, as a target used improvised items, including fruits. Thanks to the legend of Wilhelm Tell, the apple, pierced with an arrow, became the symbol of the accuracy of the arrow. Hence the expression "Into the bull's eye".
In the most apple - hit in the very center of the target, bringing the most points.
The gauge is the target of the target. The boundary between neighboring values, for example, between the "eight" and "nine", is called the overall size. The contact, which barely touched the clearance, is called the overall hole. Such a shot is counted in favor of the athlete, that is awarded to the point, the external dimension of which is touched.
Milk is a white field around the target. Hit in this zone does not bring points, does not count as a productive shot, is a miss.
To get into milk - to miss when throwing or shooting.
Company targets "Squire"
Targets are made to the standard A4. Just download the target (pdf opens) and print it on the printer. You will be the most stylish shooter, because Our targets are unique and unlikely to meet elsewhere.
Target Targets Killer Targets "Shoot Somethin Different"
Targets are collected over the Internet. The standard for all is different. Just download the target (a pdf or large image will open) and print it on the printer. These are unique targets that you will not find anywhere.