Zip codes of Ukraine
Areas of Ukraine
Areas of Ukraine
Zip code - a sequence of letters or numbers added to the mailing address in order to facilitate the sorting of correspondence, including automatic. Currently, the vast majority of national postal services use postal codes.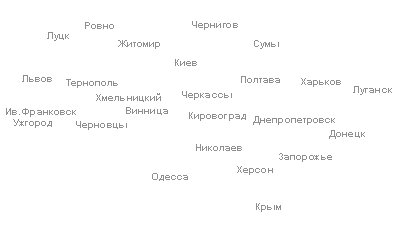 Ukraine Post Office
Ukraine's postal division follows the administrative division of the country. The first two digits of the postcode of modern Ukraine correspond to a specific region or city of central subordination. Each district has a code of the form XYZ **.
Until the end of the 1990s, Ukraine had a six-digit Soviet postal indexation system, after which it switched to a new five-digit system (international standard). From August 1, 1999 to January 1, 2000, both old and new postal codes operated in Ukraine. Since 2000, a five-digit system has been used.
The construction of a modern postal indexing system of Ukraine is based on the following principles:
The first and second digits of all indices are administrative entities (according to the table below).
The third digit of the indices is a city or district.
The third , fourth and fifth digits or fourth and fifth are numbers of post offices or settlements.
To designate post offices used indices with the third, fourth and fifth digits "000".
For designation of city and regional communication centers indexes with the fourth and fifth digits "00" are used.
For the designation of zonal hubs, centers of transportation of mail, railway post offices, branches of transportation of mail, indices with the third, fourth and fifth digits "XXX" are used.
The city of Kiev, taking into account its special status, denotes the first and second digits of the indices 01, 02, 03, 04, 05, 06 to designate post offices and nodes.
Indices are assigned to rural settlements with a population of over 500 people, regardless of the presence or absence of liaison offices.
Story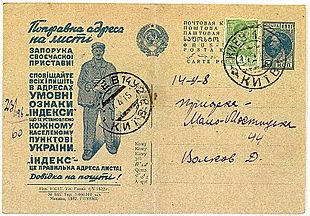 Marked postal card of the USSR with a call to indicate the postal code and affixed postal codes of Kiev (14U8 and 14U2).
It first began to be used in the USSR from 1932 to 1939 under the name "Index" and was a code of the form "number — letter — number", for example, 12У1, 14У8, etc. The letter "U" in the middle of the code meant "Ukraine" The first number is Kiev, for which the numbers from 11 to 20 were provided, and the number at the end is a smaller postal district. In 1932, in Kharkov, which at that time was the capital of the Ukrainian SSR, a special index of Ukrainian postal codes was published, where the indices began with numbers from 1 to 10. The abolition of the postal code system is associated with the beginning of the Second World War. Subsequently, the zip code was introduced in 1971.