Farm Frenzy 2 [ONLINE]
Merry Farm 2 is the long-awaited continuation of the best casual game according to the KRI Awards 2008. As before, you have to grow grass, feed it animals, collect food in a warehouse, process and sell them - in general, keep a farm that will gradually become the largest in City. But this time you got not a seedy hamlet, but a whole city, which will not be easy to conquer. Despite all the apparent simplicity, the game is able to challenge even the most experienced players. Can you get the gold cups on each level? Are you able to not lose a single pet during the entire game? And collect all the awards and accumulate a whole million in the bank? It is safe to say that the second part of the Merry Farm is even more fun and colorful, even more interesting and exciting, and most importantly, even more fun.
The game Farm Frenzy 2 is the long-awaited sequel to the game Farm Frenzy, which received the award of the best mini-game according to the KRI Awards 2008. As before, grow herbs for animals, deliver products to the warehouse, and then to the market to get money in return. To protect yourself from bears that encroach on your living creatures, you can buy a dog (or better not one). Cats help you harvest the harvest products. With each new level you master a new piece of the whole city. And in a special store you can buy new buildings and make improvements to existing ones. A special plane can deliver some products from the city.
Features of the game Farm Frenzy 2
* 5 products you can buy in the city
* 4 species of animals
* 4 types of bears
* 12 buildings, each of which has three improvements
* 16 products that can be produced
* 17 secret jokes you can find
* 19 awards
* 4 additional buildings with three upgrades
* Cats and dogs helping in the household, and having 3 levels of training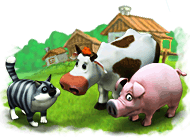 [
DOWNLOAD GAME
]