Payment terminals - bank processing
LLC "SMPU" - Payment solution integrator
The system of mass payments of Ukraine
Modern banking processing OpenWay
Self-service terminals that meet modern requirements
Professional team
Modern bank processing
LLC SMPU has its own processing center.
LLC SMPU has its own processing center.
Banking processing from the recognized leader in the field of building banking and processing systems.
Transaction processing technology and terminal network support is built on OpenWay software
The technology is certified in the Ukrainian Processing Center
Co-Service Terminal

[ MORE PHOTOS >>> ]

Data sheet:

Possibility of accepting cash
Possibility of receiving plastic cards
Case steel
LCD matrix 17 'Samsung LTM170EU-L21
System unit DEPO SKY333
CN10000EG Motherboard
Speaker system 2WGenius SP-P110
The CRT-284 card reader (or any other motorized)
Pin-pad SZZT ZT598C
Cash-Code Cash Flow Calculator MSM
Stacker Cash-Code 1000 notes
Thermal printer STAR TCP 100 (or VKP80)
PO "emulator Aptra Advanced NDC"
our clients
JSC "Delta Bank"
PJSC "International Investment Bank"
LLC "Automobile Group Bogdan" Ukrainian Automobile Holding
Open Company "PIONER MK"
Pat Terra Bank
InBank LLC
In the near future: VAT "Oschadbank", PJSC "BANK TAVRICA" and others ...
Basic proposals for cooperation
Modern banking processing and self-service terminals allow customers to offer a quality, modern and reliable tool for accepting payments from the public using various schemes of cooperation:

Customer service in the network self-service terminals SMPU
Installation of self-service terminals in the network of bank branches
Installation of self-service terminals at agreed points of customers
SMPU LLC invites to cooperation banks, financial and insurance companies, credit and settlement centers, retail networks, car dealership and car service stations, all interested in the introduction of modern and reliable methods and means of automated payment acceptance.
BUSINESS SCHEME
The business scheme of the self-service terminal network of the SMPU company corresponds to the legislative base of Ukraine and is built in full compliance with the Resolution of the Board of the National Bank of Ukraine # 53 of 05.03.2008 and subsequent explanations contained in NBU letters.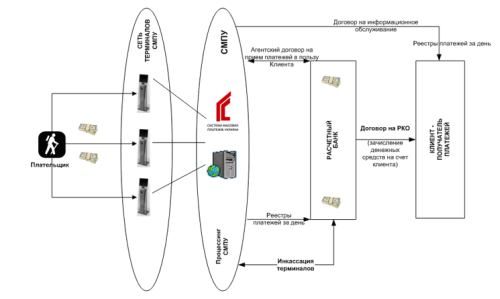 * Click to open a larger image
Participants in the relationship:
Clients (Payer) - individuals who make payments using terminals, in favor of banks and other service providers;
SMPU is the owner of terminals;
RB (settlement bank) is a bank that uses SMPU terminals on the basis of an agency contract;
IP (service provider) - mobile operators, Internet providers, cable TV operators, utilities providers, etc., in favor of which customers make payments.
The essence of the relationship:
SMPU concludes an agency agreement with the Republic of Belarus on accepting payments. Under this agreement, the SMPU establishes terminals connected to the processing of SMPU at agreed payment acceptance points. SMPU in its own strength and at its own expense conducts terminal maintenance and software support for such terminals. In addition, the SMPU supports information exchange with the Republic of Belarus, and, if necessary, with the IP.
Collection of terminals at the payment acceptance points is carried out by the Republic of Belarus.
Under existing agreements, the Republic of Belarus receives a commission (internal) from the IP with payments in their favor. In addition, upon the agreement of the parties, an additional commission (external) is levied on the clients-individuals. The coordinated part of such a commission is paid by the RB to the SMPU as a reward to the agent for the services provided.
Information on the number and types of payments made by the Customers, as well as on the amount of money transferred by the Customers to the benefit of the Republic of Belarus, the IP (hereinafter referred to as reporting information) is received electronically by the RB and / or IP within the framework of information exchange. Based on the accounting information and taking into account the terms of the agency agreement, the Bank makes mutual settlements.
The above scheme of cooperation is basic and can be modernized in accordance with the wishes and needs of potential participants.
ABOUT COMPANY
The company "Mass Payments System of Ukraine" (SMPU LLC) is the Ukrainian operator of a network of self-service terminals for accepting payments to the benefit of banks, insurance and financial companies, mobile operators, cable television, utility payments, etc. Coverage map - Kiev and major cities Ukraine. LLC "SMPU" has its own processing center, built on the software of one of the leaders in the field of banking solutions of the company "OpenWay Technologies".
In the standard version, all self-service terminals of the SMPU network offer customers the opportunity to use cash and / or plastic cards of partner banks for settlements. For this, our processing center and our terminals are equipped with all the necessary encryption and cryptography tools, and are also certified in the Ukrainian processing center.
Standard functionality for clients: repayment of loans, replenishment of accounts, information on the account balance, mini statements, transfers from account to account. In addition, all terminals allow customers to pay for the services of third parties (mobile phones, cable TV, utility bills, etc.). The list of services provided to customers in the terminal network is constantly being replenished by the introduction of new services.
MARKET BACKGROUND
At present, according to NBU statistics, the number of already installed terminal devices in Ukraine is more than 60 thousand pieces (32.3 thousand devices are bank devices, 30.9 thousand devices are non-banking devices). At the same time, only for the last half-year the banking segment of such devices decreased by almost 6 thousand units, while the non-banking segment grew by 8 thousand pieces. It should be noted that, despite the serious shortcomings of the proposed solutions, banks are forced to try to conclude agency contracts with terminal companies in search of additional channels for collecting money. So, in the second half of last year, the volume of cash flows passing through the terminals increased by 56% compared to the first half-year - up to UAH 7 billion.
According to the NBU, at the beginning of this year, 76% of domestic financial institutions worked with payment terminals. At the same time, 12 non-bank market participants signed agency agreements with banks.
TECHNOLOGICAL ADVANTAGES OF THE SPSU SOLUTION
The technological solution of SMPU is based on the processing of one of Europe's largest companies "OpenWay Technologies", which is in partnership with LLC "SMPU". Thus, the SMPU company in the field of terminal networks is the sole owner of "industrial processing" WAY4 "in Ukraine.
For the basic device is accepted self-service terminal produced by the company "Bankcard" (Slovakia). This terminal is equipped with a bill acceptor and a card reader, which allows you to make any kinds of payments, using cash and plastic cards.
CLIENTS OF THE COMPANY
Already today SMPU customers are: Delta Bank, PJSC International Investment Bank, Bogdan Automobile Group, Ukrainian Automobile Holding, PIONER MK LLC.
In the process of approval, the project is being implemented in the "Oschadbank", "Terra Bank", PJSC "BANK" TAVRIKA "and others.
COATING
AT "Delta Bank"
ALCHEVSK, FRUNZE 45
ANTRATSIT, PETROVSKOGO 34-P
ANTRATSIT, PETROVSKOGO 34-P (2)
ARTEMOVSK, LENINA 13
BELAIA CERKOV, TEATRALNAIA 11/5
BERDYANSK, SHEVCHENKO 1/21
BORISPOL, KIEVSKIY SHLYAH 17A-2
BROVARI, GAGARINA 16
CHERKASI, SHEVCHENKO 100
CHERKASI, SHEVCHENKO 170
CHERNIGOV, MSTISLAVSKAYA 25
CHERNIGOV, MSTISLAVSKAYA 25
CHERNOVTSI, ZANKOVETSKOI 18
CHORTKIV, S.BENDERI 31
DNEPRODERZHINSK, SIROVTSA 23A
DNEPRODERZHINSK, SIROVTSA 23-A
DNEPROPETROVSK, GORKOGO 2
DNEPROPETROVSK, GORKOGO 2
DNEPROPETROVSK, KOSIORA 29-B
DNEPROPETROVSK, MIRONOVA 5
DNEPROPETROVSK, TITOVA 8
DNEPROPETROVSK, TITOVA 8 (2)
DONECK, PROSP.GRINKEVICHA 7
DONETSK, GRINKEVICHA 7
DONETSK, ILICHA 21-V
DONETSK, PANFILOVA 15-I
DONETSK, PR. KIEVSKY 73-D
DONETSK, PR. KIEVSKY 73-D (2)
DONETSK, SHEVCHENKO 100
DONETSK, SHEVCHENKO 100 (2)
DONETSK, UNIVERSITETSKA 46
DONETSK, UNIVERSITETSKA 46 (2)
DROGOBYCH, TEATRALNA 3
ENERGODAR, RADYANSKA 16
EVPATORIYA, PR. LENINA 51/50
FASTOV, SOBORNAYA 39
FEODOSIYA, KOROBKOVA 2-A
GORLOVKA, GAGARINA 46
GORLOVKA, GAGARINA 46 (2)
IRPEN, SHEVCHENKO 16
IVANO-FRANKOVSK, VASILIYANOK 22
IVANO-FRANKOVSK, BELVEDERSKAYA 27
IZMAIL, LENINA 21
KALUSH, PODVALNAYA 4A
KAMENETS-PODOLSK, L.UKRAINKI 35/8
KERCH, KURSANTOV 20
KHARKOV, AHSAROVA 16
KHARKOV, AK. PAVLOVA 120-A
KHARKOV, AK. PAVLOVA 120-A (2)
KHARKOV, LENINA 32
KHARKOV, PRAVDI 17
KHARKOV, PRAVDI 17 (2)
KHARKOV, SHEVCHENKO 100
KHERSON, 200 LET KHERSONA 35-A
KHERSON, 200LET KHERSONA 3-A (2)
KHMELNITSKIY, KAMENETSKAYA 52
KIEV, BAGANA 5G
KIEV, FRUNZE 127
KIEV, FRUNZE 127
KIEV, G.STALINGRADA 8 KORP 5
KIEV, KOMINTERNA 13-135.
KIEV, MIHAYLOVSKAYA 18
KIEV, O.TELIGY 27
KIEV, PETLURI 13/135
KIEV, PR POBEDI 20A
KIEV, PR.BAZHANA 5-G
KIEV, PR.GAGARINA 15A
KIEV, SAKSAGANSKOGO 44
KIEV, SHEKAVITSKAYA 30/39
KIEV, SHERBAKOVA, 53
KIEV, SHORSA 36-B
KIEV, STOITELEY 38/14
KIEV, STROITELEY 38/14
KIEV, UL.FRUNZE 127
KIEV, VASILKOVSKAYA 6
KIEV, VOZDUHOFLOTSKIY 58 (2)
KIEV, VOZDUHOFLOTSKY 58
KIROVOGRAD, NABEREJNAYA 9
KIROVOGRAD, NABEREZHNAYA 9
KONOTOP, SHEVCHENKO 73
KOVIL, SAGAYDACHNOGO 6-B
KRAMATORSK, MARATA 14
KRAMATORSK, MARATA, 14
KREMENCHYG, KRASINA 89A
KREMENCHYUK, PROLETARSKAYA 22/13
KRIVOY ROG, KREMLEVSKAYA 21
KRIVOY ROG, MYSORGSKOGO 14
KRIVOY ROG, MYSOORGSKOGO 14 (2)
KRIVOY ROG, PR. MIRA 33
KRIVOY ROG, PR. MIRA33
LUGANSK, GEROEV VOV 10
LUGANSK, GEROEV VOV 10 (2)
LUGANSK, SHELKOVOGO 31
LUGANSK, SHELKOVOGO 31 (2)
LUTSK, SLOVACKOGO 12
LUTSK, SLOVATSKOGO 12
LVOV, CHERNOVOLA 67-B
LVOV, CHERVONOY KALINI, 64
LVOV, GEROIV UPA 18
LVOV, KOPERNIKA 10
LVOV, KOPERNIKA, 10
MAKEEVKA, LENINA 57A
MAKEEVKA, LENINA 57-A
MAKEEVKA, LENINA, 57A
MARIUPOL, METALURGOV 68
MARIUPOL, PR. METALLURGOV 68
MARIUPOL, PR.POBEDY 98
MELITOPOL, FRUNZE 54
MUKACHEVO, MIRA 3
NEZHIN, BATUKA 1
NIKOLAEV, PR.LENINA 22
NIKOLAEV, SPASKAYA, 52A
NIKOLAEV, SPASSKAYA 52-A
NIKOPOL, SHEVCHENKO 175/23
NOVA KAHOVKA, PERSHOTRAVNEVA 1A
NOVOVOLINSK, VINNICHENKO 6
ODESSA, GLUSHKO 11-I
ODESSA, LANZHERONOVSKA 17
ODESSA, LANZHERONOVSKAYA 17
ODESSA, PUSHKINSKA 31
ODESSA, PUSHKINSKA31
OLEXSANDRIA, LENINA 54
PAVLOGRAD, GORKOGO 145
PAVLOGRAD, GORKOGO 145 (2)
POLTAVA, 23 VERESNYA 13
POLTAVA, 23 VERESNYA 13 (2)
POLTAVA, KOMSOMOLSKAYA 34-A
POLTAVA, SENNAYA 2-49
PRILUKY, NEZAVISIMOSTY 61-A
ROVNO, CHERNIAKA 2
ROVNO, CHERNIAKA 2 (2)
SARNY, BELGORODSKA 9-2
SEVASTOPOL, G. PETROVA 10
SEVASTOPOL, GENERALA PEROVA, 10
SEVERODONETSK, DONETSKAYA 52
SEVERODONETSK, DONETSKAYA 52 (2)
SIMFEROPOL, TURETSKAYA 14
SIMFEROPOL, TYRECKAYA 14
STRYI, USPENSKA 48
SUMY, 9-TRAVNYA 4
SUMY, 9-TRAVNYA, 4
SUMY, KIROVA 6
SUMY, KIROVA 6 (2)
TERNOPOL, M. SHEPTITSKOGO 2
TERNOPOL, M. SHEPTITSKOGO 2 (2)
UMAN, OKTYABRSKOI REVOLUTSIYI 78
UZHGOROD, POBEDI 11-B
UZHGOROD, POBEDI 11-B (2)
VINNITSA, PERVOMAYSKAYA 43
VINNITSA, PR.KOTSUBINSKOGO 4
VINNITSA, PR.KOTSUBINSKOGO 4 (2)
VOZNESENSK, KIROVA 20A
YALTA, GOGOLYA 24
ZAPOROGHYE, LAHTINSKAYA 13
ZAPOROGHYE, LENINA 212
ZAPOROGHYE, LENINA 212 (2)
ZAPOROZHYE, LENINA 146
ZAPOROZHYE, LENINA 36
ZAPOROZHYE, LENINA 36
ZHELTIYE VODI, GAGARINA 10-47
ZHITOMIR, KIEVSKA 102
ZHITOMIR, KIEVSKA 102
ZHITOMIR, LVOVSKA 2/8
ZHITOMIR, LVOVSKA 2/8 (2)
ZOPOROGE, LENINA 36
Corporation Bogdan
| | |
| --- | --- |
| M. Kiiv, Vul. Новоконстантинівська 1A | Town of Kozin, ZhBK Chistovoddy 23 |
TerraBank LLC
CHERKASI, GOGOLYA, 250
CHERNIGOV, POBEDI, 91
CHERNIVCI, GOLOVNA, 189
DNEPROPETROVSK, PUSHKINA, 30
DNEPROPETROVSK, TITOVA 8
DONECK, CHELUSKINCOV 105
HARKOV, IVANOVA, 11/13
HERSON, KOMSOMOLSKAYA, 31
HMELNICKIY, PROSKYRIVSKA, 58
IVANO-FRANKOVSK, GARKYSHI, 24
KIROVOGRAD, VINNICHENKA, 1
KIROVSK, BORISOVA, 14A
KOLOMIYA, TUTUNNIKA, 2
KREMENCHYG, PROLETARSKAYA, 30
KRIVOY ROG, 4 ZARECHNIY, 109
KRIVOY ROG, CILKOVSKOGO, 7/2
KRIVOY ROG, KORNEYCHYKA 9/74
KRIVOY ROG, KOSIORA, 17/4
KYIV, BUL. DRUJBI NARODIV, 28 B
KYIV, CHERVONOZORIANIY, 5
KYIV, KYDRIAVSKIY SPYSK, 2
KYIV, PUSHKINSKAYA, 5
KYIV, SRIBNOKILSKAYA, 24
LUGANSK, OBORONNAIA 4
LUTSK, SENATORA, 1/1
LVOV, GAZOVAYA 36/2
NIKOLAEV, FALEEVSKAYA, 1
NOVOSELISHE, CENTRALNAYA, 108
ODESSA, BALKIVSKA, 22A
ODESSA, PASTERA, 52
POLTAVA, LENINA, 16
ROVNO, PERESOPNICKA, 8
SIMFEROPOL, KIROVA, 14
STAHANOV, DZERGINSKOGO, 30A
SUMI, NABEREGNAYA STRILKI, 22
TERNOPOL, S.BANDERI, 33
UJGOROD, SHVABSKAYA, 11
VINNICA, GRUSHEVSKOGO, 22
ZITOMIR, KIEVSKA 59
ZOPOROGE, SVERDLOVA 23A
Open Company "PIONER MK"
M. Kiiv, Vul. Мечнікова 5
M. Kiiv, Vul. Bogatirska 3D
M. Kiiv, Vul. Zhukovsky 22
LLC "UkrInBank"
M. Kiiv, Vul. Смірнова-Ласточкіна 10А
Advantages of the terminal owner:

The program is specially designed and debugged for ease of maintenance, reliability and security.
Minimum costs for business organization.
Ability to install a payment terminal in any place where there is a mobile connection.
The terminal is equipped with a wireless GPRS / GSM-modem and the ability to connect to an office LAN.
Data transmission using the Internet channel is carried out on the basis of VPN GPRS technologies.
The activities for accepting payments from the terminal, provided that we work with our company, are not subject to licensing.
You receive a commission from each payment made
You monitor the terminal in real time via the Internet: checking the connection, the number of notes, the end of the check tape, unauthorized access, etc.
Instant payment terminal is compact.
Payment terminal is economical.
You can accept payments 24 hours a day, 24 hours a day, 365 days a year, excluding the costs for payment to the cashier-seller, significantly reducing the cost of the leased area, since you only need 1 sq.m. Plus, there are no costs for buying a cash register and equipment for the operator's trading place.
The cost of servicing one machine is not great, it is collection, replacement of thermal printer paper and payment for GPRS communication.
The machine is completely autonomous and does not require any maintenance of any human participation. With the use of such automated payment acceptance, it will be easier for you to agree with renting a space for a kiosk in supermarkets and large stores where the problem with a free place is acute.

Advantages for the user:

The subscriber can easily carry out express replenishment of personal accounts (crediting of the payment within a few seconds).
Automatic payment receipt terminal provides a wide choice of federal and regional service providers.
For payment, you do not need to take any additional action (activate the prepaid card).
The balance can be replenished for any amount, it is not related to the denominations of prepaid cards.
Replenishment of the account is possible at any point of payment acceptance, regardless of its geographic location.
All information through the payment receipt terminal is transmitted over the secure connection.
Selecting the location of the payment terminal
Little tricks that will help you
With each month the number of installed payment kiosks in major cities increases and one can only envy the pioneers of this business, who managed to occupy the most profitable places and secured a constant flow of customers, but what to do to those who have just started their business in accepting payments? How to take your "place under the sun" in this profitable business, because its potential only increases.
One of the most frequently asked questions for
SMPU
specialists is that clients who are going to start their own business are kindly asked to give advice on choosing the optimum location for sensor kiosks, because it is obvious to everyone that the location of the terminal in the way of flow of customers is the main factor in it Effective work and determines the amount of profit brought to its owner.
Can you identify the factors that must be taken into account first when choosing a location?
Below we give the recommendations of the specialists of
LLC "SMPU"
on this issue.
With the full version of the document you can find on the website of the company
"SMPU"
.
First of all, you need to take into account the customer's gravity zone, which is determined by the distance from the store, the organization where you are going to put the terminal to the place of residence or work (for work) of clients.
Considering the high saturation of retail outlets in all districts of the city, it is necessary to rely mainly on those customers who can be located from a given location within a radius of 400-800 meters.
To plan the placement of vehicles, it is necessary to put on the map of the area all operating outlets of a similar profile, including markets, lari and others, as well as traffic routes and real routes for pedestrians.
Finally, the number of people living in the area, the number, type and size of nearby businesses, the number of people coming to work from other parts of the city should be estimated.
It is also necessary to take into account information on terminals installed by competitors in the area.
Based on the results of the analysis, the potential number of clients who will use the services of the terminal is determined.
It is advisable to identify several possible options for placing stalls and make an objective comparison between them. The following is an example of such an analysis.
Before planning the location of your kiosks, use these simple rules to determine the optimal placement point:
1. Kiosks in the most crowded places will attract the largest number of customers, this is a well-known truth, which is key, first of all. If you want the touch kiosk to attract a lot of users, put it where there are a lot of people.
2. Sometimes the lower passability of people is significant and more profitable - it depends on the type of kiosk and the services that it provides. For example, such electronic kiosks, photo kiosks or Internet kiosks require a longer time to work. They should be located in places where users will not create problems with the flow of people, during the service in the touch kiosk.
3. Do not be persuaded by landlords to install a kiosk where there is already a power outlet. It will be convenient for the landlord, but not for users of your touch-screen kiosk. A kiosk installed in an inconvenient place, but with an available ready-made outlet, is less cost-effective than hiring an electrician to install the outlet to where the kiosk should stand and bring more profit.
4. Remember the availability for your users. Do not put kiosks near objects that might limit their use - narrow aisles, corners, commercial equipment, furniture, etc.
5. Remember the availability for the service kiosk. It is not enough sometimes to access the kiosk from the front, sometimes there is a need for access to the back of the terminal. The presence of ample area around the kiosk will allow you to move it as you need, and provide a large amount of work space for the staff of the service.
Good luck in business!
SALE: > 200 firmware for CashCode (v.917) price 5 $ apiece with free installation! [ Contact Form ]
ADVERTISEMENT: Would you like to be on this page? Please, contact us! [ Contact Form ]