Kievans will be able to follow the repair of roads online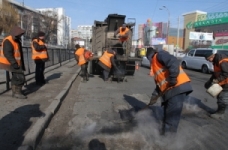 Road repairs can be observed online.
In Kiev, launched a site remcontrol.com.ua where citizens will be able to publish photos of the pits on the roads, and Kyivavtodor undertakes to provide a photo of the repaired area within a week.
The site reflects the status of the implementation of the schedule of repair of Kiev roads, confirmed by representatives of the Kievavtodor spacecraft, according to the Program for the elimination of pits on the street road network of Kiev in 2013 initiated by the KSCA Chairman Alexander Popov on February 19, 2013.
Information about the current state of repair of the pavement of the streets of Kiev is received daily as repairs are performed (subject to the weather conditions assigned for the work: no heavy snow, rain, frost below -5 ° C), namely: repairs and photos are being carried out during the day (video a) fixing, in the evening pictures and information is posted on the site. Daily planning is carried out the next day as well as fixing the work performed. Every ten days there is an update of work plans and, accordingly, their display on the site map.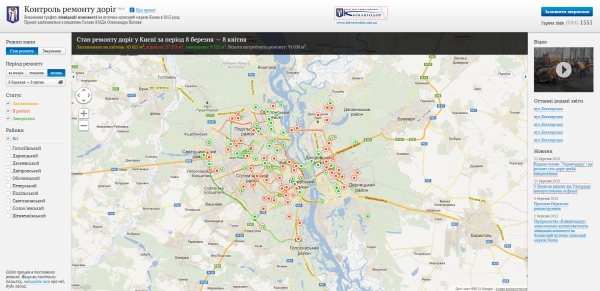 On the site you can publish photos of pits from the inhabitants of Ukraine.
According to the site, the authorities are planning to repair 45,655 sq. M. For April. m, in the work are 27,221 square meters. m, completed repair only 9335 square meters. m roads Total need to repair 91,030 square meters. m city streets.
"Liquidation of holes on the roads was suspended due to snowfall. Now the snow is rapidly melting, and since Tuesday we have resumed this work in almost all districts of the capital. Yesterday the first batch of asphalt concrete was used - 90 tons. On Wednesday, we also get 200 tons. That is, the work on the elimination of pits will be carried out in an enhanced mode, "- explained" Today "Vasily Melnichenko, chief engineer of" Kiev Avtodor. "