Letter combinations on car state numbers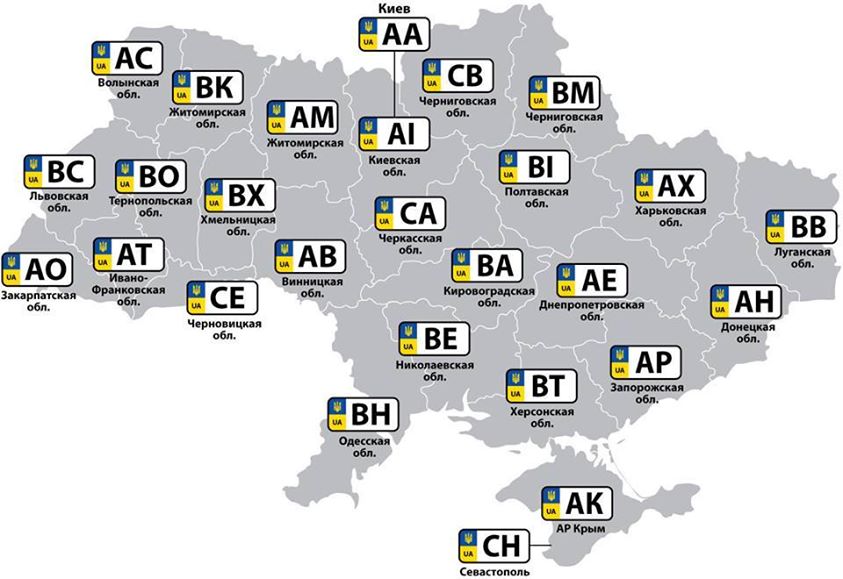 Car number - the individual registration plate (number) of the car. It is usually depicted on a retroreflective sheet of metal or plastic (license plate) on the front and rear sides of the machine, or on a paper base and is placed under the front (wind) or rear glass of the vehicle.
Often the car number indicates the administrative unit of the state in which the vehicle is registered.
In many states, the numbers are issued by the central registration agency, and in Canada, Australia, Germany, Pakistan, and in the USA, the establishment is distributed by the local authority.
Old and New codes and series of license plates in Ukraine
01 KR, KO, KT (KR, CA) - old, AK - Republic of Crimea
02 ВI, ВТ, ВХ (ВИ) - old, АВ - Vinnytsia region
03 VO, VK, VM (VN) - old, AU - Volyn region
04 АА, АВ, АЕ, АК, АН (ДН, ДП) - old, АЕ - Dnipropetrovsk region
05 ЕА, ЕВ, ЕК, ЕН, ЕО, ЕС (DO, ДЦ, СЛ) - old, АN - Donetsk region
06 VA, BB (LM) - old, AM - Zhytomyr region
07 RE (FOR) - old, JSC - Transcarpathian region (Uzhgorod)
08 ON, NOT, BUT, NR, NA (ZP, ZR) - old, AR - Zaporizhia region
09 IB, IC (IV, СЯ) - old, АТ - Ivano-Frankivsk region
10 КК , КХ , КМ (КХ) - old, АІ - Kiev region
11 KA, KI, KV, KE, KN (KI, HT) - old, AA - Kiev city
12 OM, OH, OS (CD) - old, VA - Kirovograd region
13 AM, JSC, AR, AT, AH (VG, LU) - old, BB - Lugansk region (former Voroshilovogradskaya)
14 TA, TV, TN, TS (LV) - old, AF - Lviv region
15 HI, NK, NT (NI) - old, VE - the Nikolaev area
16 ОА, ОВ, ОЕ, ОК (ОД, ОЕ) - old, ВН - Odessa region
17 SC, SN, SS (PO) - old, ВІ - Poltava region
18 RV, RA, RO (RV) - old, VK - Rivne region
19 SA, SV, CE (SU) - old, VM - Sumy region
20 TE, TI, TK (TE) - old, VO - Ternopil region
21 XA, XE, XI, HK (XA, HK) - old, AH - Kharkiv region
22 XO, XH (XO) - old, BT - Kherson region
23 ХМ, ХТ (ХМ) - old, ВХ - Khmelnitsky region
24 MA, MW, ME (CHK) - old, SA - Cherkasy region
25 MK, MM, MN (CHN, THU) - old, SV - Chernihiv region
26 MO, MP, MS (CV) - old, CE - Chernivtsi region
27 COP - old, CH - city of Sevastopol
Car number codes in Russia
01 (??) Republic of Adygea (Maikop)
02 (BA, BS) Republic of Bashkorstan (Ufa)
03 (BU) Republic of Buryatia (Ulan-Ude)
04 (AL, AB) Gorny Altai Republic
05 (YES) Republic of Dagestan (Makhachkala)
06 (CHN) Ingush Republic (Nazran)
07 (KB) Kabardino-Balkaria Republic. (Nalchik)
08 (KC) Republic of Kalmykia (Elista)
09 (??) Karachay-Cherkess Republic (Cherkessk)
10 (COP, LC) Republic of Karelia (Petrozavodsk)
11 (KM) Komi Republic (Syktyvkar)
12 (MC) Republic of Mari El (Yoshkar-Ola)
13 (MR) Republic of Mordovia (Saransk)
14 (Yak) Republic of Sakha (Yakutia)
15 (CE) Republic of North Ossetia (Vladikavkaz)
16 (TA) Republic of Tatarstan (Kazan)
17 (TV) Republic of Tyva (Kyzyl)
18 (UD) Republic of Udmurtia (Izhevsk)
19 (QW, CE, HS) Republic of Khakassia (Abakan)
21 (CHU) Republic of Chuvash Rep. (Cheboksary)
22 (AL, AB) Altai Territory (Barnaul)
23 (KK, Central Bank, TsV, TsP) Krasnodar Krai
24 (QW, CE) Krasnoyarsk Territory
25 (PC, PR) Primorsky Krai (Vladivostok)
26 (SS, ST) Stavropol Territory
27 (HB) Khabarovsk Territory
28 (AM) Amur Region (Blagoveshchensk)
29 (AH) Arkhangelsk region
30 (AU) Astrakhan Region
31 (BU) Belgorod region
32 (BR) Bryansk region
33 (VL) Vladimir region
34 (VG, SG) Volgograd region
35 (VO) Vologda region
36 (BB, VZH) Voronezh Region
37 (IV) Ivanovo region
38 (IR) Irkutsk region
39 (??) Kaliningrad region
40 (QOL) Kaluga Region
41 (KC) Kamchatka Region
42 (КЕ, ЦХ) Kemerovo Region
43 (KV) Kirov region
44 (KO) Kostroma region
45 (KN) Kurgan region
46 (KU) Kursk region
47 (LG, LO) St. Petersburg region
48 (LP) Lipetsk region
49 (MA) Magadan Region
50 (ME, MF, MZ, YuA, YuB, YuV) Moscow region
51 (MU) Murmansk region
52 (GO) Nizhny Novgorod Region
53 (BUT) Novgorod region
54 (NB, HH) Novosibirsk region
55 (OM) Omsk Region
56 (OB) Orenburg region
57 (OR) Oryol region
58 (PE) Penza Region
59 (PM, PT) Perm Region
60 (PS) Pskov Region
61 (RO, RD, RP, RRS) Rostov Region
62 (RYA) Ryazan Region
63 (KSh, UK) Samara Region
64 (SA, SZH) Saratov region
65 (СХ) Sakhalin Region
66 (SV, SF) Sverdlovsk Region
67 (CM) Smolensk region
68 (TA) Tambov region
69 (KA) Tver region
70 (TO) Tomsk region
71 (TU, TL) Tula region
72 (Tyu, TB) Tyumen region
73 (UL) Ulyanovsk Region
74 (EC, BH) Chelyabinsk Region
75 (THU) Chita region
76 (YAR) Yaroslavl region
77 (MK, MM, MN, MO, MT, SOUTH, UD) Moscow
78 (BC, LD, LE, CP, EU) city St. Petersburg (former Leningrad)
79 (??) Jewish Autonomous Region (Birobidzhan)
80 (??) Aginsky Buryat Autonomous District (pgt.Aginskoe)
81 (??) Komi-Permyatsky Autonomous Okrug (Kudymkar)
82 (??) Koryak Autonomous District (Palana village)
83 (??) Nenets Autonomous District (Naryan-Mar)
84 (??) Taimyr Autonomous Okrug (Dudinka)
85 (??) Ust-Orda Autonomous Region
86 (??) Khanty-Mansiysk Autonomous Okrug
87 (??) Chukotka Autonomous Region (Anadyr)
88 (??) Evenk Autonomous Okrug (pgt.Tura)
89 (??) Yamalo-Nenets Autonomous Okrug (Salekhard)
Car room codes in Belorus
A (BN) Brest region
B (BT) Vitebsk region
E (??) Gomel region
C (GK) Grodno region
K, M (MI, MK) Minsk city
O (MB) Minsk region
T (MG) Mogilev region
Litherospoluki, scho mean administrative and territorial or abbreviated
DSTU 4278: 2006
DODATOK B (obov'kovkovy)
| | |
| --- | --- |
| affection | literspoluca |
| AR Crim | AK |
| Vinnicke | AB |
| Volinska | Au |
| Dnipropetrivska | AE |
| Donetsk | An |
| Zhytomyr | AM |
| Zakarpatska | AO |
| Constipation | AR |
| Ivano-Frankivsk | AT |
| Kyivska | AI |
| m.Kyiv | AA |
| Kirovogradska | VA |
| Luganska | BB |
| Lviv | The sun |
| Mykolaivska | Be |
| Odesa | VN |
| Poltavska | VI |
| Rivnenska | VC |
| Sumska | VM |
| m. Sevastopol | CH |
| Ternopilska | IN |
| Kharkivska | OH |
| Kherson | BT |
| Khmelnitsky | BX |
| Cherkaska | Ca |
| Chernigivska | NE |
| Chernivetska | CE |
Literospoluki, yaki you can vikorisovuvati on signs
DSTU 4278: 2006
DODATOK V (obov'kovkovy)
| | | | | | | | | | | | |
| --- | --- | --- | --- | --- | --- | --- | --- | --- | --- | --- | --- |
| AA | VA | Ca | EA | ON | IA | Ka | MA | Oa | RA | TA | HA |
| AB | BB | NE | EV | HB | IB | KV | MB | OB | PB | Tv | XB |
| Au | The sun | - | EU | NOT | IC | The cop | MS | OS | RS | Vehicle | Cholesterol |
| AE | Be | CE | HER | NOT | IЕ | KE | IU | OE | RE | THOSE | HE |
| An | VN | CH | EH | NN | IN | Kh | Mn | HE | PH | TN | HN |
| AI | VI | CI | EI | HI | II | KI | MI | OI | PI | Ti | Xi |
| AK | VC | Sc | EC | NK | IK | QC | MK | OK | RK | TC | HC |
| AM | VM | CM | EAT | NM | Im | KM | MM | OM | RM | Tm | Hm |
| AO | IN | CO | EO | BUT | I0 | KO | MO | OO | Ro | THAT | HO |
| AR | BP | CP | EP | HP | IP | KR | Mr | PR | PP | TR | XP |
| AT | BT | ST | ET | NT | IT | CT | Mt | FROM | RT | Tt | HT |
| OH | BX | CX | EX | NC | Ix | KH | Mh | OH | PX | TX | Xx |
DSTU 4278: 2006 was adopted by the order of the Ukrainian State Standard 04.07.2006 № 191