#EuroMajdan # євромайдан Chronicle 14/03/2014
UPD: 14/03/2014 In Donetsk, pro-Russian activists stabbed a rally participant for the unity of Ukraine, - an eyewitness. PHOTO + VIDEO
The Russians, who were slightly injured, told the doctors when they helped them, that they were the organizers of the attack on the rally participants for a united Ukraine. Vitaliy Umanets wrote about this in his facebook.
The fact that the buses with citizens of Russia came to the pro-Russian meeting before the start of the clash was informed by the correspondent of Donetsk, Gazeta.ua. One of these buses was photographed by Donetsk activists. The bus arrived on March 13 at Garazhnaya Street, 1. The organizer of the trip is Volga-Travel. The official route of Essentuki is Athens.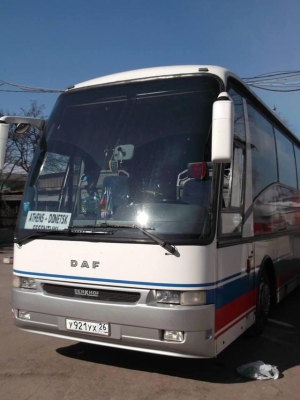 One person was killed by stab wounds after the attack of pro-Russian activists on participants of the peaceful rally for the unity of Ukraine.
"10 minutes ago these people stood on the square and sang the anthem of Ukraine, and not far from the posters" Putin, save us "stood those who consider themselves owners of Donbass, throwing stones, bottles, eggs, firecrackers, kefir, paint balls into singing Then they broke through the liquid cordon of the lazy militia and surrounded no one else, one was killed, many wounded, such Donetsk, "wrote an eyewitness of the bloody massacre in Donetsk, Sergei Grits.
UPD: 14/03/2014 Russia has surrounded Ukraine on three sides. The border has 100 thousand military and more than 500 tanks. MAP + PHOTOS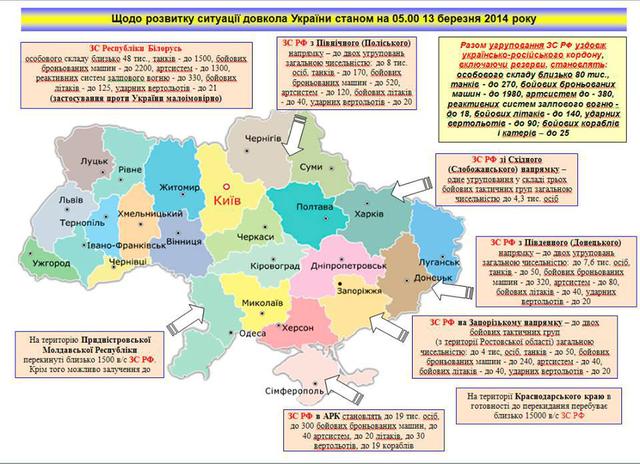 To the border with Ukraine, as well as to the Crimea, Russia stripped up to 100,000 troops, about 550 tanks, two hundred planes, 140 combat helicopters, more than 40 ships and boats, more than two thousand armored combat vehicles and many more military equipment.
Such calculations as of 5 am on March 13 were made by the group "Information Resistance", which deals with coverage of events in the Crimea.
About this on his page in Facebook wrote the head of the Center for Military and Political Studies Dmitry Timchuk.
According to the information, Russian troops have already surrounded Ukraine's borders on three sides.