#EuroMajdan # євромайдан Chronicle on 16/12/2014
UPD: 16/12/2014 "Ukrainian schoolchildren are forced to feed the titmice - they are yellow and blue, and kill the bullfinches is a symbol of Russia" - a new insanity of growth. VIDEO
Propagandistic hysterics of Russian television go off scale and go beyond the reasonable.
According to the latest information from the television channel Russia, at the lessons in the primary classes, Ukrainian teachers call on children to save in winter from the hunger of titmouses and to destroy bullfinches. Since the tit, "having a yellow-blue coloring symbolizes Ukraine, and the red-chested snegir personifies an imperial, red evil named after the USSR and its successor - Russia."
This information kindly shared with Russian viewers Vladimir Rogov - one of the representatives of terrorists of Novorossia.
UPD: 16/12/2014 The Russian Zen. Senseless and merciless

Financial Zen monitoring: monitoring of the dollar, euro and oil. Meditation. Relaxation for Ukrainians.
UPD: 16/12/2014 A scarecrow about the "junta": "Punishers rape 12-year-old children with their hands tied up, and then bury them alive." VIDEO
On the propaganda television channel "Russia" they told about the new "atrocities of Kiev punishers".
This time the terrible story was told to Russian TV viewers by Peter Yablonovsky, whom journalists presented the deputy minister of one of the terrorist republics.
UPD: 16/12/2014 "The explosion tower has blown away! The fennel is finished!", - the militants showed their destroyed equipment at one of the roadblocks. VIDEO
The militants showed one of the destroyed roadblocks in which Ukrainian fighters burned several armored vehicles.
Videos of burned-out equipment and terrorist positions appeared on the network. Judging by the author's comments, the militants placed their positions near the hospital in order to avoid the artillery of Ukrainian artillery. The details of the operation of the Ukrainian fighters and the location of its operation are unknown.
UPD: 16/12/2014 People's Deputy Leshchenko appealed to the traffic police with a demand to punish Surkis, who violated the rules of the road. VIDEO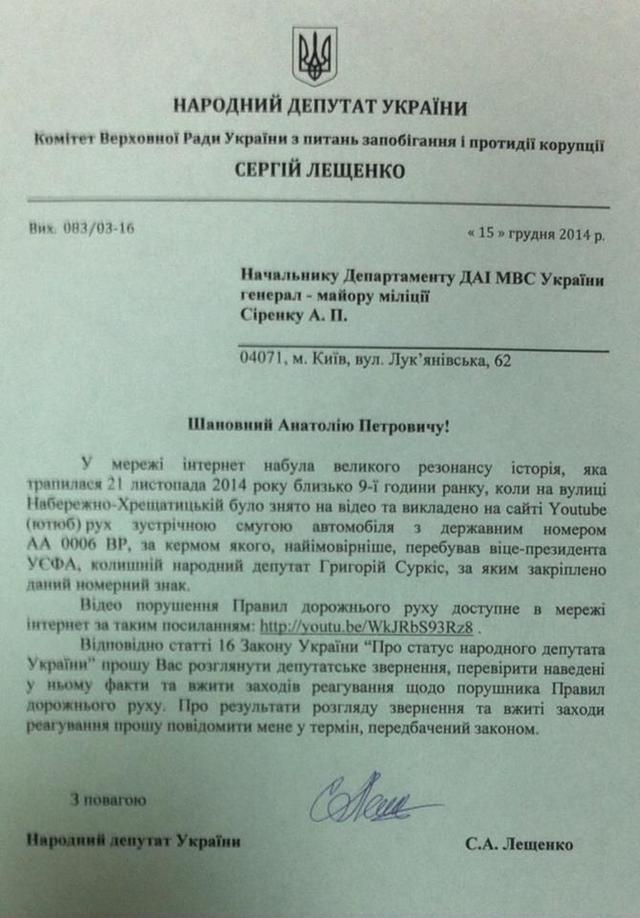 People's Deputy of the BCP Sergey Leshchenko sent a request to the head of the State traffic inspectorate with a request to check the facts of violation of the rules of the road by UEFA vice-president Grigory Surkis.
The corresponding document was published by the politician in his Facebook.
"Today I signed a half-dozen appeals, including Surkis's insolence, until they punish the" celestials ", nobody will believe in the justice of this state," Leshchenko said.
As you know, there is a video on the Internet that shows how Surikis' car is moving along the opposite lane along Naberezhno-Khreschatytska Street.