#EuroMajdan # єvromaydan Chronicle 06/02/2014
UPD: 06/17/2014 In the Kharkov metro, a pro-Russian passenger was chanted "Glory to Ukraine!" VIDEO
In one of the cars there was a dispute between a pro-Russian man and the rest of the passengers. The elderly man decided to discuss with the adherents of a united Ukraine regarding the current situation in the country.
A video of the incident appeared on the Internet.
He was especially angry in his own words with one of the passengers, who immediately reacted to his statements. Passengers in the car supported the woman with exclamations: "Glory to Ukraine! Glory to the heroes!", As well as "Odin, Odina, Ukraine's Cathedral".
The man decided to leave the car at the very first station after he said a phrase that even more outraged the passengers. Before leaving the car, he said: "A generation of fascists is growing." Following him shouted "Get!".
UPD: 06/17/2014 Patriotic avatars of Ukrainians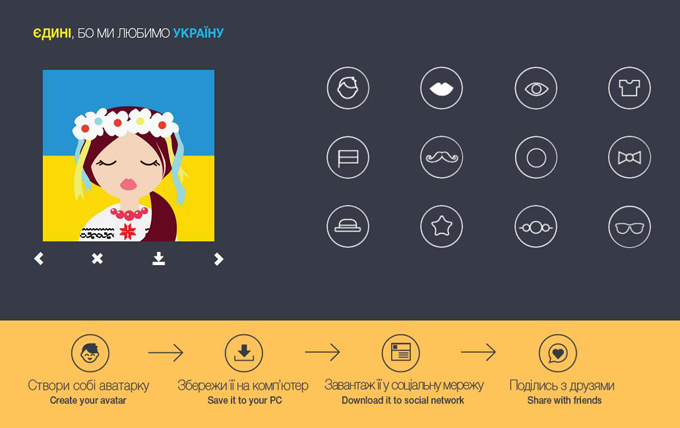 Using the "Unified" service, you can make an original avatar for every taste. The author of the idea was the designer from Kiev Anna Kostenko.
Drawn heroes can be dressed in an embroidered shirt or t-shirt, placed on the background of the Ukrainian flag or the flag of some other country, but with a small yellow-blue heart.
To realize the idea, Anna was helped by her husband - a programmer. On Facebook, VKontakte enthusiastically met such an idea. So everyone can create their own avatar.
- The idea came when I saw how many people in social networks want to support Ukraine and put different thematic avatars, said Anna. - As a result, it even became difficult to understand where who. During the sleepless week I developed a design. Most of the time was spent on drawing glasses, antennae, T-shirts and more. Already in the process, people sent what they still wanted to see, and in the evenings I finish helmets, helmets, beads.
UPD: 06/17/2014 Putin Huylo on wikipedia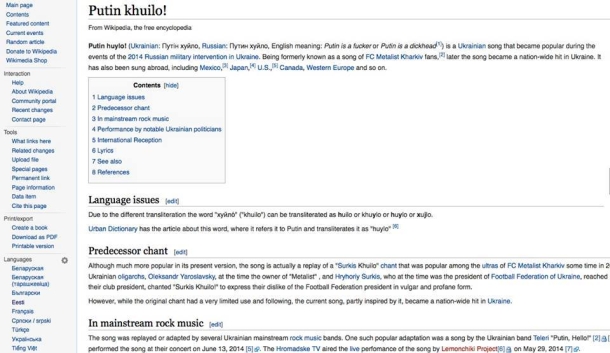 Putin huylo! (Ukrainian: Putin huylo, Russian: Putin huylo, English meaning: Putin is a fucker or Putin is a dickhead) is a Ukrainian song that became popular during the events of the pro-Russian conflict in Ukraine. Being formerly known as a song of FC Metalist Kharkiv fans, later the song became popular not only among the Ukrainian people, but also abroad, including Mexico, Japan, US, Canada, Western Europe and so on.
UPD: 06/17/2014 About Deshchitsa's song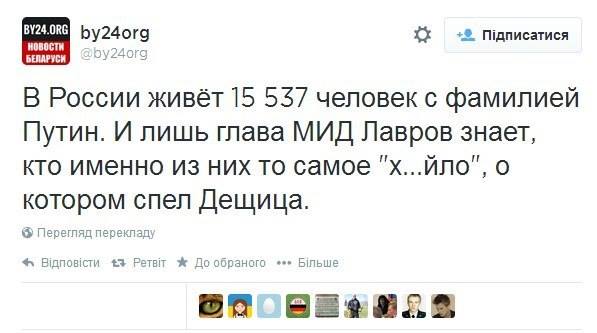 About Deshchitsy's song and Lavrov's answer ...
UPD: 06/17/2014 "I renounce this government, this Russia" Muscovites apologized to the Ukrainian. Video
In the Ukrainian embassy in Moscow, residents brought flowers and notes, where they expressed condolences to the Ukrainians.
In particular, they put posters on the walls of the institution, where it was written "Ukraine, forgive us," "Forgive the brothers," "Compassion," and others.
"Forgive us and that's all. If you can. Forgive me," says one of the residents of the city.
"I hate the war in all its manifestations. I am very disgusted that it is my country that is constantly waging war and now this war has reached Ukraine. I renounce this government, this Russia. They have deprived me of my homeland, and now they are killing the brotherly people. I am very I sympathize with you, "another woman shares.
"Dear Ukrainian, please accept our sympathy. It's a pity that such a tragedy happened, young guys are dying. Forgive those of us who are here now and who can't change anything. I hope you manage to build your country and stop the war. I hope that you believe in us and that we are not all here like they show on television, "says another girl.
"Evil has taken over Russia, and now it has come to Ukraine. We could not stop this evil and now I feel guilty of this," the man says.
According to another person, this is like raising a hand to the mother. "How can you live after that?" He asks.
As you know, June 15th was declared a day of mourning in Ukraine for the military and border guards who died during the anti-terrorist operation.
On June 14, during a landing approach at the Lugansk airport, fighters shot down a military transport aircraft of the Ukrainian Armed Forces Il-76 with a shot from an anti-aircraft missile system. On board the aircraft are 40 military personnel and 9 crew members. They all died.