#EuroMajdan # єvromaydan Chronicle 02/26/2014
CHRONOLOGY 2013-2014-2015
Euromaidan on the forum
Euromaidan on youtube.com
360 People's Day Panorama

hromadske.tv Civil television
Espreso.tv : Independent TV Channel
Ukrstream.tv : Independent Journalists
Spilno.TV : Media Activists


If suddenly your favorite site does not open, you are banned or blocked, our practical tips will help you: Access to blocked sites , Protection plug-ins for browsers , Anonymizer sites , Proxies , Anonymous Email , How to check that the Internet knows about you
Timeline
Hot topics
Local elections 2015 - map of violations
|
How Ukrainians voted: exit polls data
|
Professional Russian army in Ukraine
|
Devaluation of national currencies Map
|
TOP-20 of the most reliable banks in Ukraine
|
How and when do police have the right to use special equipment
|
Real owners of Ukrainian banks
|
Russia's plan to capture Ukraine (DOCUMENTS)
|
TEXT OF POROSHENKO'S APPEAL TO THE SUPREME RADA
|
War, persons, situations: personnel from the front line in Shirokino.
PHOTO report
|
Putin
War.
Independent report by Boris Nemtsov
|
In Kiev, journalist Oles Buzin was killed.
PHOTO
|
In ex-people's deputy from PR Kalashnikov killed in Kiev
|
Putin is preparing for a major war, increasing military spending
Kremlin media fell for April Fool's joke about the "Mistral"
|
WizzAir-Ukraine ceases operations
|
Camouflage modern armies
|
Works about Ukraine by Beata Kurkul
|
Charlie Hebdo Magazine U-turns About Putin
|
Samples of marking cars GAI
|
Kabaeva gave birth to Putin's third child
|
Attention!
Forbidden notes!
Photo.
| | |
Hitler will be depicted on a 1000-hryvnia bill
|
Nemtsov's killers are the CIA and MI6, Poroshenko and the Right Sector
|
NBU recognized Delta Bank insolvent
|
March in memory of Boris Nemtsov.
PHOTO report.
| | |
Prices for Gasoline, DT, Gas, at gas stations in Ukraine
|
Fake about the death of Sasha Gray in the Donbass
|
Commemorative coins of the events of Maidan
|
History of the Ukrainian gold and foreign exchange reserve from 1993 to 2015
|
The trial of Savchenko.
PHOTO report
|
The consequences of shelling Kramatorsk
|
Disguise Scout Disguise
|
Clarification of Crossing Border Liable
|
Parliament deprived Yanukovych of the title of President
|
Visa regime in Ukraine for Russians
|
WAR FOR INDEPENDENCE.
RESULTS (INFOGRAPHICS)
|
ATO PARTICIPANTS HAVE THE RIGHT TO WARRANTIES AND BENEFITS.
HOW TO GET THEM (INFOGRAPHICS)
|
The worst banks according to the NBU
|
Poroshenko instructed to control travel abroad
|
How to behave during shelling and bombing?
| | |
FAQ ON MOBILIZATION - Kremlin propaganda
|
In Donetsk, a shell hit the bus stop: there are victims PHOTO + VIDEO
|
Who the fourth wave of mobilization will not touch (infographic)
|
Non-Mobilization Sample Application
|
The National Bank presented the new 100 hryvnia (photo)
|
In the DNI showed their money - settlement marks of New Russia
|
What does Russia import in its convoys to the Donbass?
| | |
SMS of deputies in the Rada
|
Gas Consumption Reports by Region
|
Where the most use of electricity
|
State Budget 2015: revenues of 475.2 billion, expenditures of 527.2 billion
|
Russia sends tanks to terrorists by planes and trains
|
Black Tuesday in the Russian Federation: Russians storm stores
|
Bill on Civil Weapons and Ammunition
|
The list of deputies and committees from which they were recalled
|
A powerful explosion thundered in Odessa
|
The battle in Grozny.
PHOTO report
|
Elena Kosheleva (Lyashko's party) daughter of an oligarch (candid photos)
|
Fake NTV: Yarosh with a machine gun in Parliament
|
Second day of clashes during Ani Lorak concert
|
Disruption of Ani Lorak concert in Kiev
|
Krajina marks the anniversary of the beginning of the Maidan of Honor
|
Police beat activists under construction on Osokorki PHOTO + VIDEO
|
National Anger Day in Budapest.
PHOTO + VIDEO
|
Another stuffing NTV "Ukrainians offer themselves for 10 hryvnia."
| | |
Explosion thundered in Kharkov, in the WALL pub
|
Administration of the LPR "Magic Cosmic Kysya" Olga Tarash
|
NTV scandalous fake story boy identified
|
A piece of land and two slaves for the war ...
|
Evidence of the participation of Russian invaders in the Donbass
|
The brutal showdown of the DNI (video)
|
Who wins the parliamentary elections (INFOGRAPHICS)?
| | |
Frozen hell at Donetsk airport
|
Russia may accidentally ban the Russian flag
|
Officials who fled from Ukraine to Russia
|
The situation at the Donetsk airport
|
List of bomb shelters in Kiev
|
Jobs Merkel, Obama, Hollande, Putin and Poroshenko
|
Unique photographs of soldiers before and after the war
|
Inside the Donetsk airport - the battle of the "cyborgs"
|
Candidates for the new Verkhovna Rada (INFOGRAPHICS)
|
Personnel of the destroyed positions of security forces
|
Lviv resident sells energy to the state
|
Who shelled a stop in Donetsk
|
Ilovaysky Cauldron - video from the spot
|
Storming the Donetsk airport
|
Lugansk airport through the eyes of Ukrainian paratroopers
|
Russian troops on the border with Ukraine
|
Exchange of prisoners near Donetsk
|
Operational information NLB in the ATO zone + Maps
|
List of missing persons in the ATO zone
|
Ukrainian soldiers on guard of Mariupol
|
Peace March in Moscow
|
Russia will be disconnected from the global Internet
|
Olga Lyulchak - an open deputy for all
|
America is ruled by Nazi aliens
|
The cynicism of NTV lies surpasses!
| | |
Against the background of Ukrainian corpses, Alexey Milchakov, a fascist maniac from St. Petersburg, was photographed
|
Alexey Milchakov - a fascist maniac from St. Petersburg
|
Russian special forces photographed against the backdrop of Ukrainian wars
|
Reminder for soldier for stripping
|
Base of proven organizations and volunteers
|
August 20 news summary
|
Flag of Ukraine at Moscow skyscraper
|
Kerch ferry
|
References for victims of anti-Ukrainian propaganda
|
The Information War (56 revelations)
|
Metropolitan Onufry: biography of the head of the UOC
|
Foreign media review: is there a peaceful way out of the Ukrainian crisis?
| | |
Battalions in Ukraine: who is who?
| | |
Ukrainian military units: who is who?
| | |
Review of foreign media: will Russia come to Ukraine?
| | |
PHOTO report from the epicenter of the ATO
|
Separatists shoot mortar houses of Shakhtersk
|
Shots of the shelled positions of Ukrainian security forces
|
What to do and where to hide in case of war in Kiev
|
PHOTO report of the shooting by fighters of a Malaysian Boeing
|
Protest Statistics (INFOGRAPHICS)
|
60 fakes of Russian media about Ukraine
|
What will the signing of an association agreement between Ukraine and the European Union give?
| | |
The resumption of the ATO (appeal Poroshenko)
|
What will change after signing the agreement?
| | |
Military theoretical training
|
The list of 138 dead
|
Conclusions of the EU Council on the situation in Ukraine
|
Online Game "Mortal Kombat in Ukrainian"
|
Putin-hoo * lo: 10 hit versions
|
Patriotic avatars of Ukrainians
|
Ukr eats katsap's hand
|
Where did the money donated by Ukrainians go?
What is the Ukrainian soldier dreaming of
|
The most vague stories of confrontation in the Southeast
|
Frontline reports from the South-East for May 22
|
Frontline reports from the South-East for May 21
|
The atrocities of Putin's peacekeepers (not for the faint of heart)
|
Akhmetov covered Ukrainian flag with insults insulting for him and Putin
|
St. George ribbon and the Guard tape.
What's the Difference?
| | |
Medvedchuk's summer cottage opened for visitors
|
US IT industry giants join in sanctions
|
Putin's plan for May 9
|
Material-Investigation for the Russians
|
It's not painful to lie
|
The Horror of Deception
|
Bloody weekend: events of May holidays in Ukraine
|
In the Nikolaev area there were the most ambitious military exercises
|
How Russia was preparing for war
|
Militants identified in Slavyansk
|
The assault of Slavyansk
|
Assault on a military unit in Mariupol
|
Myths about Stepan Bandera
|
Video of beating by pro-Russian activists in Kharkov
|
Video of beating by pro-Russian activists in Kharkov
|
Recent events in the Southeast and Crimea
|
Russian invasion of Ukraine: March 27 - April 4
|
Russian invasion of Ukraine: March 21-27
|
Russian invasion of Ukraine: March 14-20
|
Russian invasion of Ukraine: February 26 - March 13
|
PACE Resolution
|
Tsapev - fascism!
Boon from Ukraine!
| | |
Putin's army: how to bring up Russian soldiers.
| | |
Guerrilla Warfare Guide
|
Location map of the Russian military
|
Who feeds whom in Ukraine
|
The history of the OUN-UPA or who are Bendera
|
Interesting about the Ukrainian flag
|
Video how Yanukovych left Mezhigorye with values
|
Virtual 3D tour of the territory of Mezhyhirya
|
Emergency case in case of war
|
House in Koncha-Zaspa, which was built by Yura Enakievsky
|
70 most impressive Euromaidan cadres in Kiev
|
Activists visited the estate of the regional Oliynyk
|
Reboot of Ukraine.
Photos of the main events of February 22-24
|
Luxury Mezhigorye Yanukovych: yachts, luxury cars, a portrait of gold, a zoo and a golf course
|
Treasures of Pshonki - photo report from the house of the bloody prosecutor general
|
Maidan mourns the Heroes of Heaven hundreds
|
How in Kiev they tried to destroy the monument to the Chekists
|
In Mezhigorye found documents on millions of embezzlement and bribes
|
Bloody days of Ukraine.
Newsreel Maidan February 20-21
|
Maidan online.
Activists went on the offensive and recaptured part of the Maidan
|
This city is on fire.
Night and morning on Maidan on February 19
|
Like in a war.
Photo chronicle of events in Kiev on February 18
|
Fights in the center of Kiev.
The main video of the events in Kiev on February 18
UPD: 26/02/2014 "Чайный домик, сауны, гаражи, катера и огражденный пляж на берегу Днепра", - активисты посетили имение "регионала" Олийныка. PHOTO + VIDEO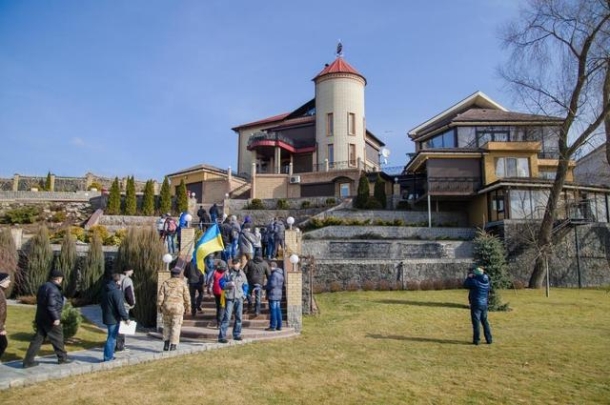 Активисты посетили дачу народного депутата от Партии регионов Владимира Олийныка. Дом расположен в селе Кедина Гора, Черкасская область.
В имении митингующих встретила только собака. Ни Олийныка, ни его родственников, ни обслуживающего персонала не было. На прилегающей территории активисты также увидели чайный домик, сауны, гаражи и катера, а еще - огражденный пляж на берегу Днепра. Сегодня активисты черкасского автомайдану посетили дачу нардепа-регионала Владимира Олийныка. Дача находится на берегу Днепра в селе Кедина Гора Золотоношского района в 25 км от Черкасс, сообщает gazeta.ua.
Активисты зашли во двор, но дом не открыли. Их встретила даже охрана, хотя шел дым из дымохода.
"В имении Олийныка за стеклянными дверями увидели собаку. Неизвестно, есть ли внутри из людей, - пишет в фейсбук член Народного совета Черкасс Юрий Сас. - Ребята даже хотели войти, чтобы спасти животное (выглядит слабой, волочит лапы, может просто старая). Едва удержали от проникновения. Обклеили все открытками. Люди из села Кедина Гора жалуются, что обладатели поместий не дают людям доступа к реке, огородили заборами. Пожилые женщины и сейчас боятся даже пойти и посмотреть на эту роскошь вблизи".
UPD: 26/02/2014 Исчез судья Киреев, посадивший Тимошенко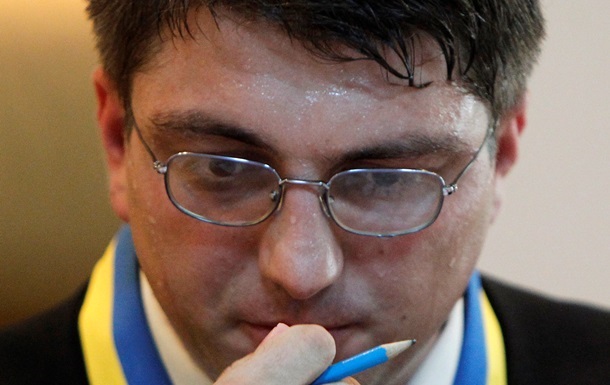 Мать Родиона Киреева также не показывается на месте проживания
Судья Родион Киреев, судивший Юлию Тимошенко, не ходит на работу, а в квартире его матери никто не живет, сообщает Сегодня.
Журналисты издания побывали в Печерском райсуде Киева, который расположен на ул. Гайцана, 4. На 25 февраля у Киреева было намечено десять заседаний, но его кабинет пустовал.
Помощник судьи заявила, что он в отпуске, но не отметила, когда он вернется. На вопрос о том, кто будет вести заседания вместо него, помощник пожала плечами.
Наводить справки о судье уже начали и адвокаты Юлии Тимошенко. Александр Плахотнюк не исключает, что экс-премьер будет добиваться наказания для Киреева. «Уже есть решение Евросуда о том, что он действовал незаконно», – отметил он.
Соседи матери судьи, Людмилы Киреевой сообщили, что давно не видели и ее. А глава Высшей квалификационной комиссии судей Игорь Самсин недавно заявил, что на судью Киреева за последние две недели поступило около 100 жалоб.
Как сообщал Корреспондент.net, Высший совет юстиции Украины (ВСЮ) не нашел нарушений в действиях судьи Печерского районного суда Киева Родиона Киреева и председателя этого суда Инны Отраш в ходе судебного процесса над бывшим премьер-министром Юлией Тимошенко. Такое решение в ходе заседания совета во вторник, 11 февраля огласил глава ВСЮ Александр Лавринович.
UPD: 26/02/2014 Диски с интересным видео и шаманский бубен - новые находки в Межигорье. PHOTO
Today, journalists were again allowed inside the house of Yanukovych, who discovered new interesting details of the ex-president's life. About this on his Twitter wrote Pavel Sheremet.
| | |
| --- | --- |
| Giant carved mammoth tusk in the billiard room of Yanukovych. | There is such a mammoth tusk in the billiard room of the fugitive Ukrainian president) Already under the glass - delicate work. |
| | |
| --- | --- |
| In the envelope with the inscription "VF - personally" was a disk with the inscription Berezovsky. Ничего интересного | In Yanukovych's bedroom in Honka, journalists found many CDs with strange recordings. Erotica was not there, but ... I know how Viktor Yanukovych looks from the inside-journalists watch a video of a study of internal organs. Why do they need him? |
| | |
| --- | --- |
| And for some reason in the bedroom of Yanukovych lay a tambourine)) Near the Faberge egg box. This is tambourine! "That explains a lot))) and why is he in the bedroom? | Well, for the night you're 2 huge Yanukovych parrots, they scream and scare everyone. |
UPD: 26/02/2014 Аваков ликвидировал "Беркут"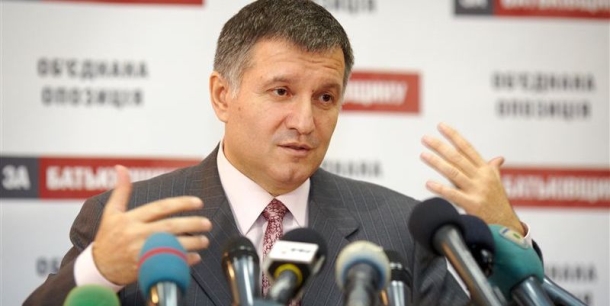 Новый министр внутренних дел Арсен Аваков подписал указ о ликвидации подразделения "Бекрут". Об этом он написал в своем фейсбуке.
"БЕРКУТА БОЛЬШЕ НЕТ. Подписал приказ номер 144 от 25 февраля 2014 года "Про ликвидацию специальных подразделений милиции гражданской безопасности "Беркут". (подробности на специальном брифинге завтра)", - сказано в сообщении министра. Источник: http://censor.net.ua/n272842
UPD: 26/02/2014 Восток и Запад вместе: Львов заговорит на русском. PHOTO
Через социальные сети vkontakte и facebook распространяется инициатива, связанная с отменой Верховной Радой Украины 23 февраля 2014 года закона Колесниченко-Кивалова "Об основах государственной языковой политики".
На страницах пользователей соцсетей из западных регионов Украины начали появляться посты с призывом завтра 26 февраля общаться на русском языке, сообщает Цензор.НЕТ со ссылкой на Новости Донбасса.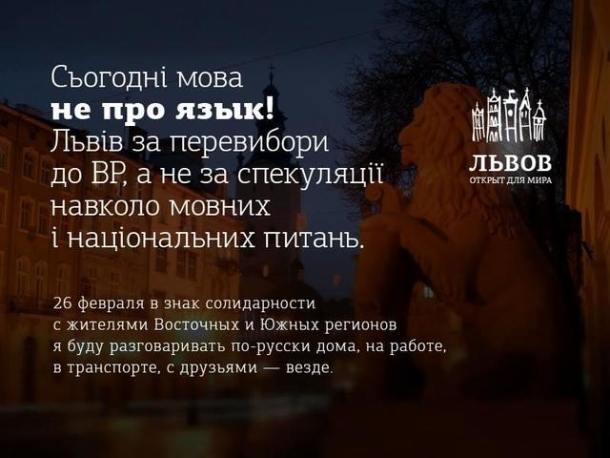 Приводим текст без изменений:
"On February 26, I, Lviv woman, will communicate in Russian.

We, Lvivites, want to appeal to residents of the East and South of Ukraine with gratitude for their support in the fight against criminal power. Together we stood on the barricades, together with you we mourn over the dead, and together with you we want to build a new Ukraine.

We appeal to you in Russian primarily because it is important for us now to support you in the struggle that is still ongoing in Lugansk, Crimea, Dnepropetrovsk, Kherson and Odessa. And also because certain political forces are trying to speculate with language issues in Ukraine in an already difficult and tense situation. We don't want us as residents of Western Ukraine to be associated with radical statements by representatives of the Freedom All-Russian Public Organization; not everyone in Lviv, Ivano-Frankivsk or Ternopol supports the ideology of this party.

We are not going to forcibly impose the Ukrainian language, let alone oppress the rights of the Russian-speaking population of the East and South of Ukraine. Lviv and Lviv have always been hospitable to all nationalities, and everyone who has been here can confirm this. Historically, we have been and continue to be a multicultural center, and do not extol any "titular nations". The rights of each person, regardless of nationality and language, honor and dignity - that is what we stood on the Maidan, and continue to stand.

VO Liberty as a result of its provocative and dubious actions and statements has recently been rapidly losing support in society, and we hope that the upcoming elections and lustration of power will put everything in its place. We, like you, are interested in a complete reboot of the power system, and not a change of persons in key positions.

Therefore, we want to express our solidarity to you and ask you not to judge the whole of Western Ukraine on the basis of statements by individual odious politicians. Recently, Lviv has been diligently establishing contacts with various cities of Eastern Ukraine, and we will continue this work at all possible levels.

East and West have repeatedly tried to quarrel over the years of independence of Ukraine. But we are convinced that our people are wiser than any politicians. And we have repeatedly proved that it is easy to reach mutual agreement as soon as politicians leave us alone. "


Donetsk activists decided to support the initiative and urge residents of the East and South of Ukraine to communicate in Ukrainian tomorrow February 26.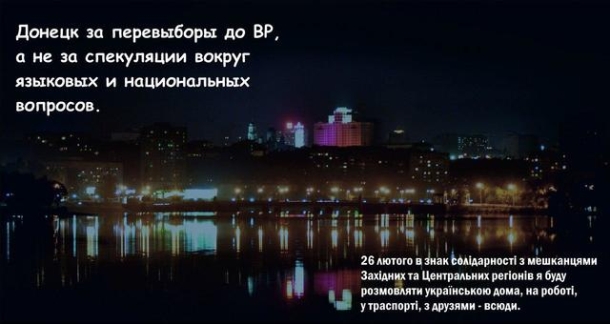 The appeal is unchanged:
"On 26 fiercely I will be Donetsk citizen of Ukraine.

On the same day, go to Lviv to go ahead, asking for the show to the Supreme Rada, and to the Muslims of the Regions and the region's politicians, who don't have anything to do with the rest of the Ukrainian people. Tom Leo 26 fiercely go to rosіysku mov.

We don't want to express their love for Ukraine's big deal in Ukraine, and as a sign of solidarity with the sackers of the Central and Central Regions of the country of 26 fierce, we will be able to keep together in Ukrainian at home, by car, by all means.

Mi zvertaєmosya to the sackers of the West and Central regions. Do not blame us. Mi became handcuffs of bagatoch zovnіshnіkh factorіv. Це є disinformation, "gebelsіvska" propaganda dyachіv, deputy to understand, lack of independence, okremich official and politician, vice to criminals. We have to fight on our fronts. I ce robiti is important. I'm even more important, if our brothers and I call to trivialize all of them like a "bicker" and a "bandit". Mi not so! So, we have є to finish off the representatives of the human race, you cannot write with yakim, and yakimi nami nazivєmo beadle and bandits. Ale de ix dumb?

People from Ukraine who are kind, simple and strong on the site of Kozakiv, ale ya zhzhdi wait and talk, and then reach the heart of everything not to think. We are comfortable. Ale mi struggled, and mi be overcome!

Do not jealousy through the "Party Regions" and that okrimich її representative. Manipulyuvannya to the populations of our regions, now dostі maє mіsce, ale such a cloister is present kіnets. We need an hour and a rose.

Significance of Russian movi in ​​our regions has been improved, more than enough to see the great great wish for 5 km, and I will appreciate the Ukrainian move. In our areas of the village, a small place - rozmovlyayut Ukrainian. Not literary Ukrainian, from the victorious people of Russian words, ale chi nema? I will pour on the Ukrainian mov in the villages of Western Ukraine from the side of the movable powers? І all is normal.

We are able to reach the Meshkants of the Schemes and the Regions of the Regions. Maidan - in our skin. It's skinful, as long as it seems like we've gotten stuck with iniquities, with swagger, with dishonest courts, that injustice, if you think that you can tolerate it - it's Maidan. Maidan is not standing for the claw, chi for chichi pennies. The Maidan to prevent political igrisch, to prevent the turn of Tymoshenko Chi dictatorship. Do not lie a little bit about the bandit "banderovtsiv" and the purchase of our miles with you. Maidan is є people. Such a people, as you are.

Do not turn the clock with the laws of that federal. All to try to protect us from us. Ale mi not so! Chi wrong?

Don't lie a bit, who wanted to get into us, who's been cleaning up there. We are the people of the same country, and we won't be the figures in the hands of lyalvodov. Virta sertsyu, virta your brother, virte one to one.

Our meta show all the territory of Ukraine, and ahead of politics, which are not permissible for political games in the longest difficult days of our history. We can see that the people of Ukraine have the independence of nationality, identity of residence — that is, friendly, friendly people, so as not to "behave" for political fun. We bring, scho anі zhіd, anі zakhіd not rozkole zhoden policy. Nihto not zmozhe manіpulyuvat people of Ukraine! Liturgy and honor - that є Our shield with you is a rotten political system. Scheid and Zahid trim the shield at once. We almost hear rumors і spіlkuvatisya one with one, not fallow vіd polіtikіv!

Tomorrow, on the 26th, as a sign of solidarity with the sackers of the West and Central Regions, I will roam in Ukrainian at home, on robots, in transport, and with friends everywhere. "
Recall that the Law guaranteed the use of "regional languages" in Ukraine, that is, languages ​​that, according to the census, consider native as more than 10% of the population of the corresponding region (the region refers to the region, Autonomous Republic of Crimea, region, city, village or town). Within such a region, the regional language can be used in legislatively established areas along with the state Ukrainian language.