Where did the money that Ukrainians donated to the army go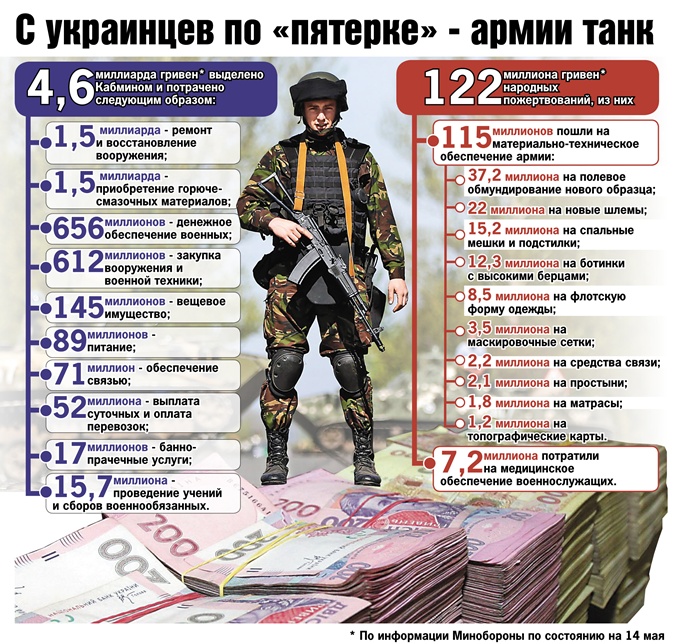 The Ministry of Defense reported on what has spent 4.6 billion hryvnia.
Recent events in the Crimea, riots in the south-east forced politicians to reconsider government policies regarding the armed forces. The armies decided to allocate more money and financial streams flowed into the Ministry of Defense. But they never turned into a waterfall.
"The defense department has already received 4.6 billion hryvnia from the government, and 122 million from Ukrainians in the framework of the army's aid program," a representative of the Ministry of Defense reported to the Verkhovna Rada.
Only with the help of calls to a single number "565" for the needs of the military collected 28 million 214 thousand hryvnia. Recall that each call cost 5 hryvnia and people called from all over Ukraine.
"Today, the state of security for the Armed Forces of Ukraine allows us to fulfill the tasks of protecting the sovereignty and territorial integrity of the state," said Defense Minister Mikhail Koval.
In the near future, the government intends to throw some more money on the army. According to Finance Minister Alexander Shlapak, growth in defense spending is compensated for by reducing the financing of medicine, the agricultural sector, and the social sphere.
He reported that the UAH 4.6 billion allocated by the Cabinet of Ministers of the Ministry of Defense spent on:
1.5 billion for the repair and restoration of weapons;
1.5 billion for the purchase of fuel and lubricants;
656 million in cash security for the military;
612 million for the purchase of weapons and military equipment;
145 million in clothing and equipment;
89 million for food;
71 million for communications;
52 million for the payment of per diem and transportation;
17 million for laundry services;
15.7 million for military exercises and training camps.
As of May 14, according to the Ministry of Defense, Ukrainians donated to the army 122 million hryvnia.
115 million went to the logistics of the army:
37.2 million for field uniforms;
22 million for new helmets;
15.2 million sleeping bags and bedding;
12.3 million for boots with high berets;
8.5 million per navy uniform;
3.5 million for camouflage nets;
2.2 million in communications;
2.1 million in sheets;
1.8 million for mattresses;
1.2 million on topographic maps.
7.2 million spent on medical support for military personnel.