The boy from the scandalous fake story of NTV was identified. Russian propaganda took advantage of his illness. A PHOTO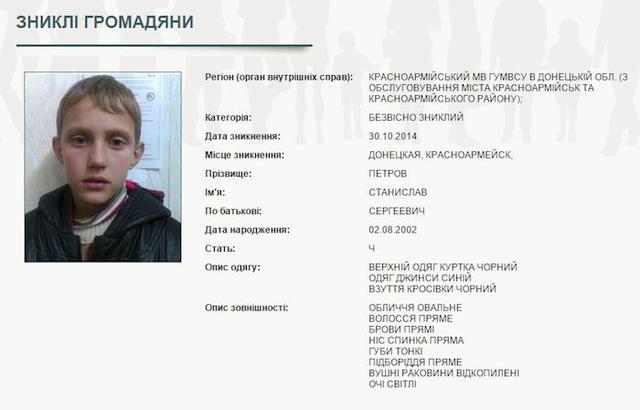 The boy whom NTV used in the fake story "The National Guard with syringes made a target for missiles from the Donetsk boy" - they identified him.
Stanislav Petrov from the Red Estuary of the Donetsk region disappeared on October 30, 2014, three days before the broadcast of the Russian NTV channel the story "Nationalguards with syringes made a target for missiles from the Donetsk boy," Gordon said.
12-year-old Stanislav Petrov, who appears in the next fake story of NTV, is searched by the police.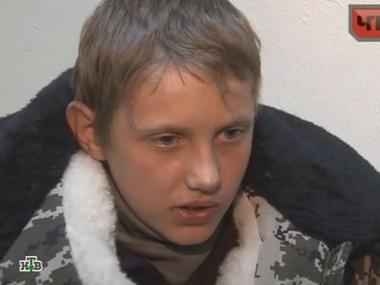 On November 2, the site of the Russian NTV channel published a story "Nationalguards with syringes made a target for missiles from the Donetsk boy."
In the material of Russian journalists it is told that the "punishers from Nazgvardia" allegedly beat the parents of the boy Stas and ordered him to investigate the location of the roadblocks of the "militia", threatening the death of his relatives.
The plot says that the Ukrainian soldiers wanted to make the boy a "live target" for missiles, "stuffing it with radio transmitters" for aiming artillery and killing drugs.
"The chances of a boy finding a father with his mother alive are catastrophically small, but suddenly a miracle will happen, they will recognize him, call and they will find," the report also notes.
It turned out that the 12-year-old Stas from October 30 is on the wanted list. The boy disappeared three days before the release of the NTV story.
The message about the boy's search is posted on the website of the Ministry of Internal Affairs.
At the same time, in the orientation of the Krasnoarmeysky GUMVD of Ukraine in the Donetsk region it is noted that Stas disappeared on October 12. In addition, it is reported that the boy "an easy degree of mental retardation" and he is prone to vagrancy.
At the same time, the well-known Russian blogger Andrei Malgin, addressing NTV's general director for information broadcasting Tatiana Mitkova, said: "Again I appeal to Mitkova: Tanya, you have a son herself." Well, do not drag the other children into your dirty business as much as you can. Do not do this".
Earlier in the network appeared a video of the Russian First Channel, in which allegedly the local residents of Donbass say that Ukrainian siloviki in the ATU zone were promised a war "on the patch of land and two slaves."
The head of the village council of the village of Stepanovka in Donbass tells about "rewards" for the fighters. The Russian journalists rely on the "mosaic of scraps of conversation" of National Guard fighters heard by certain local residents.