At a scandalous construction in Kiev, police beat activists and local residents. PHOTO report + VIDEO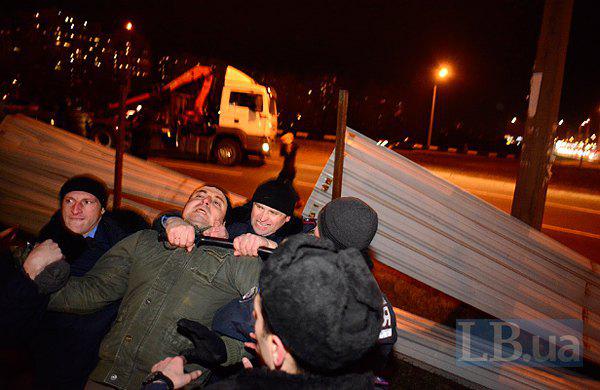 Near the metro station "Osokorki" in Kiev, public activists and local residents tried to prevent the new building at the exit from the metro station, the fence of which appeared on Monday morning.
As informs LB.UA, in the morning on Monday, on January, 17th, the wasteland near the metro station which conducts to transition to street Sribnokilsky, fenced a fence. On this stretch of Bazhana prospectus they plan to build a new shopping and entertainment center Le Boulvard ("Le Boulevard").
Almost 200 residents of the microdistrict at 19:00 went to the site of the future construction site to demolish the fence. Activists said that documents for construction were issued even under Chernovetsky, the Kyiv city council's commission did not check them yet, public discussion of the construction was not carried out. In addition, according to them, the construction obstructs the passage to the metro.
However, to the pre-announced shares, the developer was apparently ready. At the appointed time, four buses with police officers arrived to the construction site. Journalists identified in them former "Berkut". Militiamen refused to present themselves, behaved aggressively, immediately began to detain activists. A brawl began, during which one of the law enforcers struck the correspondent of LB.ua. Also went to the journalist of the "New Channel". About 10 people were pushed into the buses by the police and tried to take them out, but not the side of the local administration of the Ministry of Internal Affairs, but towards the center.
Local residents tried to rescue their comrades, blocking the buses and starting to throw stones. However, the police officers pushed them away.
According to activists, the militia of Darnytsya district "roofs" the developer - "SKY-BUD LTD", owned by the former deputy mayor of Kiev Valery Mironov.