History of the Ukrainian foreign exchange reserve from 1993 to 2015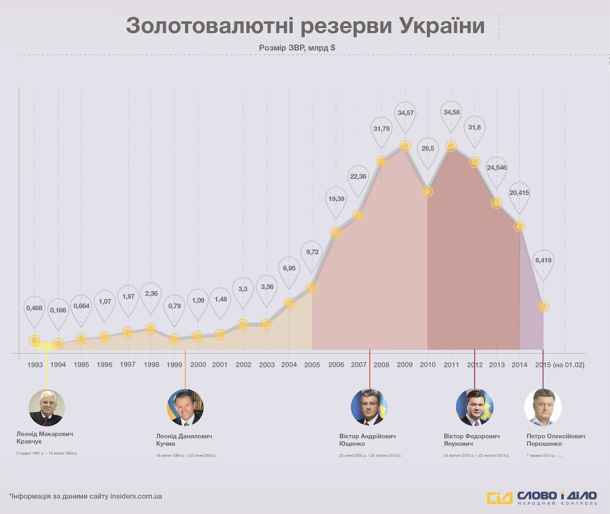 History of the Ukrainian foreign exchange reserve from 1993 to 2015.
Gold reserves (Ukrainian - Gold reserves and Ukraine) * or International reserves - reserves of Ukraine, are reflected in the balance sheet of the National Bank of Ukraine, which include assets, recognized by the world community as international and intended for international settlements.
One of the main functions of the National Bank of Ukraine is to ensure the accumulation and storage of foreign exchange reserves and the implementation of operations with them and bank metals.
The National Bank manages the state's foreign exchange reserves by carrying out foreign exchange interventions by buying and selling currency values ​​in foreign exchange markets in order to influence the rate of national currency versus foreign currencies and the general demand and money supply in Ukraine.
What is with the gold reserves of Ukraine?
In January 2014, the international reserves of Ukraine decreased by 14.8% to $ 6.42 billion.
"Their (reserves) dynamics in January 2015 are largely due to the payments made by the government and the NBU to repay and service the public and publicly guaranteed debt in foreign currency ($ 624.4 million in equivalent), including the International Monetary Fund," says in the message.
Gold reserves (international reserves or official reserves) are highly liquid assets under the control of state monetary authorities.
They consist of funds in foreign currency, special drawing rights, a reserve position in the IMF and monetary gold.
Level of international reserves
PRC 3887.7 (September 2014)
Japan 1288 (February 2014)
Eurozone 771.8 (January 2014)
Saudi Arabia 727.1 (January 2014)
Switzerland 532.4 (January 2014)
Republic of China (Taiwan) 421.47 (November 2014)
Russia 374.7 (February 7, 2015)
Brazil 373,993 (January 21, 2015)
Republic of Korea 363,593 (December 2014)
Hong Kong (PRC) 327,930 (December 2014)
India 320,649 (December 2014)
Germany 194 (November 2014)