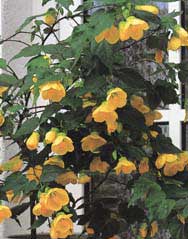 Abutilon (Room maple) / Abutilon
Refers to the Malvian family. Fatherland is South America.
General description: Abutilon is a strongly branching shrub (up to 1.5 m in height), with large maple leaves. The leaf color is green or multicolored, with snow-white or yellow spots. Blossoms Abutilon from late spring until autumn, in a cool place can bloom in the winter. Flowers yellow or red-yellow, hanging on long pedicels.
He grows hastily and needs a lot of room, but he is quite unpretentious.
Recommendations for caring for the plant Abutilone:
Illumination: Abutilon photophilous, preferring southern windows.
Irrigation regime: Abundant during the growth period, moderate in winter.
Humidity of air : Periodic spraying is desirable, but abutilone is not exacting to the humidity of the atmosphere.
For the summer it is better to place on a fresh atmosphere (in a park or on a balcony), preferably planted on the ground.
Temperature regime: In summer the temperature should be moderate, in winter it is cool.
Soil: Recommended soil mishmash: 1 share of sod land, 1 share of peat, 1 share of leaf land, 1 share of humus and 1 share of sand.
During the growth period, it needs fertilizing every three weeks.
Suitable mineral fertilizers for flowering plants. Once a season, but no more often, it is allowed to make organic.
Breeding: Cuttings, better with soil heating; Forms with green leaves are also seeds. Seeds are sown in spring in light sandy soil.
Transplantation: In the spring, annually. Before planting, the tree is shortened and the branches cut for the chosen flowering.
Pests: Abutilone is often prone to infection with aphids and mealybugs (covered with white cotton wool), a spider mite (in dry air).
The plant is allowed to help finish with a soap solution, warm washing and spraying with decis (one milliliter per liter of water).
Abutilon (indoor maple) - abutilon