Aglaonema / Aglaonema
Refers to the family of aroids. Fatherland is South America.
General description: A large plant in the form of a bush. It is very similar to diffenbachia, but it owns narrower leaves and smaller in size.
Blossoms, forms fruits.
Species differ in the color of the leaves:
Aglaonema modestus owns green leaves.
Colored leaves in the following species:
Aglaonema Silver Queen Aglaonema Silver Quinn
Aglaonema pseudobracteatum Aglaonema falsate
Aglaonema commutatum aglaonema changeable
Aglaonema modestus Aglaonema modest
Aglaonema pictum Aglaonema painted
Aglaonema commutatum Silver Spear Aglaonema changeable.
One of the very suitable plants for hydroponic culture.
Aglaonema is quite capricious.
Irrigation regime: Moderate in winter and frequent in the warm season. Sprinkle with warm, well-kept water.
Humidity of the atmosphere: Frequent spraying and washing are necessary, but it is necessary to protect from drafts.
Temperature regime: Heat-loving plant, optimum 22-23 ° C. The plant adores a wet atmosphere, but in combination with low temperatures it can get sick with gray rot (a gray coating appears on the leaves).
Soil:
Drainage is mandatory. You can add charcoal and brick chips. The soil is acidic or weakly acidic. When a snow-white deposit appears on the surface of the soil, the top layer must be replaced. Recommended soil mix: 2 elements of turf, 1 share of peat, 1 share of leaf land and 1 share of sand. During the growth period, it needs fertilizing once every two weeks. Suitable fertilizers for acidic soils, without lime ("Flower", "Azaleas", etc.).
Breeding: Lapping during transplantation or by cuttings.
Transplantation: In the spring, by the measure of necessity. Pots are better to choose large, but not very deep, for the chosen growth and flowering the roots should be a bit cramped.
Pests: It is affected by a spider mite (with dry air), mealybug, scabbards. The plant is allowed to help finish with a soap solution, warm rinsing and spraying with an actellite (1-2 ml per liter of water).
Sometimes aphids can be affected, especially in summer, in a fresh atmosphere. Damaged leaves and tops of shoots become discolored and wither. It is necessary to spray with pesticides (inta-vir, derris, decis, actellicum, phytophythm, etc.)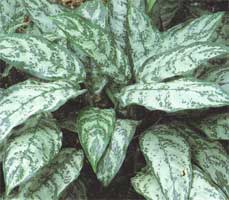 Recommendations for the care of the Aglaonema plant:
Illumination: Photophilous, but direct sunlight does not like, loses color. Only species with pure green leaves are considered to be shade-tolerant.
Aglaonema - Aglaonema
It will not be superfluous for your friends to know this information, share their article with them!
Now everyone can publish articles
Try it first!
Liked? Subscribe to
RSS
news,
to be the first to receive information
about all important events of the country and the world.
You can also support shram.kiev.ua, click: