Asplenium (Kostenets) / asplenium
It belongs to the family of ferns.
General description : Usually in room conditions the following types are diluted:
Asplenium bulbiferum (Asplenium onion-bearing). He owns pinnate leaves on thin and hard, wire-like petioles. On the leaves of the kidneys develop many children.
Asplenium nidus (Asplenium nesting) suggests a bromeliad culture, as if its leaves are collected in a rosette. Its light green large leaves up to 100 cm long have wavy margins and a brown midrib. He is unpretentious, but does not like excessive touch.
Asplenium viviparum (Asplenium viviparous) is more compact, has arcuate curved leaves.
Recommendations for the care of the plant Asplenium :
Illumination : Needs bright but diffused light.
Irrigation mode : Abundant during growth, moderate in winter. Water with warm soft water. It is recommended that watering by immersing the pot in a pan of water up to saturation.
Humidity : Asplenium is sprayed daily and regularly washed with cool water. The humidity of the atmosphere is similarly maintained by placing the pots on a tray with pebbles or expanded clay, which is continuously moistened. Should be removed from central heating and protected from drafts.
Temperature : Very adorable heat, in winter and summer, but not above 25 ° C.
Soil : Requires loose soil with a weak acid reaction.
Recommended soil mix: 2 elements of peat, 1/2 elements of humus, 1 share of leafy ground and 1 share of sand. Suitable mash for orchids.
Poorly transfers excess fertilizer, so feed only during the growth period, once per moon, take half the fertilizer from the portion indicated on the package.
Breeding : By sprouting an altercation formed on the lower elements of the leaves and crushing the bush in the spring when transplanting. Asplenium lukovitsenosny formed on the leaves of the children.
Transplant : In the spring, every year or every couple of years. Does not like extremely spacious dishes.
Pests : Affected by a spider mite (in a dry atmosphere, leaves and stems are woven over with a spider web), scutes (brown leaves on the leaves and stalks, leaving sticky secretions).
The plant is allowed to help trimming with soapy water, warm washing and spraying actellic (1-2 ml per liter of water).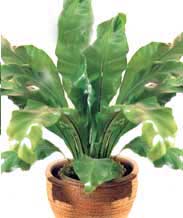 Asplenium (Kostenets) - Asplenium