Bulgarian (elephant foot) / beaucarnea
It belongs to the Agave family. Homeland - Mexico.
General description : Bokarneya is not so beautiful as it is unusual.
This is a tall solitary plant resembling a palm tree. Bokarney grows slowly, but can grow up to 2 m. Its peculiarity is a very thickening stem at the base, which has a base that seems to be swollen, resembling an onion. It perfectly retains moisture, which acts as an unequivocal enough care. In a mature plant, the trunk looks like a bottle. At the top of the stem are belt-shaped long (up to 1.5 m) leaves collected in a socket. Because of the shape of the crown, the plant has another popular name - Horse tail.
Only one species is widespread - Beaucarnea recurvata (Bokarneya bent) or Nolin bent (Nolina recurvata).
Recommendations for the care of the plant Bocarnay:
Illumination : Light-requiring, requires direct sunlight.
Irrigation mode : Moderate during growth, winter outlandish, especially if the plant is kept cool. Overflow can be destructive, but the drying of the soil as well to strive to not allow.
Humidity : Requires regular spraying in the summer and a dry cool atmosphere during periods of inactivity.
Temperature : It loves coolness, especially in winter (up to 7 0 С).
Soil: Requires benign drainage. Recommended soil mash: 1 share of clay, 1 share of leafy soil and 1 share of sand.
In the period of growth needs fertilizing 1 time in two weeks with liquid complex fertilizers.
Breeding : Allowed to produce processes during transplantation, but rarely succeeds.
Transplant : In spring, young plants annually, mature once a couple years.
It is necessary to replant carefully, without damaging the earthen room. After transplantation a couple of days does not water.
Pests : Rarely affected.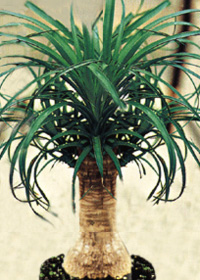 Bokarnay (Elephant Foot) - Beaucarnea