beloperone / beloperone
It belongs to the family of acanthus. Fatherland - South America
General description: Shrub, can grow up to 1 meter in height. Owns pubescent arcuate drooping stems. Is the leaf ovate or oblong-oval? leaves and pubescent. Yellow-pink inflorescences in shape suggest shrimp. They consist of large bright bracts covering small snow-white flowers. May bloom approximately year-round. For the formation of a viscous bush, the first flowers are cut off and the stems are cut to half length in the spring.
The plant is quite unpretentious, easily divorced under room conditions.
Recommendations for the care of the plant Beloperone :
Illumination : They need bright but diffused light.
Irrigation mode : Abundant during growth, moderate in winter.
Humidity of the atmosphere: Requires regular spraying and washing in the shower.
In winter, in a well heated place, it is allowed to put on a tray with water.
In the summer it is better to place a fresh atmosphere (in the park or on the balcony) in the shaded room.
Temperature : Moderate. Loves warm days and cool nights.
Soil: Recommended soil mix: 1 share of sod, 1 share of leafy land, 1 share of humus and 1 share of sand.
In the period of growth needs fertilizing 1 time in two weeks fertilizer for flowering plants.
Breeding : Stem cuttings root easily throughout the year.
Transplant : Every year in spring.
Pests : Affected by spider mites (when dry, leaves and stalks are woven over the web), aphids.
The plant is allowed to help trimming with soapy water, warm washing and spraying actellic (1-2 ml per liter of water).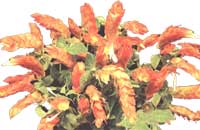 Beloperone - Beloperone