chlorophytum / chlorophytum
Refers to the family of the lily. Homeland - South America.
General description : Chlorophytum is one of the most common indoor plants. Long and thin, beautifully curved leaves are green, or with white bands on the outskirts form a wide rosette. In the spring-summer period it blooms with small white flowers on long peduncles. Later, flowering on the inflorescence creates a daughter socket with aerial roots. The most common is Chlorophytum comosus (Chlorophytum crested).
Chlorophytum is a rather unpretentious plant. It clears the atmosphere in place.
Recommendations for caring for the plant Chlorophytum:
Illumination : Needs bright, but diffused light.
Irrigation regime : Abundant during growth, moderate in winter, the soil must always be damp.
Humidity : Requires regular spraying and washing under the shower. Keep away from drafts and remove from central heating.
Temperature regime : Moderate, in winter it is not lower than 18 ° С.
Soil : Recommended soil mix: 2 elements of turf, 1 share of humus, 1 share of leaf soil and 1 share of sand.
During the growth period, it needs fertilizing once every 2 weeks with complex fertilizers for ornamental-deciduous plants.
Breeding : Subsidiary rosettes and crushing during transplantation.
Transplantation : Young plants are transplanted annually, mature, older than three years are transplanted after a couple of years, but annually replace the upper layer of the earth.
Pests : Affected by a spider mite (in a dry atmosphere, leaves and stems are braided with cobwebs), scabbards (brown plaques appear on leaves and stems, leaving sticky discharge).
The plant is allowed to help finish with a soap solution, warm rinsing and spraying with an actellite (1-2 ml per liter of water).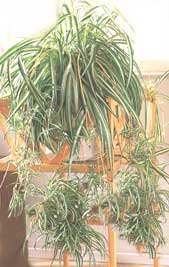 chlorophytum - chlorophytum