chlorophytum / chlorophytum
It belongs to the lily family. Homeland - South America.
General description : Chlorophytum is one of the most common indoor plants. Long and thin, beautifully curved leaves are green, or with snow-white stripes on the outskirts form a wide rosette. In spring and summer, blooms with small white flowers on long peduncles. Later flowering on the premises of the inflorescence forms a daughter outlet with aerial roots. Chlorophytum comosus (Chlorophytum crested) is most common.
Chlorophytum - quite unpretentious plant. It clears the atmosphere in place.
Recommendations for the care of the plant Chlorophytum:
Illumination : Needs bright but diffused light.
Irrigation mode : Abundant during the growth period, moderate in winter, the ground should always be wet.
Humidity : Requires regular spraying and washing in the shower. Keep away from drafts and remove from central heating.
Temperature condition : Moderate, in the winter in any way not below 18 ° C.
Soil : Recommended soil hash: 2 sod, 1 share of humus, 1 share of leafy soil and 1 share of sand.
In the period of growth needs fertilizing 1 time in 2 weeks with complex fertilizers for decorative leafy plants.
Breeding : Child rosettes and crushing during transplantation.
Transplant : Young plants are transplanted annually, mature, older than three years are transplanted after a couple of years, but annually replace the upper layer of the earth.
Pests : Affected by a spider mite (in a dry atmosphere, leaves and stems are woven over with spiderwebs), scutes (brown leaves on leaves and stalks, which leave sticky secretions).
The plant is allowed to help trimming with soapy water, warm washing and spraying actellic (1-2 ml per liter of water).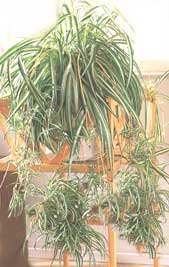 chlorophytum - chlorophytum