clivia / clivia
Homeland - South Africa.
General description : Clevia is a very popular ornamental flowering plant, quite unpretentious and very beautiful. In early spring, it throws an inflorescence of bell-shaped flowers on the long peduncle. Coloring different - red, cream, orange, yellow. This single plant, the Cleavia will need quite a lot of room. I just do not like permutations and transplants. Can live up to 40 years.
Recommendations for plant care Klivia:
Illumination : Photophilous, in the warm season, scattered light is preferred.
Irrigation mode : Abundant during growth, in the winter, outlandish, especially if the plant is kept cool.
Humidity : Requires regular spraying and wiping of leaves with a damp soft cloth.
For summer it is better to place on a fresh atmosphere (in a park or on a balcony), in a room protected from wind and from direct sunlight.
Temperature regime : Moderate in the warm season. In winter it is optimal 10-15 ° C.
Soil : Recommended soil mix: 2 elements of turf ground, 1 share leafy, 1 part peat, 1 share humus and 1 share sand.
During the growth period, it needs fertilizing once a week with fertilizers for flowering plants.
Breeding : Crushing during transplantation. Similar seeds are sown fresh.
Transplantation : Transplanted in the spring, at what time the pot is made tight (the roots begin to germinate through the drainage holes).
Transplant is bad.
Pests : Most often affected by mealybugs (covered with snow-white cotton-like fluff) and scabbards (brown plaques appear on the leaves and stems, leaving sticky excretions).
The plant is allowed to help finish with a soap solution, warm rinsing and spraying with an actellite (1-2 ml per liter of water).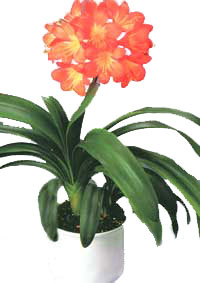 Clevia - Clivia