coconut
It belongs to the palm family. The fatherland is a tropical belt.
General description : Coconut poorly suited for living in indoor conditions. Usually grow a pair of relatively compact type:
Cocos nucifera (Coconut nut-bearing) can grow up to 3 m. Owns very large feathery leaves.
Cocos weddeliana (Cocos Veddel or Veddel micro-celum or Veddel siagrus). It has drooping narrow leaves, silver on the underside. It is considered the most beautiful room palm tree, but, most likely, after a couple of years and it will have to be transferred to the greenhouse.
Recommendations for the care of the plant Coconut:
Illumination : Light-loving, shading is needed only in the summer afternoon.
Irrigation mode : Abundant during growth, moderate in winter.
Humidity : Requires regular spraying and wiping the leaves with a damp soft cloth.
In the summer it is better to place in a fresh atmosphere (in the park or on the balcony), in a room protected from the wind and from direct sunlight.
Temperature condition : Optimally 20-23 ° C.
Soil : Recommended soil hash: 2 elements of clay-sod land, 2 parts of humus-leaf, 1 part of peat, 1 part of rotted manure and 1 fraction of sand, add charcoal.
In the period of growth needs fertilizing 1 time in 2 weeks with complex mineral fertilizers.
Cultivation : At soil heating and high humidity of the atmosphere germinate nuts.
Transplantation : Transplanted in the spring, at what time the pot is made close (the roots begin to grow through the drainage holes).
Transplant is bad.
Pests : Most often affected by powdery worms (covered with a snow-white cotton-like gun) and scutes (brown leaves on leaves and stems, leaving sticky secretions), spider mites (with a dry atmosphere, leaves and stalks are covered with cobwebs).
The plant is allowed to help trimming with soapy water, warm washing and spraying actellic (1-2 ml per liter of water).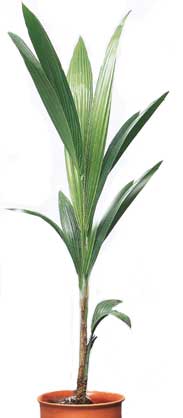 Coco - Cocos