Where to go for mushrooms, tips experienced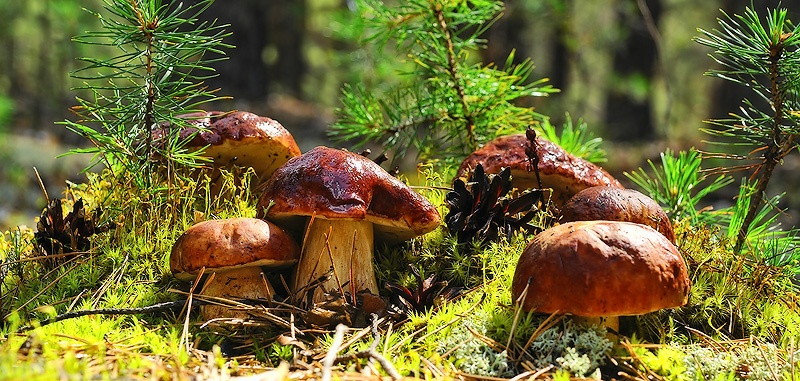 I'm going to go to the mushrooms on weekends, but where did not I ... I do not have any interesting articles on the Internet without addresses and addresses. We consolidated the mushroom places of Ukraine in one article. Maybe someone else is useful!
Kyiv region is not the most mushroom place in Ukraine - most of it is occupied by steppes. However, north of the capital begins Polissya, known for its forest wealth, there are forests in the south. Conventionally, the fungal places of the Kiev region can be divided into four regions: the northern (towards Chernobyl, but only to the exclusion zone!), The southern (behind the White Church), the western (in the Fastovsky direction) and the eastern (in the Kanevsky reservoir area). What place to choose, it's up to you: forests in the Kiev region - for every taste: from marshy deciduous to dry pine. Pleasant quiet hunting!
Northern region: Borodyanka - Vyshhorod - Ivankov
Forests around the villages: Babintsy, Zdvizhivka, Klavdievo, Katyuzhanka, Pirnovo, Suholuchye, Jasnogorodka, Komarovka, Mircea, Dymer. This is Polissya, here in autumn there are lots of mushrooms and berries, mostly blueberries. Be sure to take a compass with you, the forests here are real, multi-mile. However, around sat fully, so that you really will not get lost really at all desire.
What mushrooms : white, openki, Polish, boletus, freckles, pod berozoviki, russula, chanterelles.
How to get there: - by train to Borodyanka from the railway station Svyatoshin. Departure time: 4.15, 5.45, 6.15, 6.49, 7.29, 7.52, 8.17, 8.54, 9.21, 10.21, 12.25, 14.18 and further with an interval of 30-40 minutes; - By bus to Borodyanka from the Dachnaya bus station (142 Pobedy ave., Tel. 424-15-03). Departure time: 10.15, 14.15, 18.15. - Itineraries from the station. M. "Nivki" and art. M. "Svyatoshin" (departure as it is full); - By bus to Ivankov from "Polesie" bus station (Shevchenko square, phone 430-35-54).
Departure time: 7.30, 8.30, 8.50, 10.00, 11.15, 11.40, 12.00, 13.30, 14.20 and further with an interval of 1 hour.
Fare: bus - 5-8 UAH., Electric train - 3-5 UAH.
West district: Vasilkov - Fastov
Forests around villages: Dmitrovka, Vepric, Hazing, Doroginka, Yaroshovka. Convenient places for those who do not like long-distance travel. Before Vasilkov go just some 40 minutes. Forests here are not very large, however rich in mushrooms. The minus of this mushroom district is that there are many mushroom competitors going by electric trains here. Therefore, after the rain on Thursday, you should wake up early and run to the railway station. Otherwise, you can be late and go home without pouring salt. The places here are good, the air is clean and lots of different berries, so you should like it.
What kind of mushrooms : maslata, podberezoviki, boletus, white, ryzhiki.
How to get there: - by train to Vasilkov and Fastov from the suburban railway station "Kiev-Passazhirsky". Departure time: 5.02, 5.49, 6.00, 6.58, 7.41, 8.20, 9.03, 10.11, 10.29, 10.40, 12.15, 12.29, 13.11, 13.26, 14.04 onwards with an interval of 30-40 minutes; - By bus to Vasilkov from the bus station "Vladimirskaya" (25, Vladimiro-Lybidska str., Phone 269-72-93). Departure time: 8.25, 9.25, 11.00, 12.10, 14.25, 15.30, 18.10, 19.00; - By bus to Fastov from the Dachnaya bus station (142 Pobedy ave., Tel. 424-15-03).
Departure time: 8.10, 9.40, 10.20, 12.25, 15.30, 17.30, 18.00.
Fare: bus - 5-8 UAH., Electric train - 3-5 UAH.
East District: Borispol - Pereyaslav-Khmelnitsky
Forests around the villages: Old, Kiylov, Boryspil Dachi, Hotzki. It's far from Kiev: it takes about two hours. But you will be amazed by the beauty of these places and the richness of forests. It is full of mushrooms and berries, because the soil in the forests that go directly to the Dnieper, marshy and fat. Going here, do not forget to grab your boots, as well as a remedy for mosquitoes - they are not scared and eat everything that moves.
What kind of mushrooms : white, ryzhiki, openki, chanterelles, redovtsy.
How to get there: - by bus to Pereyaslav-Khmelnitsky from the Darnitsa bus station (Gagarina ave., 1, tel. 559-46-18).
Departure time: 7.10, 7.45, 8.30, 9.00, 9.35, 10.00, 10.50, 11.30, 11.40, 11.45, 12.25, 12.30, 12.35 and further with an interval of 30 minutes.
The fare: 9 UAH.
Southern region: Rakitnoe - Tarashcha - Boguslav
Forests around the villages: Pugachovka, Kirdany, Maloberezanskoe, Dmitrenki, Potashnia. Far from the passing light - it will take about three hours. Forests here are mixed with steppes - you will not get lost. These are mushroom and quite popular places for quiet hunting, so it's worth to go immediately after the rains, otherwise the competitors will get ahead. The beauty here is stunning: forest, hills, steppes and the river Ros, on the shore of which you can arrange an excellent picnic.
What mushrooms : chanterelles, russules, butter, white.
How to get there: - by bus to Rakitnaya from the "Podol" bus station (15a, Nizhny Val str., Phone 417-32-15).
Departure time: Saturday - 8.50, 9.30, everyday - 13.30, daily - 17.05. An alternative option is to get to the White Church (by bus from the bus station "Yuzhnaya", departure - every 40-50 minutes) and change to the train to Rakitnoye and Boguslav; - By bus to Rakitnoye from the bus station "Vladimirskaya" (25, Vladimiro-Lybidskaya str., Phone 269-72-93). Departure time: 10.35, 15.35; - By bus to Tarashchi from the bus station "Vladimirskaya". Departure time: 9.15, 12.55, 16.20, 19.45; - By bus to Boguslav from the bus station "Podol". Departure time: 10.10, 13.50, 15.20, 17.30, 19.05.
The fare: 9-10 UAH.
What to take with you, going to the forest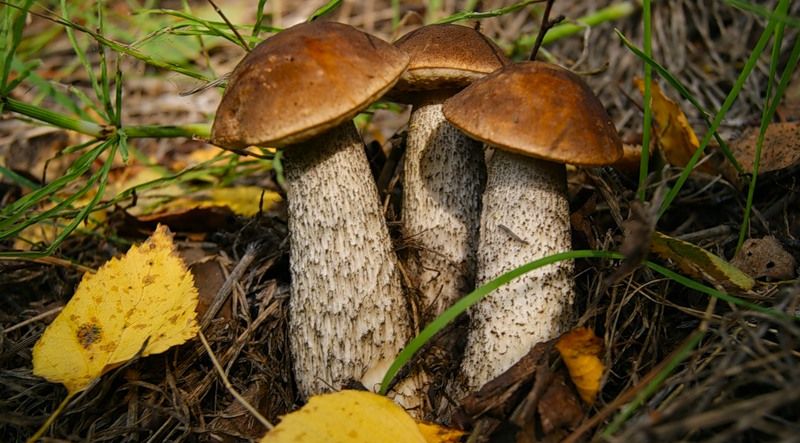 The ideal container for mushrooms - a wicker basket, for berries - a basket of shingles.
A compass and preferably a map of the terrain.
Mushroom knife. Mushroom is best cut off at the root, but if you forget the knife, you can gently turn out of the mycelium.
Waterproof shoes, replaceable warm socks.
Provision, matches (do not fall forest!).
Insect repellent.
On the spot, find a meter stick. With its help it is easier to search for mushrooms, hidden under leaves, needles and moss.
Tips experienced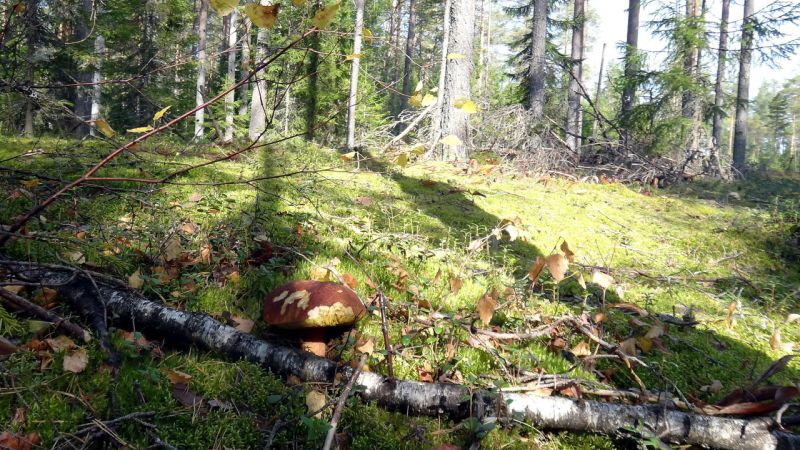 Collect only those mushrooms that you know for sure that they are edible . Plate mushrooms, especially russules, try to cut with a leg to make sure that it does not have a ringy ring. Remember that among the plate-shaped edible mushrooms, such a ring is only available, mushrooms and a mushroom umbrella are variegated.
It is better to collect spongy mushrooms, for example white, - in our latitudes they are difficult to poison.
Cutting mushrooms, pay attention to the color of the plates - it should be from pink-white to brown-brown, but by no means white.
Pick mushrooms in the morning . At this time they are fresh, strong and better preserved.
Carry russules and mushrooms separately from other mushrooms: they are especially fragile.
When you arrive home, immediately process your harvest. Otherwise, in the morning you will have to throw out most of it.
Do not eat raw mushrooms.
Before cooking, discard the old, wormy and suspicious. Rinse the remaining thoroughly. Regardless of what you will cook, boil the mushrooms in salted water for 10-15 minutes.
Wow!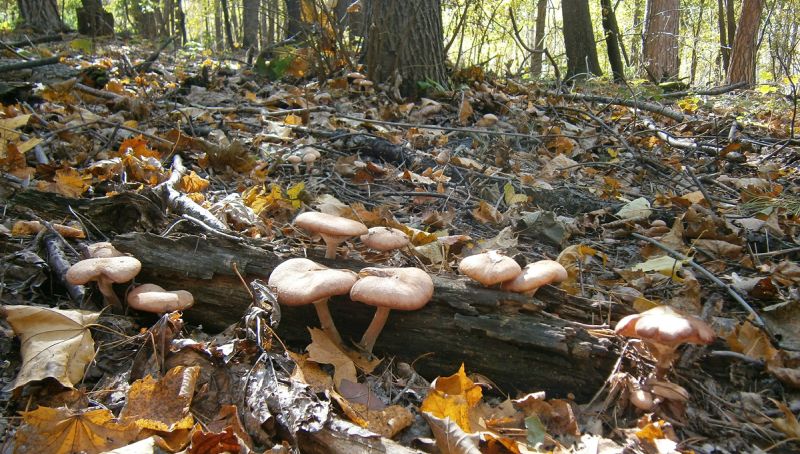 Mrichnik is mistaken only once! According to the Ministry of Health of Ukraine, in the current year, as of May 23, 2016, in the Kyiv region, 4 cases of fungal poisoning have been registered - in Brovary (1 v.), Boryspil (1 vy.) And Vasilkivsky (2 vyp.) Regions, Of them, three cases among children in May of this year. Analysis of recorded cases of poisoning with fungi in Ukraine indicates that most of them are caused by the use of plateted poisonous fungi (primarily pale toadstool), which are mistaken for edible mushrooms and russules. They are also poisoned by fly agarics, false apices, raincoats and champignons. But most of the tragedies, according to the Ministry of Health of Ukraine, are related to ignorance of the rules for collecting, storing and cooking mushrooms.
And on September 5, 2005, 191 cases of poisoning with inedible mushrooms were registered in Ukraine (39 children were affected), 17 people died (six of them were children). It is interesting that over the same period of 2004, there were almost four times more poisoned people: 497 cases, 75 people died! The Kiev region is one of the last places in the country by the number of poisonings (7 poisoned have been registered to date), but neighboring Sumskaya every year on leading roles: this year about 30 people have already been poisoned there.
So remember:
If you feel unwell, seek medical advice immediately, and before washing, rinse the stomach with a weak saline solution;
Children under the age of nine mushrooms are contraindicated;
Mushrooms, bought in a store or in stationary markets, can not be poisonous;
Almost every edible mushroom has a poisonous double, and inedible mushrooms in nature are much more than edible!
By the way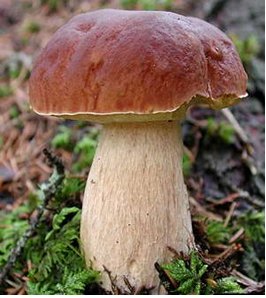 In the forests of the Kiev region snakes, especially vipers, are increasingly encountered. This is due, first of all, to warming: crawling creeps slowly creep north.
In order not to become a victim of a viper, wear strong, preferably leather shoes. In the woods, always go with a stick, in order to drive away the snake at the right time. Look at both!
Vipers are dark gray and almost black in color, ranging from half a meter to a meter. If the snake has two yellow spots on the top of the head, it means that it's before you. Do not offend him, he is not poisonous and will not harm you. If the snake is brown or dirty-yellow, then it is not a snake, but a legless lizard of skids. It is also safe.
And, of course, beware of wild animals. In the woods you may inadvertently meet an elk or a wild boar. After seeing the moose, wait a little while and quietly leave. Remember, sudden movements are not recommended! A plunge into a wild boar or sow, climb faster on a tree and make yourself comfortable. If you do not like the wild pigs, you will have to stay with the squirrels for a long time in the company. True, there is a plus - you can see the program "In the world of animals" in Kiev, from the first row.