ivy (heder) / hedera
Refers to the Araliev family. Fatherland-Southern Europe, the Caucasus, North Africa.
General description : Ornamental-deciduous plant. Ivy - one of the most popular indoor plants, is the basis of floral compositions. Usually they are used for vertical gardening of walls, ceilings, lattices, balconies, verandas, as if ivy have fast growing stems with air sucking roots. In this case, the plant needs support.
You can grow ivy in any way not only like a vine, but also as if the ampel plants in hanging baskets. Some compact bushy species are allowed to grow and seem to be ground cover among larger plants.
The leaves of ivy have a variety of sizes and shapes, they can be green or variegated.
The most common is Hedera helix (Ivy ordinary). He has many varieties with oval, stellate, rounded leaves. there are purely green and variegated forms.
Recommendations for plant care Ivy:
Illumination : Needs bright, but diffused light.
Irrigation regime : Abundant during growth, moderate in winter.
He does not adore in any way the overflow, nor the drying out of the earth.
Humidity : Requires regular spraying and washing under the shower.
For the summer it is better to place on a fresh atmosphere (in a park or on a balcony), preferably planted on the ground.
Temperature regime : In summer the temperature should be moderate, in winter it is cool, in winter it should not be lower than 12 ° C.
Soil: Recommended soil mix: 1 share sod, 1 share peat, 1 share humus, 1 share leaf earth and 1 share sand.
During the growth period, it needs fertilizing once every two to three weeks with a complex fertilizer for indoor plants. It reacts well to organic (mullein infusion).
Breeding : Cuttings, it is better to root them under a film or glass.
Transplantation : In the spring, young plants annually, mature once a couple of years.
Pests : Often afflicted by a spider mite (in a dry atmosphere, leaves and stems are braided with cobwebs), scabbards (brown plaques appear on the leaves and stems, leaving sticky discharge), aphids (form sticky excretions on shoot tips, buds).
It is recommended spraying with insecticide solution (acticle, decis, phytoverm, etc.), it is allowed to rinse out all the foliage in the basin with the given solution.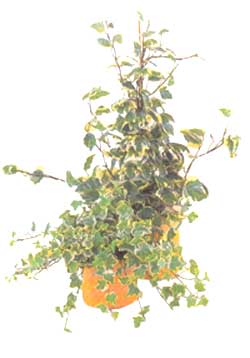 ivy - hedera helix
Hedera helix Annete
Hedera helix cristata
Hedera helix sagittaefolia
Hedera helix Glacier
Hedera helix Mona Lisa
Hedera helix Jubilee
Hedera helix Harald
Hedera helix lutzii
Hedera helix Green Ripple
Hedera helix ordinary
Hedera helix scutiolia
Hedera canariensis Gloire de Marengo Canarian
a spot caused by defeat of fungi Phylosticta (leaf blotch)
ivy leaves (hedera helix scutiolia) touched the windowpane