myrtle / myrtus
Refers to the family Myrtle. Homeland - Southern Europe, North Africa.
General description : Myrt is quite an impressive log, more suitable for a garden, but it is allowed to grow and as a solitary plant to decorate a bright but cool hall. Myrtle leaves are small, bright, ovoid in shape, with a flattering odor. The phytoncides released by the leaves disinfect the air, the essential oil of myrtle is medicinal. In the summer, the mature plant blooms with scented white flowers, in the autumn dark blue berries appear on it.
The word "myrtle" from Ancient Greek translates "medicine", this plant was considered a symbol of chastity, wreaths from myrtle wore the bride.
Recommendations for caring for the plant Myrtle:
Illumination : Photophilous, shading is needed only in the summer noon.
Irrigation mode : Abundant during growth, in the winter, outlandish, especially if the plant is kept cool.
Humidity : Requires frequent spraying, especially in warm rooms.
For the summer it is better to place on a fresh atmosphere (in the park or on the balcony).
Temperature regime : In summer the temperature should be moderate, in the winter cool 8-10 ° C.
Soil : Recommended soil mix: 2-3 elements of turf, 1 share of peat land, 1 share humus, 1 share of sand. During the growth period, one needs every fertilizer every 2 weeks with complex fertilizers ("Giant", "Rainbow" "Ideal", etc.) For mature trees, once per summer, it is allowed to make humus.
Breeding: Stem cuttings, seeds.
Transplantation : Young plants are transplanted annually, mature, older than three years are transplanted after a couple of years, but annually replace the upper layer of the earth.
Pests : affected by scutes (brown plaques appear on leaves and stems, leaving sticky discharge), a spider mite (in a dry atmosphere, leaves and stems are braided with cobwebs).
The plant is allowed to help finish with a soap solution, warm rinsing and spraying with an actellite (1-2 ml per liter of water).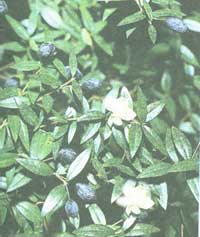 myrtle - myrtus