oleander / nerium
It belongs to the kutrov family. Fatherland -Africa, Asia, Japan, Southern Europe.
General description : The only indoor-grown species Nerium oleander (Common oleander) . High branching evergreen shrub, it requires an impressive place. Oleander is a poisonous plant. Leaves are leathery, narrow and long, as if willow. Leaf paint is dark green with a light mid-streak. Fragrant flowers up to 5 cm in diameter have a variety of colors: red, snow white, yellow, pink, lilac. They can be terry. It blooms in summer. In the autumn you need to prune.
Oleander is more suitable for greenhouses, in the indoor environment it is difficult for him to provide comfortable conditions.
Recommendations for the care of plants Oleander:
Illumination : Light-loving, no shadowing required.
Irrigation mode : Abundant during growth, winter outlandish, especially if the plant is kept cool. Water with warm soft water.
Humidity : Needs regular spraying.
Remove from central heating.
In the summer it is better to place on a fresh atmosphere (in the park or on the balcony), closer to the water.
Temperature : In the summer, the temperature should be moderate, in the winter is cool, 8-12 ° С, not lower than 7 ° С
Soil : Drainage is required. You can add charcoal and brick chips.
Recommended soil hash: 4 elements of heavy turf, 2 elements of leafy ground, 2 elements of rotted manure or greenhouse earth, and 1 fraction of sand.
In the period of growth needs fertilizing 1 time in 2 weeks with complex fertilizers ("Ispolin", Rainbow "" Ideal ", etc.)
Once a season, but never more often, it is allowed to add organic matter (mullein solution).
Breeding : Layering, seed, stem cuttings in spring and summer.
Transplant : In spring, young plants annually, mature once every couple or three years. When transplanting large specimens, partially trim the roots.
Pests : Affected by the scarlet spider mite (in a dry atmosphere, the leaves and stalks are covered with cobwebs), scutes (brown leaves on the leaves and stalks that leave sticky secretions), powdery worms (covered with a snow-white cotton-like fuzz).
The plant is allowed to help trimming with soapy water, warm washing and spraying actellic (1-2 ml per liter of water).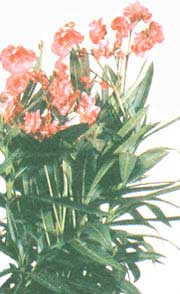 oleander - nerium