notocactus / notocactus
It belongs to the family of cacti. Fatherland - South America.
General description : Notokactus is also called "cactus-ball" due to the fact that most species have a spherical stem. Another feature is abundant and early flowering.
Usually in room conditions the following types are bred:
Notocactus ottonis (Notokactus Otto) . This is a typical Notocactus. It has a spherical stem with sparse, stiff, curved spines. Flowers up to 8 cm in diameter, yellow.
Notocactus leninghausii (Leninghaus Notokactus) has a column-like stem with long yellow spines, it can reach 1 m in height. The flattened top of the stem leans toward the sun. Spring blooms yellow flowers. Quite unpretentious plant.
Notocactus apricus (Notokaktus sun-loving) . The stem is spherical, compact, ribbed. Impressive curved spines. Flowers yellow 8 cm in diameter.
Recommendations for the care of the plant Notokactus:
Illumination : Light-loving, preferred southern windows, but in the spring should be carefully accustomed to direct sunlight to avoid burns. In the summer afternoon you need shading.
Irrigation mode : Abundant in the growth period, outlandish in winter.
Humidity : Does not need spraying.
In the summer it is better to place on a fresh atmosphere (in the park or on the balcony). Winter needs a dry essence.
Temperature condition : In summer, the temperature should be 22-23 ° С, in winter 10-12 ° С, minimum 10 ° С.
Soil : Drainage is required. You can add charcoal and brick chips.
Recommended soil mash: 1 share of sod, 1 share of leaf, 1 share of peat land and 1 share of sand.
During the period of growth it needs fertilizing once in two weeks with fertilizers for cacti and succulents.
Breeding : children and seeds.
Transplant : In spring, young plants annually, mature once a couple years.
Pests : Affected by the scarlet spider mite (in a dry atmosphere, the leaves and stems are woven with spiderwebs).
For prevention, the plant is recommended to wipe with medical alcohol.
With a small infection, the plant is allowed to help trimming with soapy water and warm washing.
In case of severe injury, spraying with an insecticide solution (actellic, decis, fitoverm, etc.) is recommended.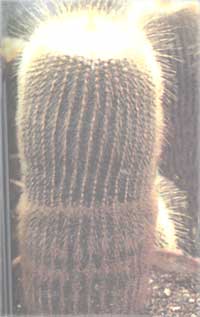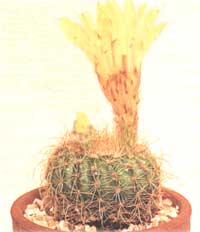 notocactus sunbearing - notocactus apricus
notocactus otto - notocactus ottonis
Notocactus Leninghousie - notocactus leninghausii
sunburn on notokactus stem