Indoor plants that perfectly clean the air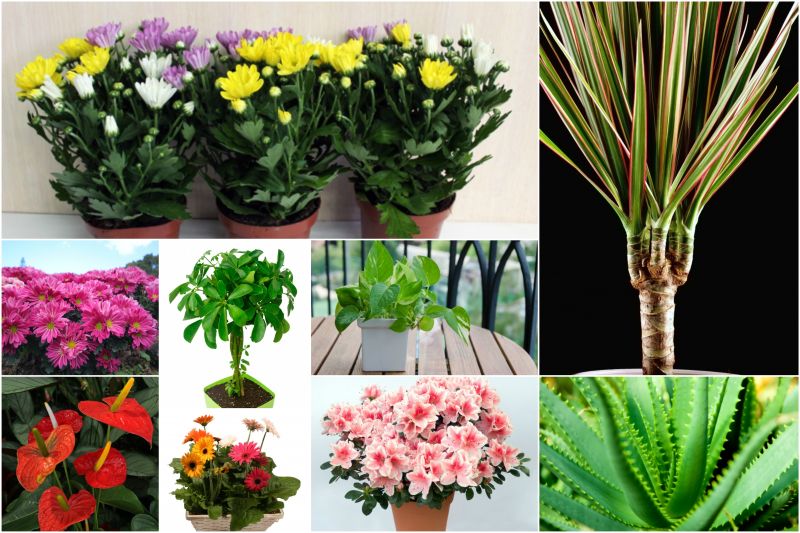 Indoor gardening is the cultivation of plants in residential or public premises. Plants that are able to successfully survive and develop in such premises are called indoor plants. Indoor gardening is especially common in countries with a long harsh winter. Most houseplants come from the tropics and subtropics. Since residential or public premises are characterized by conditions that are more unfavorable for plants than when grown in greenhouses (for example, the lateral direction of light, its small amount, dry air, an abundance of dust, drafts, uneven temperature), to achieve a healthy state and proper development plants used special techniques. Conditions in public and official premises are usually even less favorable than in residential, so here the most unpretentious houseplants are grown.
Dirty indoor air is one of the main and main causes of illness. Our brick and concrete houses constantly release toxic chemicals - formaldehyde , metals , fumes . The air is also poisoned by bacteria , mold , dust and carbon dioxide formed near the operating plate. Fortunately, we have houseplants . They easily solve the problems associated with poor ventilation of enclosed spaces.
In this article, we at Shram.kiev.ua will tell you about the best flower air purifiers that will not only decorate the house, but 24 hours a day will work faithfully and uninterruptedly to clean air that can be grown at home or in the office.
In 1989, NASA launched a study aimed at identifying the best indoor plants for cleaning the surrounding air. Scientists have found that the air of the premises constantly contains particles of harmful volatile organic compounds - trichlorethylene , benzene , ammonia and others . To clean the air, experts recommend placing them in the rooms. Indoor plants are able to neutralize up to 85% of indoor air pollution.
In the air of the premises contain five harmful substances:
Formaldehyde. Contained in furniture made of particle board, fiberboard, carpets and upholstery, tobacco smoke, plastic dishes, household gas. Causes allergic reactions, irritation of the mucosa, asthma, skin diseases.
Trichlorethylene. Contained in means for cleaning carpets and fabrics, chlorinated water, cartridges for printers, paint and varnish products. Trichlorethylene is a strong carcinogen, it irritates the eyes and skin, affects the liver and kidneys, causes psychomotor agitation.
Benzene. It is found in tobacco smoke, cleaning and detergents, including soap, paint and varnish products, rubber products. The carcinogen, which is capable of provoking leukemia, accumulates in adipose tissue, causes an excitement similar to alcohol, dyspnea and convulsions, lowers blood pressure.
Ammonia. Contained in computer technology, tobacco smoke, household chemicals. Causes dryness and perspiration in the throat, cough, provokes pain in the chest, causes swelling of the larynx and lungs.
Xylene. It is based on the production of many types of plastics, paint and varnish products, adhesives, and it is also found in automobile exhaust fumes, leather products and tobacco smoke. Causes irritation of the skin, respiratory tract and mucous membranes of the eye.
1
Indoor chrysanthemum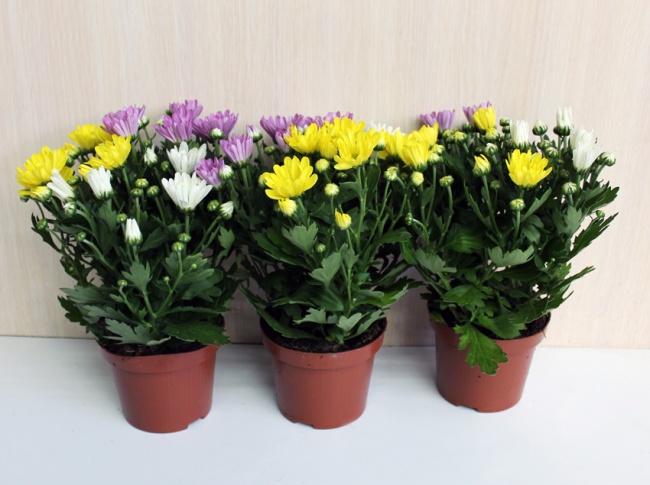 Room chrysanthemum is a plant - a favorite of NASA. These flowers are used to purify the air in the offices of the space agency. They effectively absorb ammonia, benzene and formaldehyde from the air in any room. In addition, this flower is not very expensive, which makes it an ideal option for a flower bed in the courtyard of a private house.
2
Chlorophytum ("spider")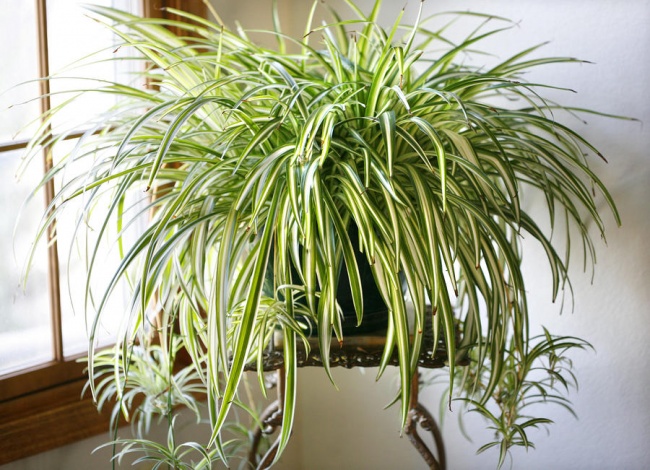 Chlorophytum is a simple and unpretentious plant that does not require special care. It is fairly widespread, so you probably can borrow a couple of stems from neighbors. In addition, chlorophytum effectively absorbs all the chemicals that you spray when cleaning in the apartment.
The plant-"spider" with rich foliage and small white flowers actively struggles with benzene, formaldehyde, carbon monoxide and xylene. Another reason to acquire this plant is safety for children and animals.
3
Dracaena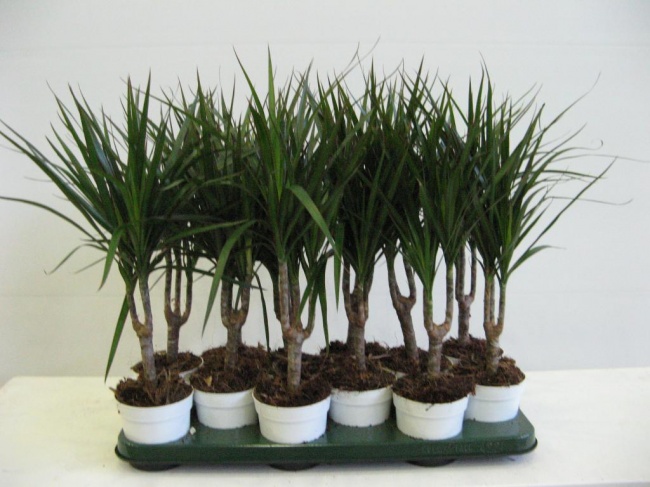 In the world there are more than 40 kinds of Dracaena . Therefore, you will easily find one that looks like you. This is an excellent means for removing benzene, trichlorethylene and xylene from the air. True, these flowers are slightly toxic to cats and dogs. So, if you have a small apartment and live pets, think twice.
4
Ficus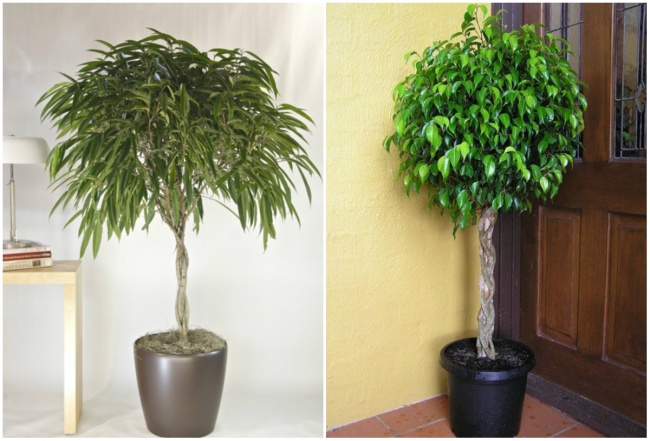 Ficus is the most popular mini-tree among all homeowners in the world. If you put it in a large pot, it can grow to a truly impressive size. But, as a rule, on average, its growth is from 60 to 120 cm. In spring and summer, the plant can be taken out into the yard.
5
Spathiphyllum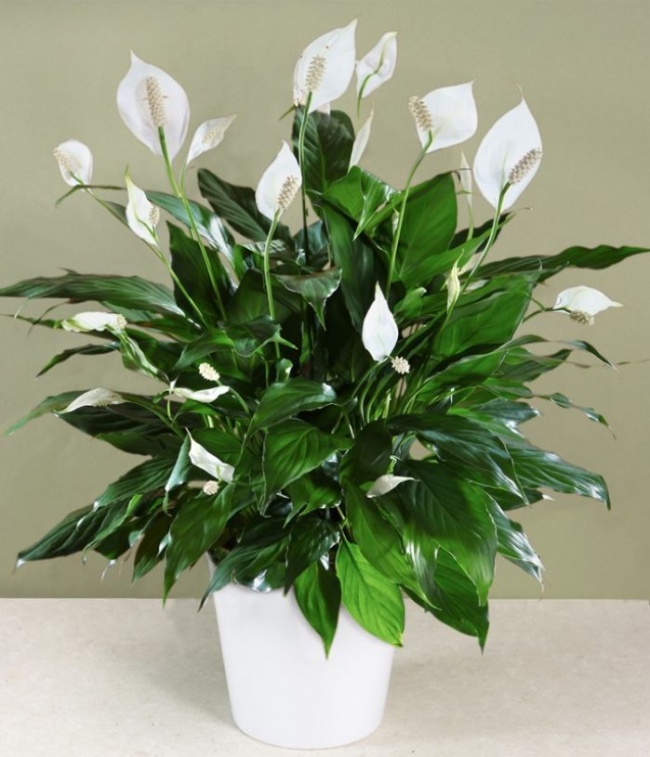 Not only are these very beautiful flowers, they are also very hard to ruin. They bloom for the most part in the summer, prefer shady places and wet, but not damp soil. Remove ammonia, benzene, formaldehyde and trichlorethylene from the air.
6th
Fern of nephrolepis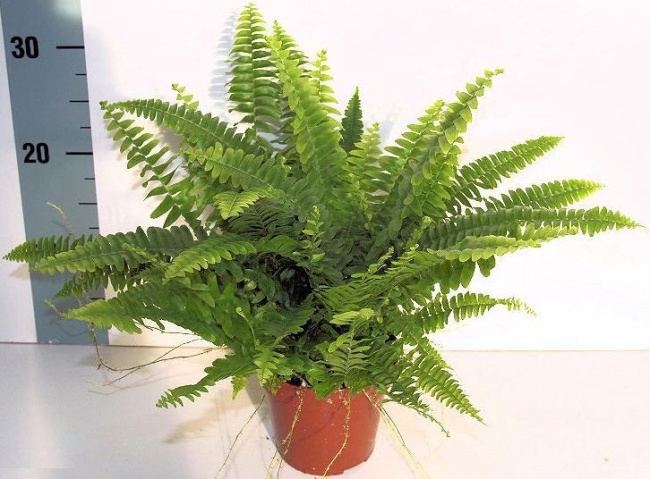 This plant likes cool places with high humidity and reflected light. Bathrooms are the ideal place for this "helper". It cleans the air of the xylene contaminant.
7th
Sansevieria ("Teshchin language")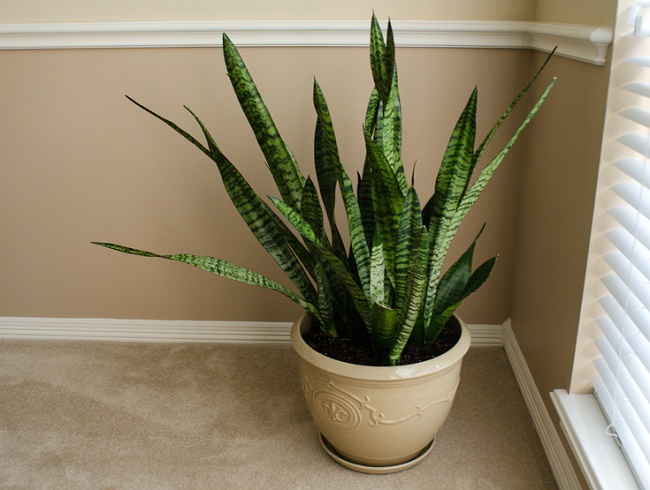 We see pots with her everywhere, most often in offices and restaurants. And not in vain: these plants do not require almost any care. You need to water them about once a month: they love the dry conditions. A lot of sunlight, they also do not need.
8
Hamedorei ("The Bamboo Palm")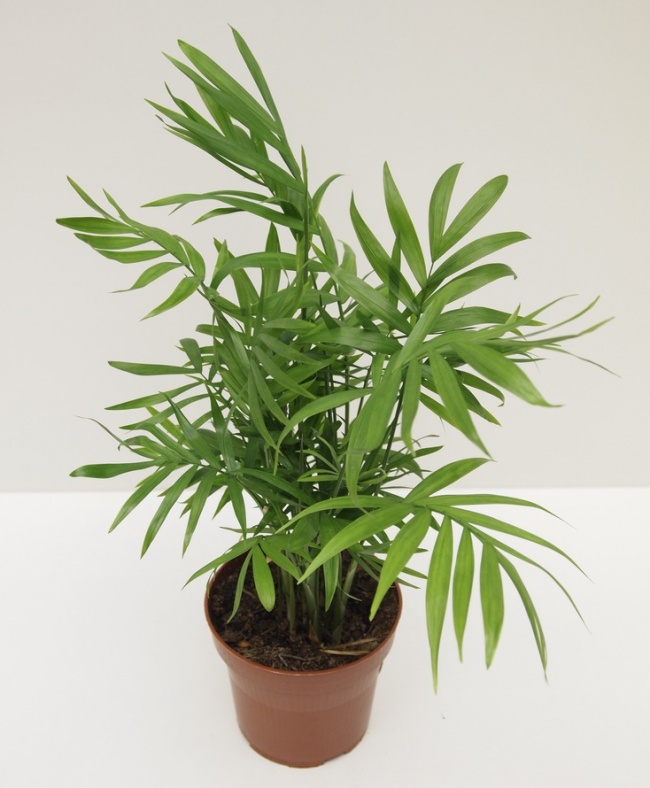 It is the best in the world for cleaning air from formaldehyde. For starters, it's best to put it on the windowsill where the sun is shining. In response, you will receive a palm tree up to 3 meters high and fresh air. It looks amazing.
9
Aloe vera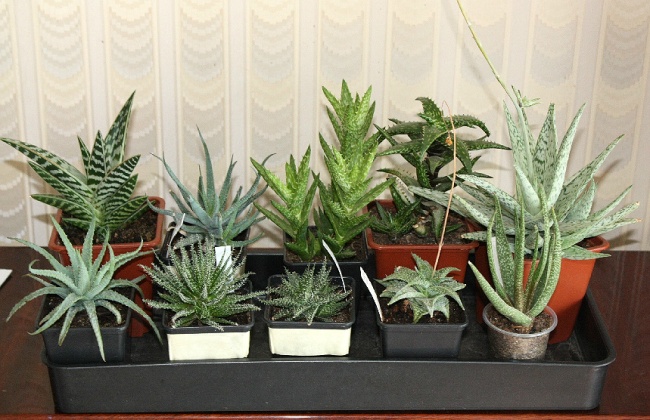 This multifunctional plant. They can heal burns, colds, and it just perfectly cleans the air in the room. One Aloe Vera can breathe new life into any small apartment.
10
Anturium Andre ("lily flamingo")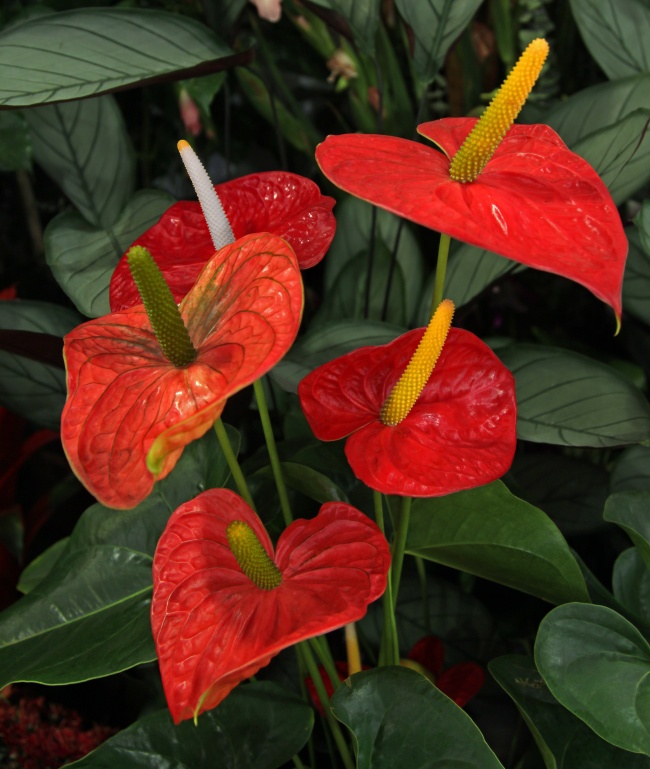 It perfectly moistens the air and saturates it with purified water vapor. Actively absorbs xylene and toluene and processes them into harmless to humans compounds.
eleven
Gerbera Dzhemsona, Scindapsus ("golden lotus")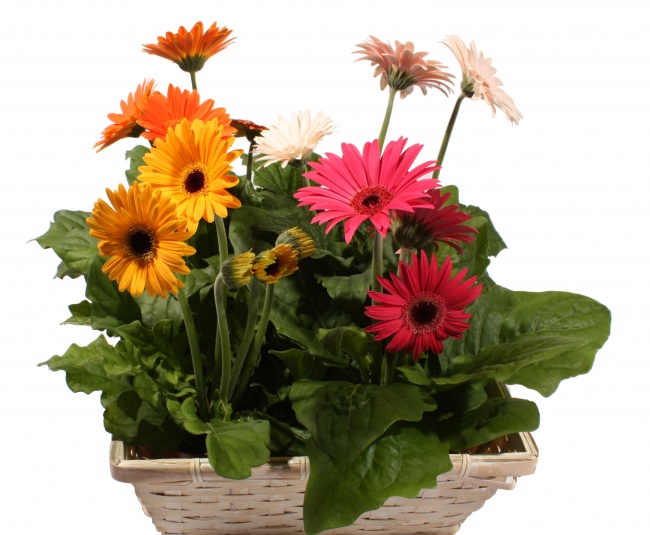 This bright flowering plant effectively removes from the air trichlorethylene , formaldehyde and benzene . He loves the warmth and the sun.
12
Aglaonema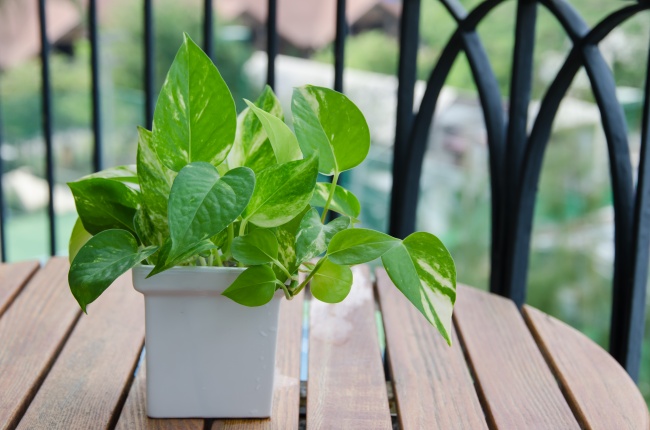 The Chinese evergreen tree is a houseplant that grows in low light and loves moist air. It effectively purifies the air of toluene and benzene. The juice and berries of plants are poisonous.
13
Ivy I Curly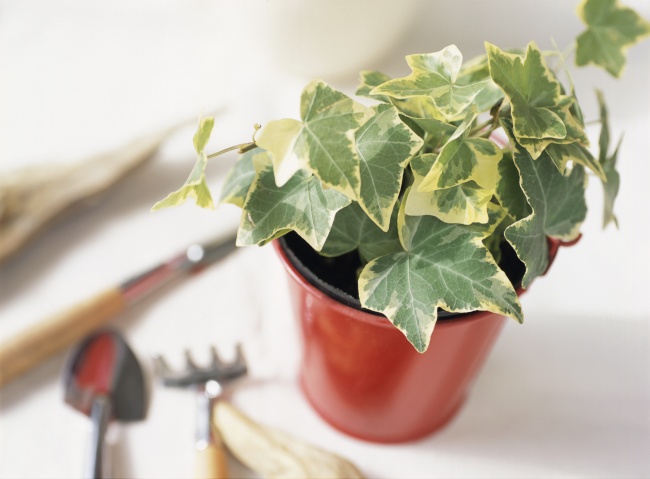 This plant is an excellent choice for rooms with little light. Effectively removes trichlorethylene, formaldehyde, benzene, carbon monoxide. It is recommended to remove allergens such as mold.
14
Azalea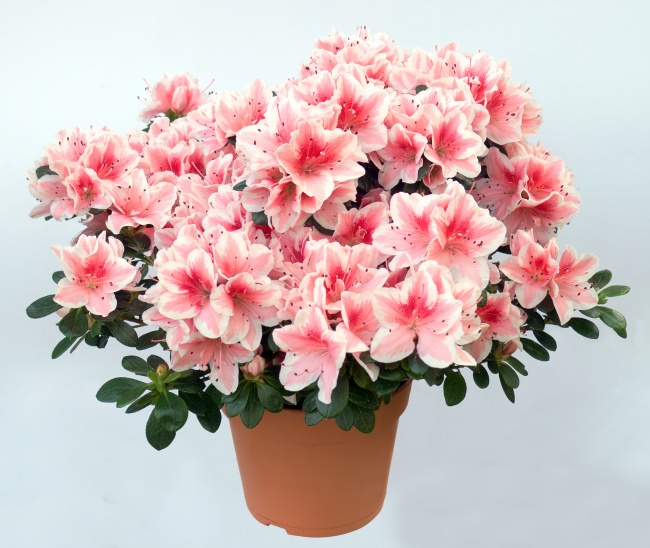 This beautiful blooming flower effectively fights with formaldehyde , which stands out from plywood, furniture, carpets. Long enough blooms, but requires careful care.
15
Sansevieria ("mother tongue")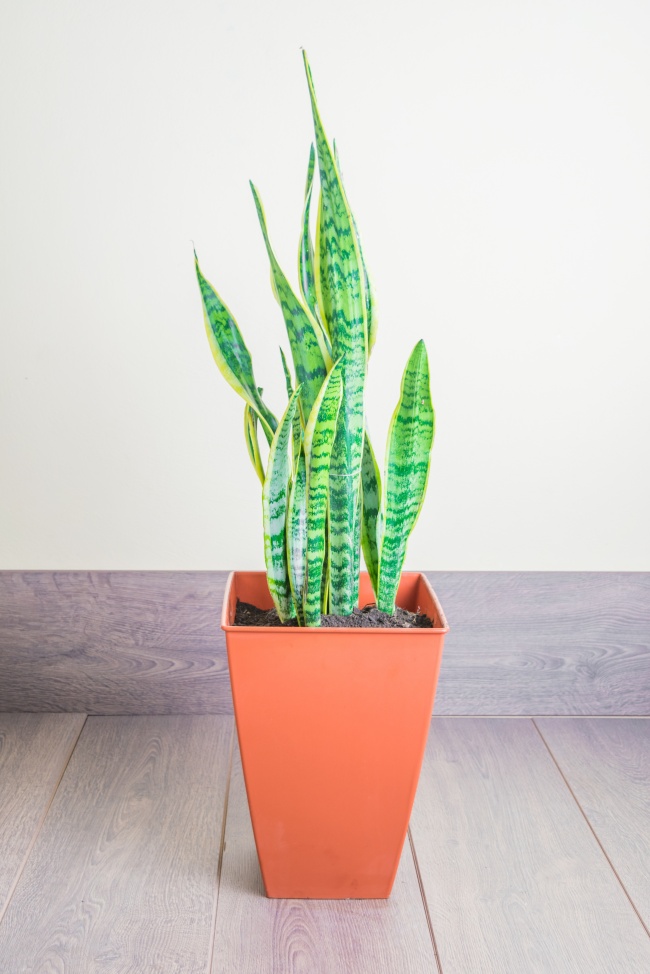 Very hardy plant, you need to try to ruin it. It fights with such pollutants as formaldehyde, benzene, trichlorethylene. At night, absorbs carbon dioxide and releases oxygen.
16
Dracaena fringed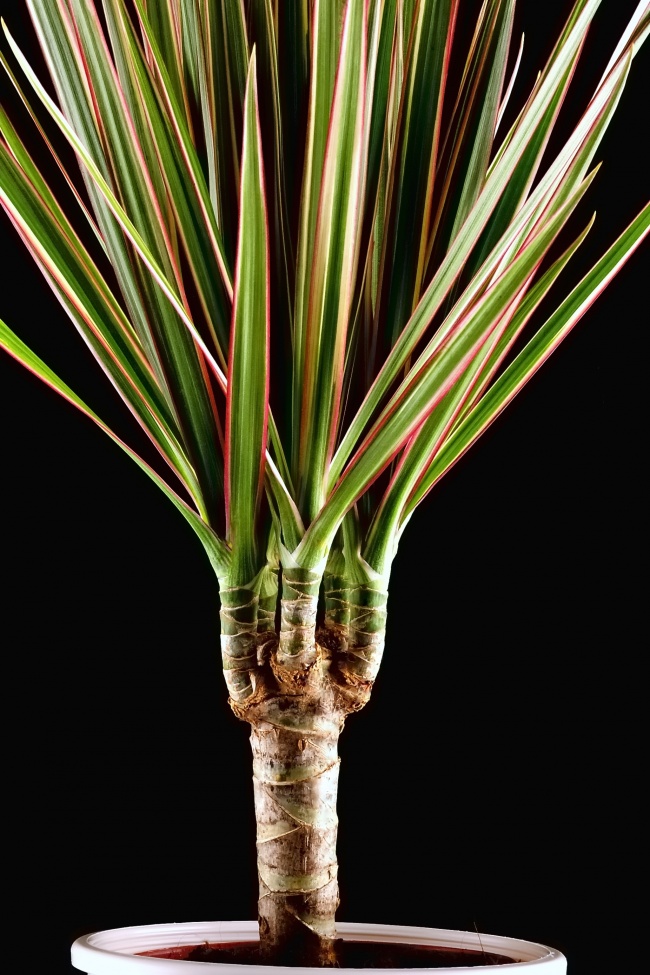 This plant is best suited for the removal of xylene, trichlorethylene and formaldehyde . Dracaena grows slowly, but grows into a tall plant. It is better to place in a room with high ceilings and moderate sunlight.
17th
Philodendron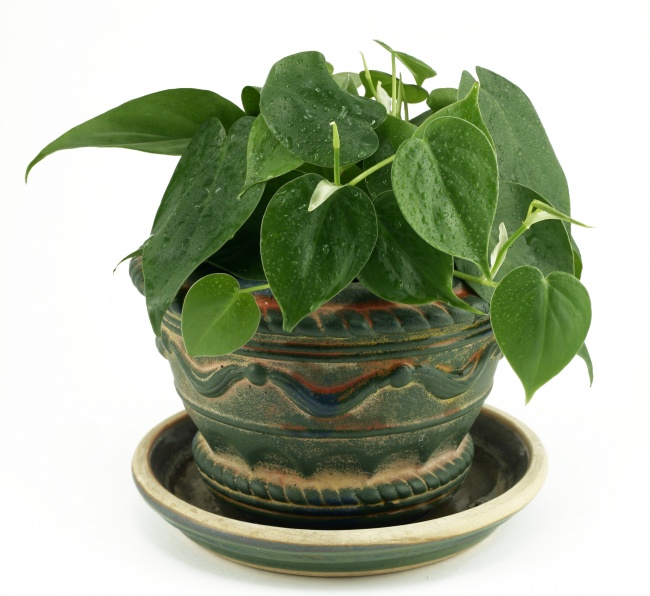 "Workhorse" for cleaning air from formaldehyde and other types of toxic compounds. An unpretentious plant, feels great in rooms with low illumination. It is not recommended for those who have children and animals.
18
Nephrolepis ("Boston fern")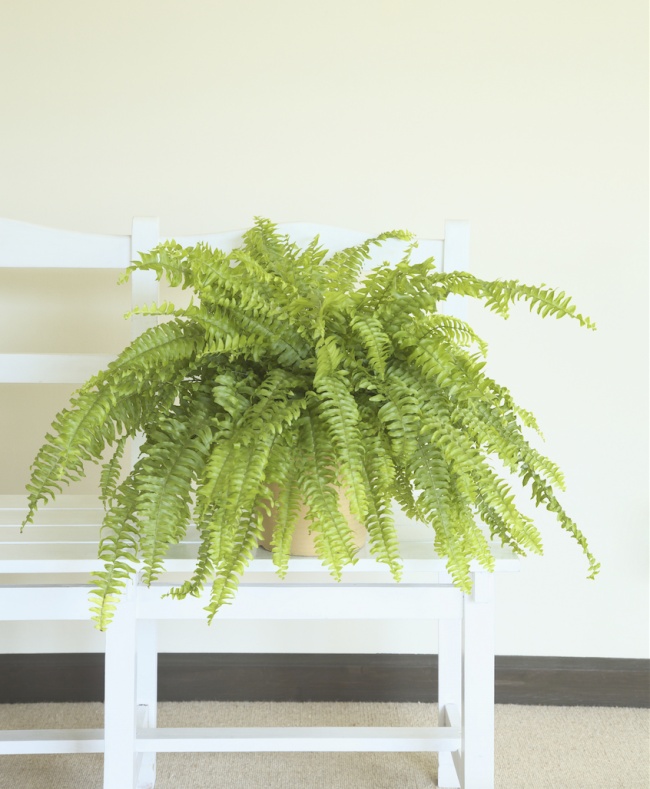 Fern moisturizes and purifies the air from fumes of formaldehyde, carbon monoxide and xylene . Loves regular watering and shade.
19
Spathiphyllum ("lily of the world")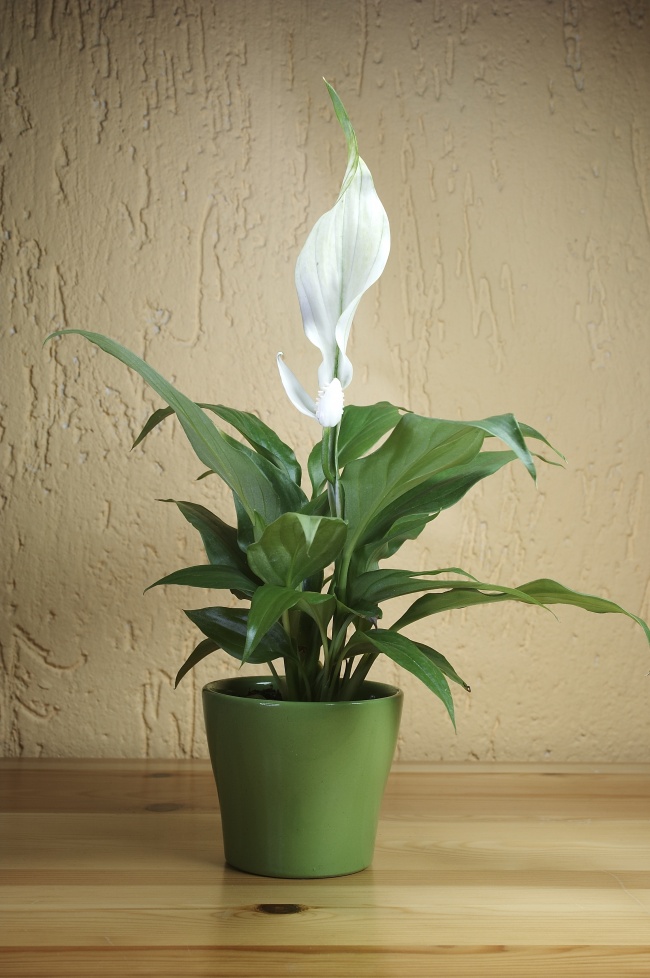 "Lily of the World" - "Queen" for cleaning air from formaldehyde , benzene and trichlorethylene . It also effectively fights with toluene and xylene . For maximum efficiency, it is recommended to regularly remove dust from its leaves.
20
Bamboo palm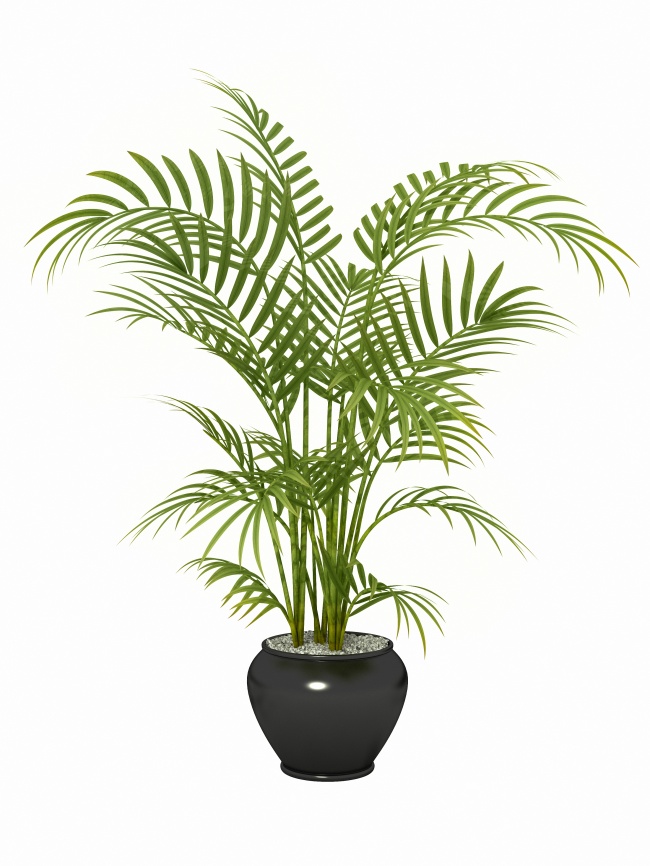 This plant is best suited for filtering benzene , trichlorethylene and formaldehyde . It is better placed next to the furniture, which is covered with a paint and varnish evaporates harmful compounds.
21
Scheffler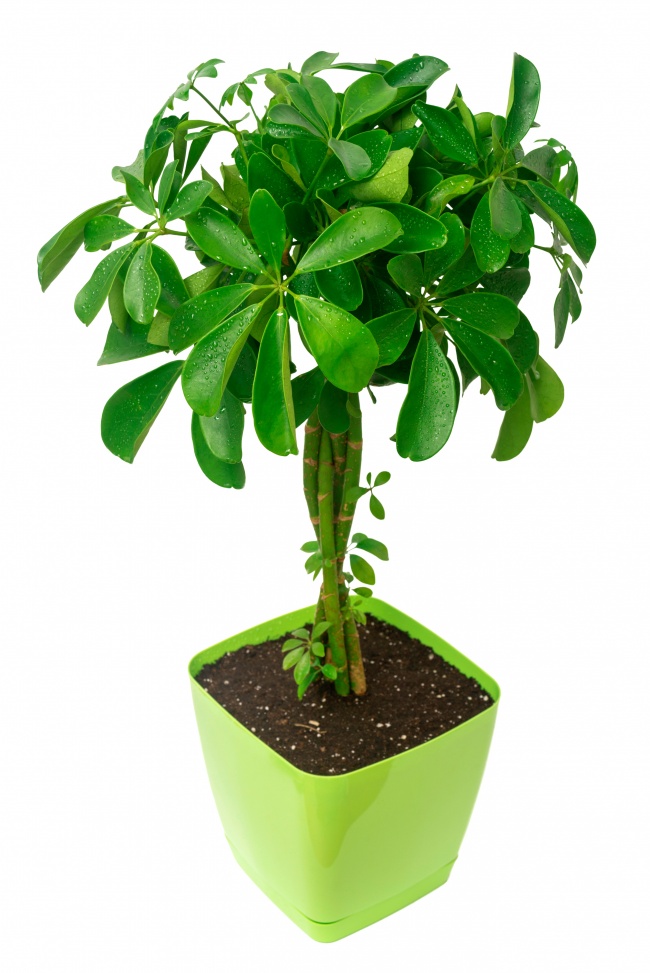 It purifies the air of formaldehyde, toluene and benzene compounds. In some countries, the sheffler is called an umbrella tree because the leaves, like the umbrella spokes, come out of one point.
21
Chrysanthemum garden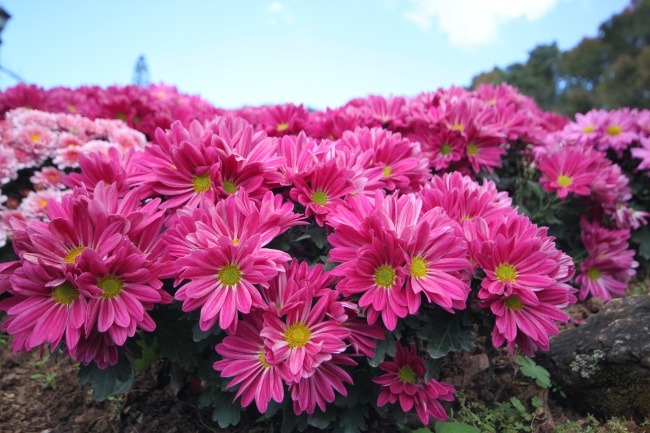 This plant not only will long please its flowers and decorate the house, but also effectively fight with formaldehyde , xylene , benzene and ammonia .
Via thespiritscience.net