Schefflera / schefflera
It belongs to the family of Aralia. Fatherland - East Asia, Japan.
General description : Schefflera - tree unpretentious plant up to 2, 5 in height with beautiful bright finger-like leaves on long cuttings, departing from one point. For this feature, sheffler is called the umbrella tree in the nation. There are forms with leaves in white or yellow spots. In room conditions shefflera does not bloom. Needs periodic pinching shoots.
Schefflera octophyllum (Schefflera eight- leaf ) has bright veins on the leaves.
Schefflera digitata (Schefflera finger) is distinguished by its compactness.
Schefflera actinophylla (Schefflera luchelistnaya) - the most common species, is a strongly branching tree, bush-like at a young age.
Recommendations for the care of the plant Schefflera:
Illumination : Needs bright but diffused light.
Irrigation mode : Abundant during growth, moderate in winter
Does not like neither overflow nor drying of the earth.
Humidity : Likes high humidity, you often need to spray, periodically wash in the shower. Keep away from drafts.
Temperature condition : Cool is optimal, 13-14 ° C, not higher than 20 ° C, in winter at least 12 ° C.
Soil : Recommended soil hash: 2 sod elements, 1 share of leafy ground, 1 share of humus, 1 share of peat and 1 share of sand.
In the period of growth needs fertilizing 1 time per week with liquid complex fertilizers.
Dilution : Stem cuttings in summer using phytohormones and soil heating.
Transplant : Transplanted after a couple of years.
Pests : Affected by a spider mite (in a dry atmosphere, leaves and stalks are woven over the web), a cyclamen mite (it appears when moisture is too high, looks like a layer of dust on the lower surface of the leaf) and thrips (grayish dots appear on the leaves).
With a slight infection, the plant is allowed to help trimming with soapy water and warm washing.
In case of severe injury, spraying with an insecticide solution is recommended.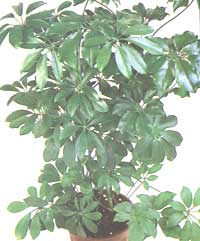 schefflera arboretum - schefflera arboricola
shefflera eight leaflet (or radiant) - schefflera octophylla