godson / senecio
It belongs to the Asteraceae family. Fatherland - South and South-West Africa.
General Description : An impressive variety of types and shapes, the most common:
Senecio rowleyanus (Rowley's Radar) - succulent, ampelous plant. It has long creeping filiform stems, spherical leaves that look like beads or peas. Owns snow-white tubular flowers, gathering in apical baskets.
Senecio cruentus (Blood Groundsel or Tsineraria) - ornamental flowering plant. Abundantly and continuously blooming daisy-like basket inflorescences. Colors - purple, white, pink, scarlet, purple. The leaves are soft, heart-shaped.
Senecio macroglossus (Krestovnik krupnoyazychkovy or Natal ivy) - ivy-shaped vine with waxy succulent, approximately triangular leaves. There are variegated forms. In winter, blooms yellowish flowers. More unpretentious than real ivy.
Recommendations for the care of the plant Spiderman:
Illumination : Light-loving, shading is needed only in the summer afternoon.
Irrigation mode : Abundant during growth, moderate in winter. Does not love in any way overflowing, nor drying up of the earth.
Humidity : Blood Ground Honey loves high humidity, we need regular spraying. The remaining species do not need spraying.
Temperature : Moderate, cool in winter at a temperature of 15-17 ° C.
Soil : Recommended soil mix: 1 share of sod land, 1 share of peat land, 1 share of humus, 1 share of leafy land and 1 share of sand.
During the period of growth it needs regular fertilizing 1 time in 2 weeks with complex mineral fertilizers for decorative and deciduous houseplants.
Breeding : In the spring and summer stem stem cuttings take root easily.
Transplant : In spring, young plants annually, mature once a couple years.
Pests : Most often affected by shields (brown leaves on leaves and stems, leaving sticky secretions), spider mites (dry atmosphere, leaves and stalks are woven over with spiderwebs), thrips (grayish dots appear on leaves).
The plant is allowed to help trimming with soapy water, warm washing and spraying actellic (1-2 ml per liter of water).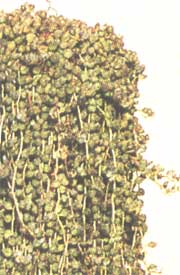 Roley's Gadget - senecio rowleyanus
Large-bones Gooseberry - senecio macroglossus