soleirolia
It belongs to the family of nettle. Homeland - Sardinia and Corsica.
General Description : Named after the captain who opened it Soleyrol. Gender appearance is like a nerteru, but does not form berries. The only indoor cultivated species is Soleirolia soleirolii (Soleyrolia Soleyrolya). It is a trailing groundcover. Seleurolia hastily expands. Its leaves are tiny 0.5 cm round. Flowers small, solitary.
Soleololium is often planted to larger plants to create a flower arrangement, it is proud to see that the plants are similar in terms of content.
Recommendations for the care of the plant Solerolia:
Illumination : Needs bright but diffused light.
Irrigation mode : Abundant during growth, moderate in winter. Water with warm soft water.
Humidity : Adores high humidity, spray with warm soft water.
Temperature conditions : In the summer, optimally no higher than 20 ° C, in the winter 15 ° C, minimum 10 ° C.
Soil : Drainage is required. Allowed to add charcoal and brick chips.
Recommended soil mash: 1 share of clayey earth, 1 share of leaf and 1 share of sand.
In the period of growth needs fertilizing 1 time in 2 weeks with complex fertilizers for decorative leafy plants.
Breeding : Crushing during transplantation. Sapling 2 days to keep cool and not water.
Transplant : In the spring, every year. The root system is superficial, so the pot is forced to be wide, but not deep. When transplanting the soil does not ram, leave loose.
Pests : Rarely affected.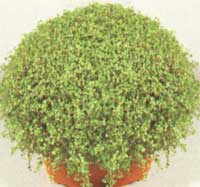 soleirolia - soleirolia