sparmania (linden) / sparmannia
It belongs to the family of fake ones. Homeland - South Africa.
General description : The only indoor species grown is Sparmannia africana (Sparmania africa), a tree plant with large, light green, pubescent heart-shaped leaves. Grows in a hurry. in order not to replant it several times a year, it is allowed to restrain growth by pinching the shoots. Sparmania is a flowering plant. White flowers with a golden center are grouped on long peduncles. Blooms continuously, blooms in early spring. Later flowering stalks and flower stalks are pruned.
Sparmania can bloom again. With good care it grows up to 2 m.
Recommendations for the care of the plant Sparmania:
Illumination : Light-loving, shading is needed only in the summer afternoon. In winter, it needs additional artificial light.
Irrigation mode : Abundant during growth, moderate in winter. The soil should always be wet.
Humidity : Loves high humidity, but spray carefully, from a small atomizer.
Temperature condition : Optimally in the summer in no way above 23 ° C, in the winter 17-18 ° C, minimum 10 ° C.
Soil : Drainage is required. You can add charcoal and brick chips.
Recommended soil mash: 2 elements of clay-sod land, 1 share of leaf humus and 1 share of sand.
During the period of growth needs fertilizing 1 time in 2 weeks with liquid complex fertilizers.
Breeding : Apical and stem cuttings root easily in spring and summer.
Transplant : Young plants are transplanted in spring and autumn, mature, older than three years old are transplanted only in spring.
Pests : Rarely affected.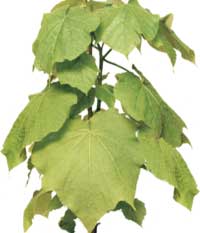 sparmania (linden) - sparmannia