sparmania (room linden) / sparmannia
Refers to the family of lime trees. Homeland - South Africa.
General description : The only species grown in the indoor environment is Sparmannia africana, a tree-like plant with large light-green, pubescent leaves of a heart-shaped form. It grows hurriedly. so as not to transplant several times a year, it is allowed to restrain growth by pricking the shoots. Sparmania is an ornamental flowering plant. Snow-white flowers with a golden middle are grouped on long peduncles. Blooms for a long time, blooms in early spring. Later blossoms stems and peduncles pruned.
Sparmania can bloom repeatedly. With good care, it grows up to 2 m.
Recommendations for the care of the plant Spormania:
Illumination : Photophilous, shading is needed only in the summer noon. In winter, additional artificial lighting is needed.
Irrigation regime : Abundant during growth, moderate in winter. The soil must always be damp.
Humidity : Adores high humidity, but spray gently, from a shallow spray.
Temperature regime : Optimum in the summer does not exceed 23 ° С, in winter 17-18 ° C, minimum 10 ° С.
Soil : Drainage is mandatory. You can add charcoal and brick chips.
Recommended soil mix: 2 elements of clay-sod land, 1 share of sheet humus and 1 share of sand.
During the growth period, it needs fertilizing once a 2 weeks with liquid complex fertilizers.
Breeding : The apical and caulis cuttings easily take root in spring and summer.
Transplantation : Young plants are transplanted in spring and autumn, mature, older than three years are transplanted only in the spring.
Pests : It is infrequent.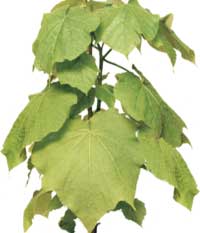 sparmania (room linden) - sparmannia