Burning Man Festival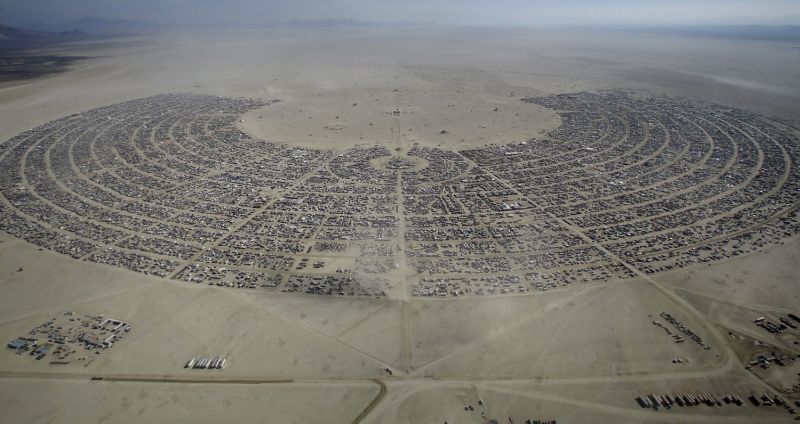 "Burning Man" (English) (literally - "burning man") - an annual eight-day event that takes place in the Black Rock Desert (eng. Black Rock Desert) (USA, Nevada). The festival begins on the last Monday of August, at zero o'clock one minute. The last day falls on Labor Day, an official holiday celebrated in the United States on the first Monday of September, a day off for most organizations. The climax occurs on Saturday after sunset, when a huge wooden statue of a man is burned.
It all began in 1986, when several friends burned down a 9-foot wooden human figure. This spontaneous act has become a tradition and has gained scope. The festival has become a major artistic attraction of Nevada, a place where you can independently touch art and freedom.
During the festival, circulation of money is completely prohibited on its territory, as well as movement in public transport - except for bicycles and mobile installations. After the termination in the territory there should not remain anything that would remind of it. Participants argue that there is no close event in the world for energy.
The organizers themselves define the event as an experiment to create a radical self-expression community, while relying solely on themselves (eng. Radical self-expression, and radical self-reliance). For a week in the desert are established works of modern art, often fantastic forms. Some of them are burned by the creators before the end of Burning Man. There drive hundreds of "mutated" cars (eng. Mutant vehicles) of the most incredible appearance, many participants go in costumes of characters of art, animals, objects, and so on. Artists who come to the desert give performances, various dances are popular.
DJs work on several dance floors around the clock. At the same time, each participant is responsible for his life support (food, water, protection from heat, wind, cold, place to sleep, etc.) and cleaning the desert from any traces of his stay; all this must be taken care of in advance.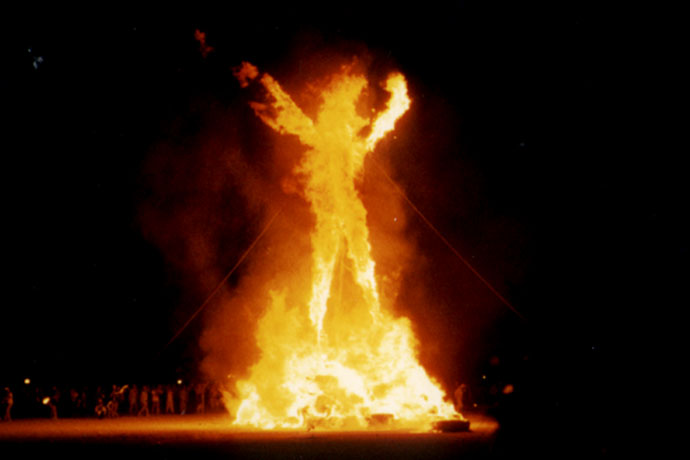 Burning a wooden figure, symbolizing a man, at the festival "Burning Man"
The first burning of a small wooden man was in 1986, then on one of the beaches of San Francisco, a small group of friends. Subsequently, the circle of participants expanded and moved to its current location in the desert in the state of Nevada. In 2015, 70 thousand people participated in the festival.
Principles of the festival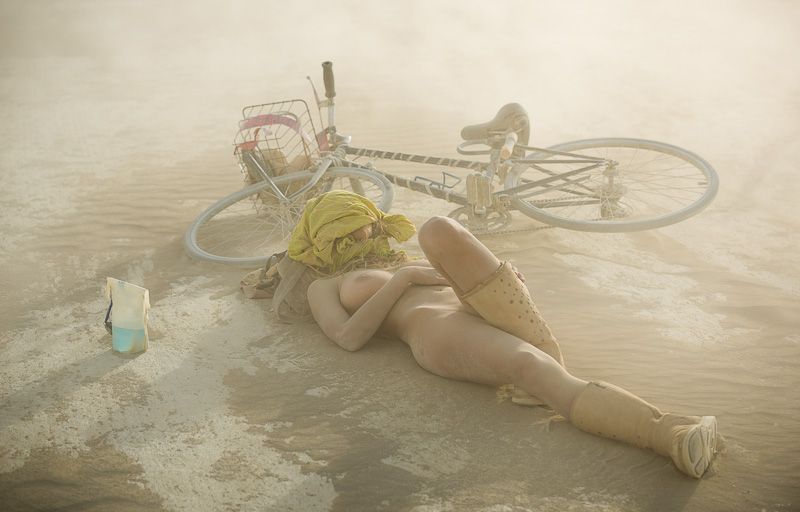 Visiting the event as an observer is not approved
The Burning Man festival does not have one dedicated goal of its conduct. To a greater extent, the festival is created by the burners themselves (English burners) - ordinary participants who are called upon to express community, art (in the form of so-called installations), absurdity, decommodification (English decommodification) and general fun. Organizers call for active participation in the festival, attending the event as an observer is not approved.
Declared 10 basic principles:
Radical inclusion
Donation
Decommodification
Radical self sufficiency
Radical expression
Community efforts
A responsibility
Do not leave a trace
Participation
Here and now
Russian participants
In 2013, for the first time in the history of the festival, a creative group from Russia received a grant for the construction of an art object. The team, mainly consisting of the builders of the festival "Empty Hills", built the installation "Cradle of MIR" ("The Cradle of the World"), which became one of the key objects of Burning Man - 2013.
Festival statistics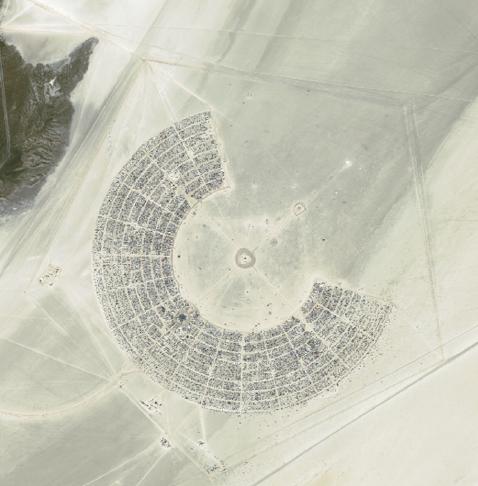 Satellite image of the festival area in 2005
Year
Theme
Number of participants
1986
no subject
20
1987
no subject
80
1988
no subject
150—200
1989
no subject
> 300
1990
no subject
500
1991
no subject
250
1992
no subject
600
1993
no subject
1 thousand
1994
no subject
2 thous.
1995
Good and Evil ( Good and Evil )
4 thous.
1996
The Inferno
8 thousand
1997
Fertility
10 thousand
1998
Nebulous Entity
15 thousand
1999
Wheel of Time ( Wheel of Time )
23 thousand
2000
The Body
25,400
2001
Seven Ages ( Seven Ages )
25,659
2002
The Floating World ( Floating World )
28,979
2003
Beyond Belief (Beyond Belief)
30,586
2004
The Vault of Heaven
35,664
2005
Psyche - The Conscious, Subconscious & Unconscious
( Mind - Conscious, Subconscious and Unconscious )
35,567
2006
Hope and Fear: The Future ( Hope and Fear: Future )
38,989
2007
The Green Man ( Green Man )
47 366
2008
American Dream ( American Dream )
49 599
2009
Evolution
43 435
2010
Metropolis ( Capital )
50 504
2011
Rites of Passage ( Rites )
53 963
2012
Fertility 2.0 ( Fertility 2.0 )
52 385
2013
Cargo Cult (Cargo Cult)
68,000
2014
Caravansary ( Caravanserai )
65,000
2015
Carnival of Mirrors
70,000
People
Tens of thousands of representatives of the diverse arts, from ordinary artists and musicians to avant-garde designers, sculptors and experimental architects, come to the world of round-the-clock performances, installations and nomadic galleries. And they all look very unusual.
Art
Burning Man can not be imagined without his fantastic sculptures, which are lined up before the festival in the territory set aside for action. Each sculpture is symbolic and reflects the spirit of the holiday itself. But everything is inconstant, therefore, without exception, works of art are burned under processions, concerts of famous musicians and DJs.
One of the main sculptures of Burning Man 2014 "Embrace"
Sculpture "Invisible", Burning Man 2014
Sculpture "Heart"
Sculpture "Temple of the Sun", Burning Man 2014
Installation "Silk Road", Burning Man 2014
The main figure of the festival - the burning man
Mobile installation "Mayan warrior"
Mobile sculptures at Burning Man 2014
Installation at Burning Man 2013
Art objects at the festival Burning Man 2012
Sculpture "Eternal Return", Burning Man 2014
Installation "Super-pool", Burning Man 2014
Sculpture "Dance", Burning Man 2010
Sculpture "Truth and Beauty"