What was fun for children in the USSR?
Attributes of a cheerful childhood, for which it was possible to get the neck from adults.
Photographer Alexei Marakhovets gathered everything without which it is impossible to imagine the most cheerful and dangerous childhood of a Soviet boy. "I was not some notorious hooligan, a homeless child or a punks. But when I remember what we did in the yard, I sometimes feel a little uneasy. A real extremist could envy our skills, "recalls Alexey.
The children of my generation did not have computers, and that says it all. Yes, we didn't know Contra, we didn't know Warcraft, we didn't know Farm Frenzy. All our entertainments were kept in the hiding places of the house, in the courtyard, in the nightstands and on the mezzanines, on the balcony and in the garage (who had it). And now I say with great confidence that my childhood was much more interesting and richer without a computer.
Slingshot Squirtwoman, Darts, Boomerang Plevatelnaya tube or harkalka, dymovuhu, Flamethrower, Silitra Hopping matchbox, knife, Gunpowder "Semidyrka" Lead Carbide, Magnesium, Slate in a fire, Crossbows and Pugachev, Bombs, trinkets-kusalka, Lamps and kinescopes, Barrels for siphon, Flying bolt, Dowels, Children's pugach, May beetles, Watch (drones) on a leash, Pistons, Sleeves, Mounting chucks, Capacitors, Pistol, Onions, Shmargalka, Peace hobbies, Cherkashsh .
Slingshots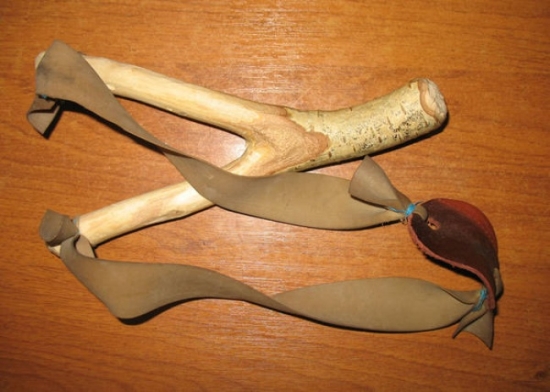 Who remembers homemade slingshots? They were of two types: classical and keyway. The classic ones were cut from a thick branch of a hazelnut with a fork, a wide gray rope was bought at the pharmacy, a piece of leather was got (you could have secretly cut houses from a travel bag and dumped it on your sister) and everything was sealed with copper wire or blue electrical tape.
Such a slingshot was charged with smooth pebbles, which were often brought into the courtyards along with sand, or unripe berries such as rowan, plum or cherry, which grew abundantly behind the house. Sometimes the power of a stone shot was enough to smash a bottle of champagne from three meters to smithereens. Such a slingshot was appreciated due to the fact that not everyone had enough skills and resources to create it. It could be exchanged for other valuable things such as liners from Turbo, CinCin and Final90.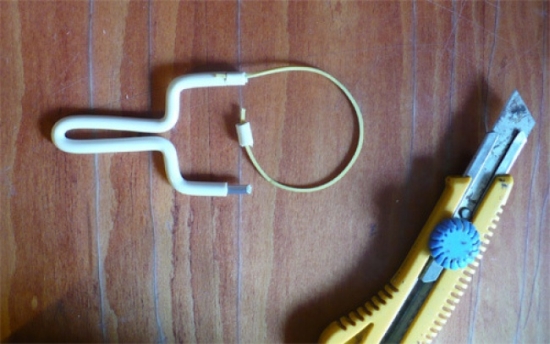 Walking and having nothing to do, it was possible to make a slingshot easier - keyway. To do this, it was necessary to find a thick braided aluminum wire at the dump and find a flagellum. There was no problem with the latter - it was easily extracted from the elastic of cowards. The newer the cowards, the better the flagellum. Such a slingshot was fired by dowels - bent into a horseshoe with pieces of copper or aluminum wire. She didn't do much harm, but it was ok to scare pigeons and cats. Sometimes this slingshot was the last argument in the yard fights - she burned down her thighs great! Mostly they were just shooting in the air, enjoying the sound of a flying key. Such a slingshot was going on for one day and in the evening, as a rule, merged for "drive a bike".
Sprinkler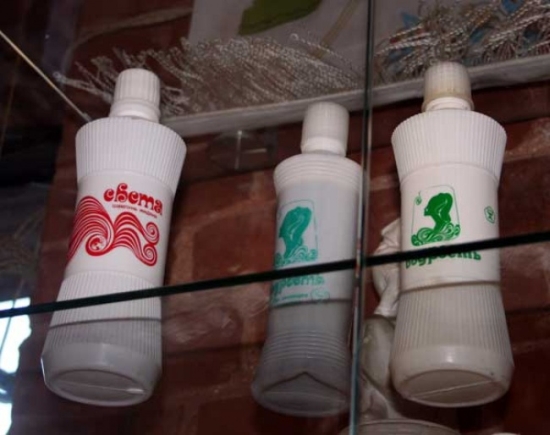 What do you think, what is a sikalka? Something from the word "sikat". And there is. This is a popular weapon near the courtyard water "battle" to the era of the appearance of disposable syringes in pharmacies.
Sykalka was mastered from an empty bottle of shampoo or liter plastic bottle "Whiteness". In a cork, a nail was made a hole in the nail and a half of a ballpoint pen without a rod was inserted. All this was sealed with mastic or clay. Water was poured into the bottle (for the first time at home, after - from the pipe under the balcony) and squirted into the opponent. It was an alternative to an expensive and scarce water pistol. By the way, it was very cool to quench your thirst from a sikalka.
Dart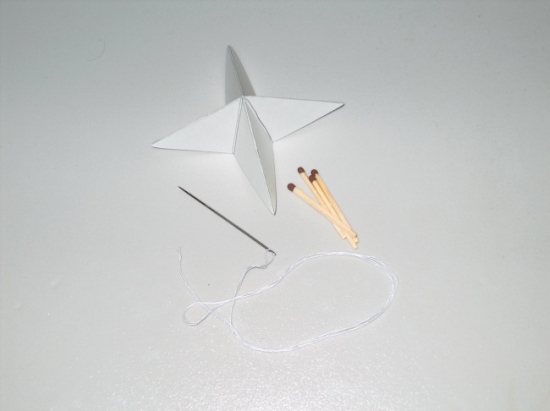 The game "Darts" is not played just lazy. We also loved throwing darts in childhood. Yes, that's just they did not sell or they cost a lot of money. Therefore, almost any boy in our yard could have made it himself. Dart on their flight and sticky qualities obtained no worse than the factory.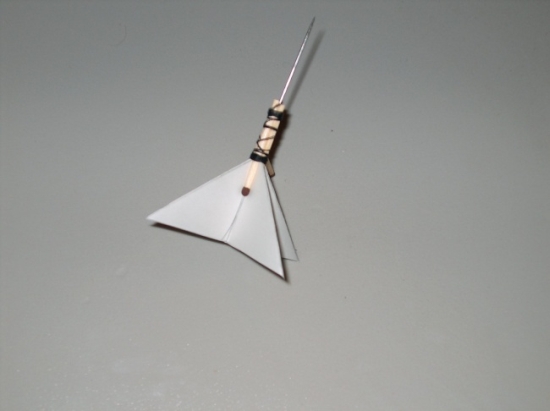 A piece of paper, 4 matches, a needle, stationery glue and threads. On the wall carpet hung a homemade target from a notebook sheet and played.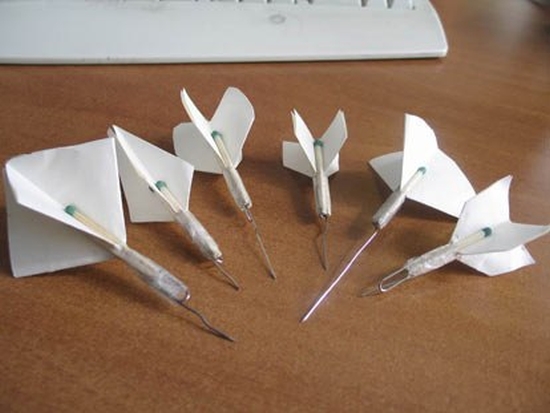 Once a friend and I played darts at my house and quarreled. He angrily threw a dart at me and thrust it into my hand, and I hit him in the stomach in retaliation.
On the street they made more darts from welding electrodes. One end was sharpened on the curbstone, and pigeon feathers were attached to the other. They threw at wooden doors and trees.
Boomerang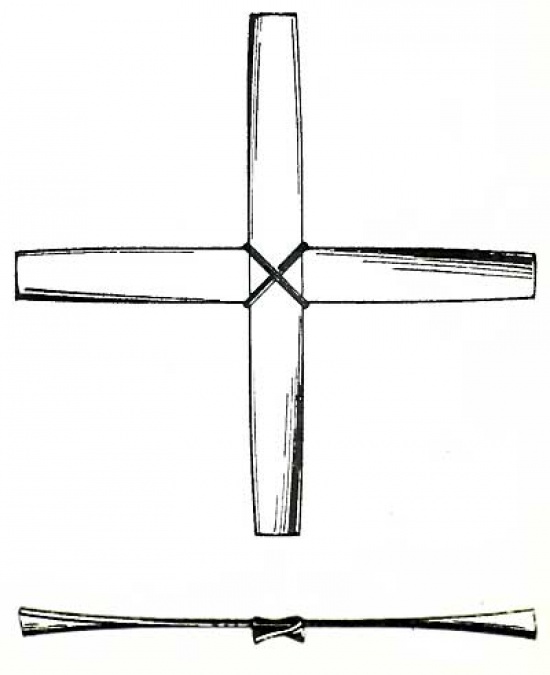 Yes, yes, it is now easy to buy a boomerang of any shape in the store. And in the late 80s they did not sell anything like that. We got out of the situation in the following way: we bought two 30-centimeter wooden rulers in stationery and twisted them with an electrical tape with a cross, and then at home we twisted the blades over the ferry.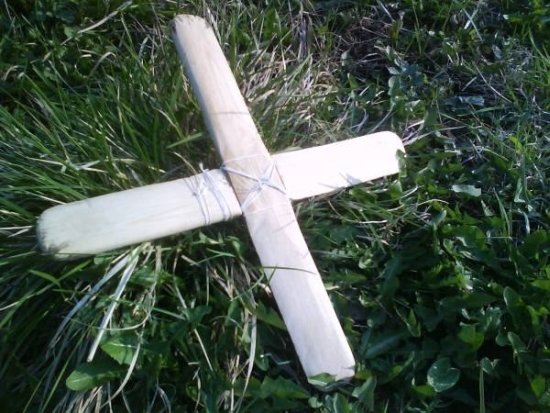 It turned out excellent boomerang, which even knew how to return! They, again, were frightened by ravens and pigeons. And they also started from the ninth floor, where I lived all my childhood.
Spithora or Kharkal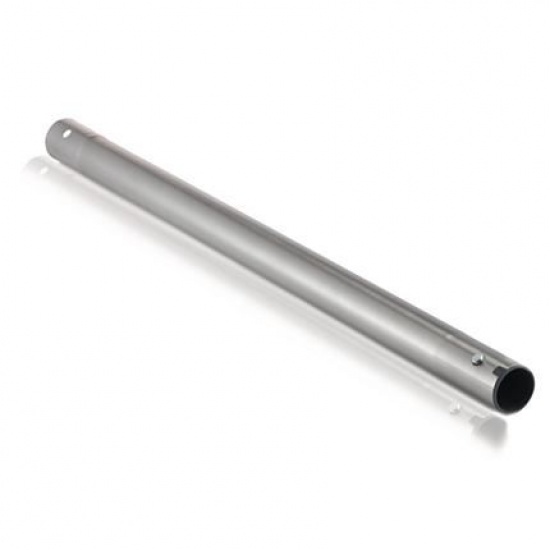 Another integral attribute of the boy was a metal tube for spitting plasticine or mastic balls. To get such a tube was very difficult, and it was highly valued in the yard. A large supply of mastic or plasticine was molded directly onto the tube, from which a piece was pinch off and charged into the tube. In addition to moral damage, such a spit did nothing to his victim. Later, the tube was replaced with an empty rod from a gel pen, and clay - with millet or buckwheat.
Smoke hood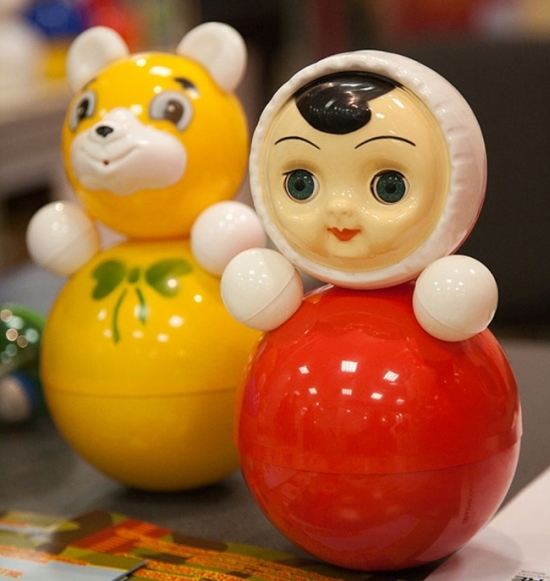 Only our generation knows what is the connection between a child's tumbler or a tennis ball, and this: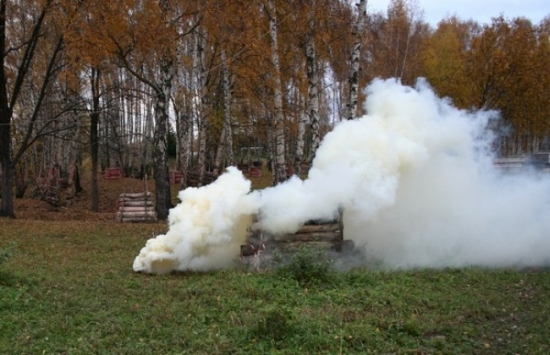 But we know what will happen if pieces of this special, magical, plastic are wrapped in foil or newspaper, set on fire and extinguished. How many nerves uncles spent in garages, when such a miracle came to them from the roof.
Smoke hood from ordinary newspapers and ammonium nitrate >>>
Flamethrower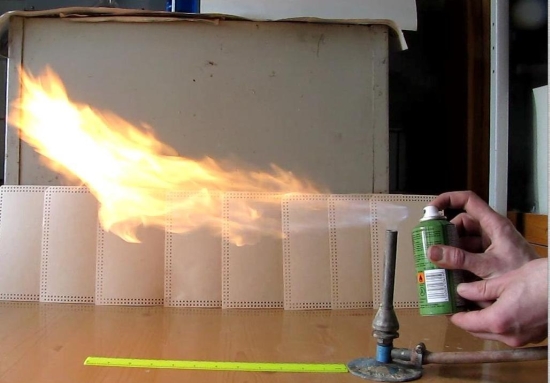 In the process of watching feature films with Schwartz and Stallone, we never ceased to envy furiously the wide variety of technical means of annihilating the enemy.
By virtue of our age, we were little interested in the moral aspect, such as the death of the innocent, but the wall of napalm led to wild delight.

All clear, right? A pharmaceutical jar with a plastic cap-cap, two metal tubes, the left one is extended with a tube from an IV or gastric probe. You have to blow into it. Acetone vapors are pushed to the right. If you bring fire, then as long as you have enough air in your lungs, a beautiful directional flame will huyachi from the tube. Good for making turmoil in the ant paths in the trees.
Saltpeter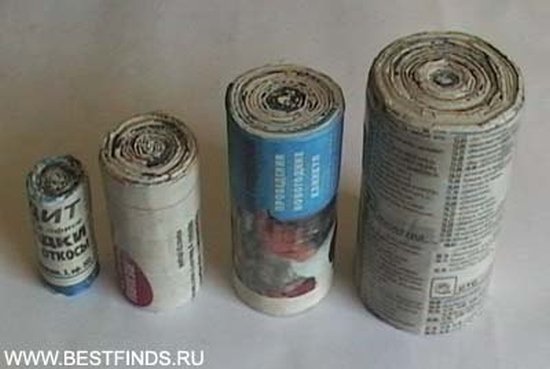 We stole silicon at the factory, we dabbed newspapers in it, dried it, wrapped it up with tape, leaving one tip, set it on fire, flew well, and wherever we wanted. She also smoked well, we tied her to the bike.
Smoke hood from ordinary newspapers and ammonium nitrate >>>
Leaping matchbox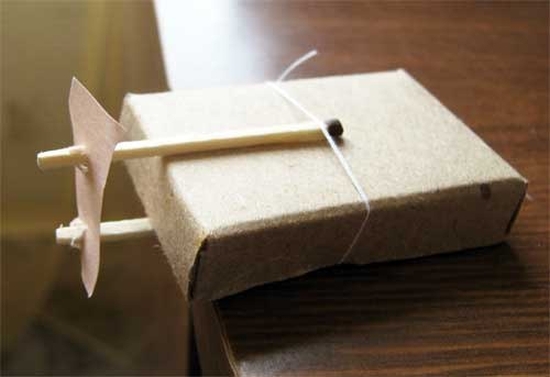 Box matchbox twice tied with a thread across. The thread is tightly tied on the edge between the bottom and the side wall. In the middle of the box between the threads, they insert a match and turn it several times around the axis formed by the threads, until the match, released at one edge of the box, due to the elasticity of the strained and twisted threads, with its long end hits the opposite edge of the box.
Now they bring it to the position of the highest voltage and, parallel to it, they insert another match between the bottom of the box and the thread so that both matches stand out above the edge of the box. Then both matches are joined with a piece of paper so that the first match, while still in a tense state, cannot bounce back.
Prepared in such a box, put the bottom up and set fire to the paper. As soon as the flame reaches one of the holes in the paper, the entire system instantly flies upwards.
Knives

In my opinion, every boy in childhood had such a folding knife. It has always been a matter of pride. He was carefully kept away from my mother's eye and not often carried out on the street. The knife was constantly in the sand, remember? And all because he was just a tool for playing "Knives."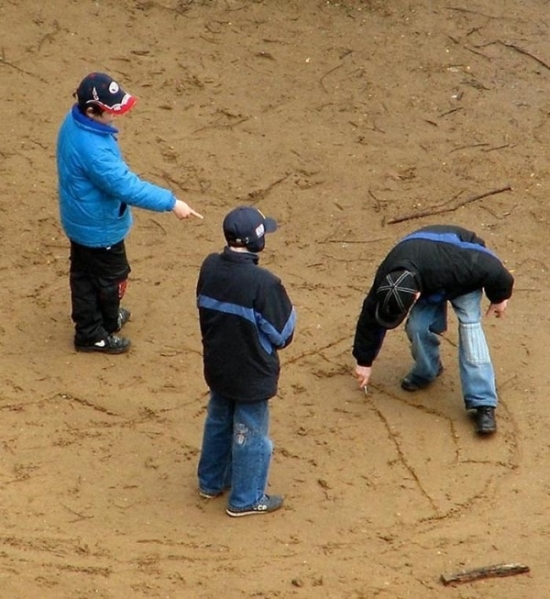 There were many variants of the game, but most often they played Zemelka and Tanchiki. Each game had a lot of varieties. For example, Zemelka: they drew a circle, divided it equally by the number of participants. Everyone got up on their site. Then, standing, they stuck a knife into the enemy's plot and cut off a piece from his land. "I fell in arms" (did not stick it) - the move passed to another. And according to one of the rules, it was necessary to stand on our land all the time for as long as you could. For others, it was possible to stand outside, but in the event of a catastrophic reduction in your section, the enemy suggested that you stand for three seconds on it. If you do not resist - you leave. You could even stand on tiptoe with one leg - the main thing is to hold out for three seconds.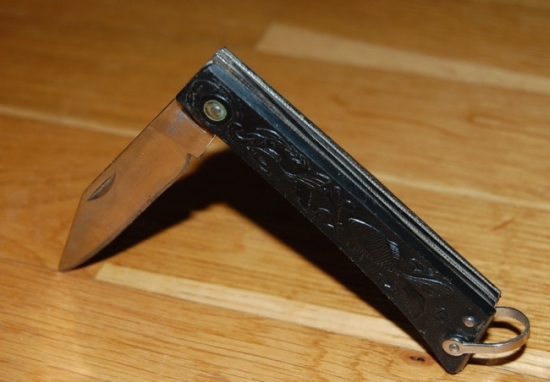 The game "Tanchiki" was more interesting and long. I will not remember her rules, but here is the shape of a knife for you - remember what kind of tank was put in this way?
Gunpowder "Semidyrka"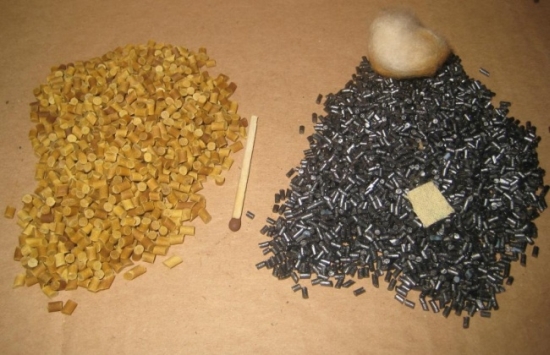 We mined it near the Zavolzhsky dump, in the area of ​​Krasny Yar, near the sewage treatment plant. Valorous military from the arsenal threw these yellowish things under the open sky, which we collected. And once we brought sand to the yard. Not just sand, but with tubular powder. Of course, his concentration was small, but if desired, it was possible in 15 minutes to collect a handful of gunpowder. Apparently, the kamazist decided not to bother with sand and drew it near the landfill. Therefore, we no longer needed to go to the dump for a good ten kilometers - the arsenal appeared right under the windows.
What did we do with it? Yes, a lot of things: wrapped in foil and put on other "seven-shooters", set on fire, and the powder in the foil turned into a rocket. Just burned, made wicks for explosives, and so on.
Lead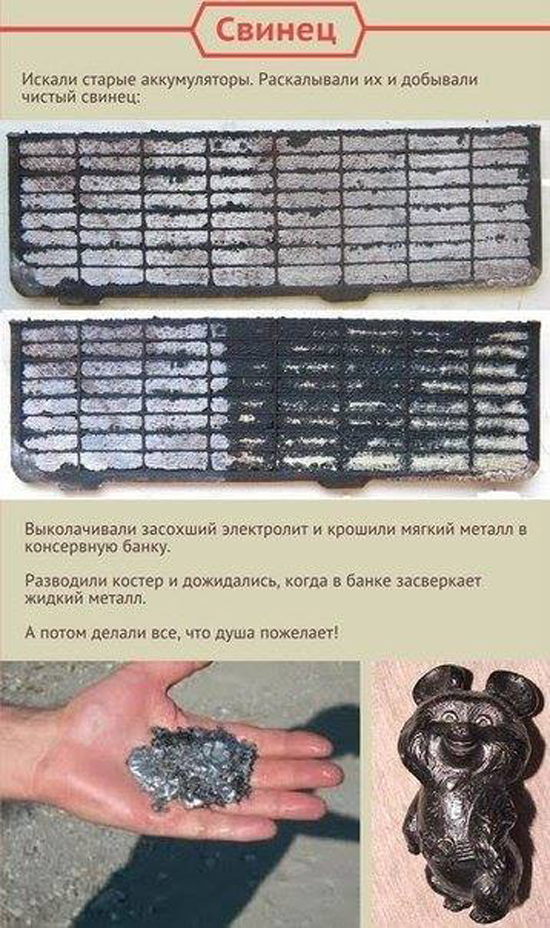 How much of this word for the heart of a child has merged ... And merged in the literal sense of the word. Remember how scoured along the garages, searched the dumps in search of old batteries? They split them and mined pure lead, smashed the dried electrolyte and crumbled soft metal into a tin can or into a bowl, made a fire and waited for the liquid metal to sparkle in the can. And then they poured it into the form of clay and did everything that the soul wished. From brass knuckles to toys and key chains.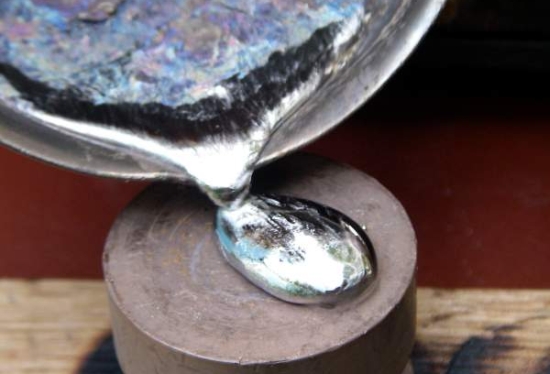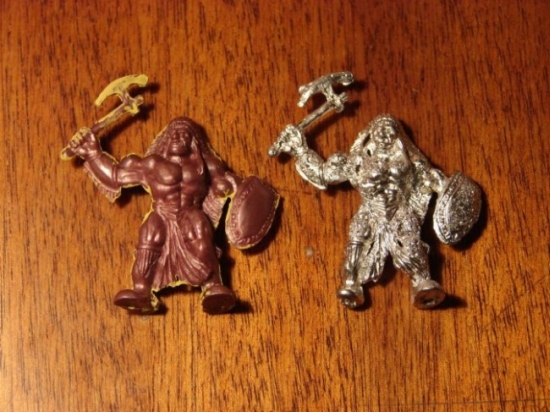 This is dangerous, and you can get poisoned by breathing in lead fumes, especially if you melt it at home.
Carbide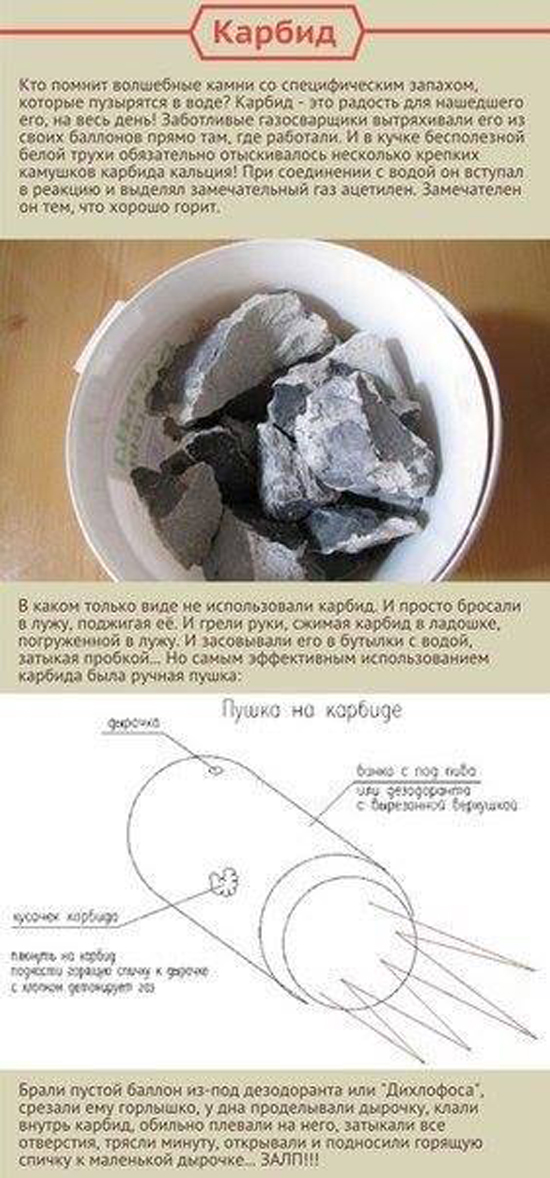 Who remembers the magic stones with a specific smell that bubble in the water? Carbide is a joy for finding it all day! Caring gas welders shook it out of their cylinders right where they worked. Often in the yard.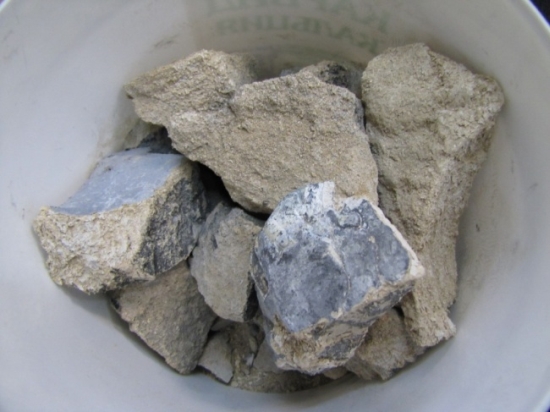 And in a handful of useless white dust a few strong calcium carbide pebbles were definitely found! When combined with water, he reacted and released a remarkable gas - acetylene. It is remarkable that it burns well.
In what form only did not use carbide. And just throwing it into a puddle, setting it on fire. And they warmed their hands, squeezing carbide in a palm immersed in a puddle. And they shoved it into water bottles, stopping it with a cork ... But the most effective use of carbide was a hand gun.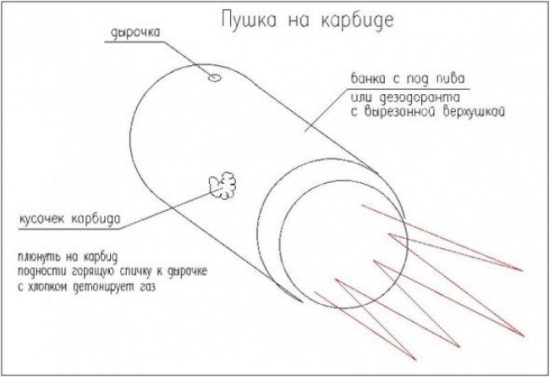 They took an empty cylinder from under deodorant or "Dichlorvos", cut off his neck, made a hole at the bottom, put carbide inside, spat profusely at it, plugged all the holes, shook a minute, opened it and brought a burning match to a small hole — a volley!
My elder brother told me that in his childhood they whistled a whole carbide cylinder and poured it into a drainage well with water. They closed it with a heavy hole with a hole and waited half an hour. Then one boy brought the match to the hole. There was such an explosion that knocked out several glasses in the next house, the lid flew up, striking the guy first on the chin, and then covering it with a little drop. But the worst thing - he received severe burns on his face, the scars from which remained for the rest of his life - I saw his photo in adult life.
Magnesium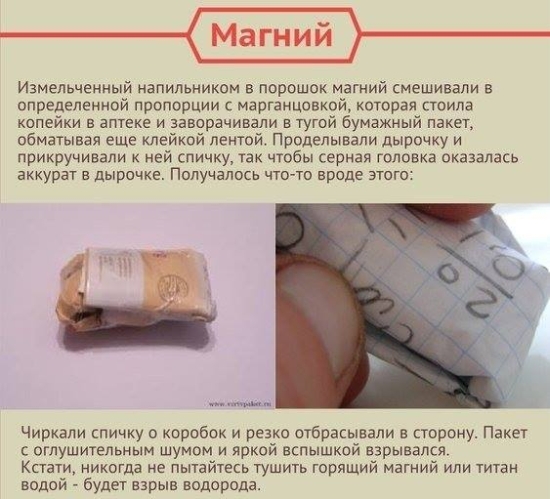 We mixed the file of powdered magnesium in a certain proportion with potassium permanganate, which cost a penny at the pharmacy, and wrapped it in a tight paper bag, wrapping it around with adhesive tape.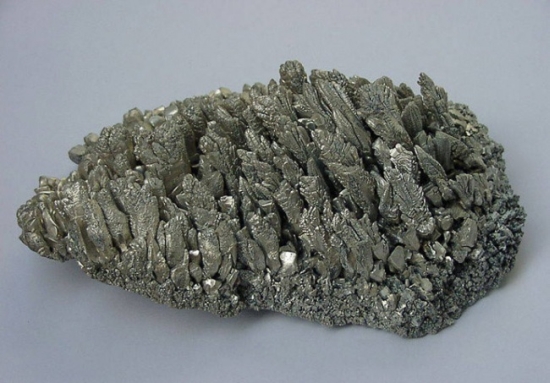 They made a hole and screwed a match to it, so that the sulfur head was right in the hole. It turned out something like the one in the picture.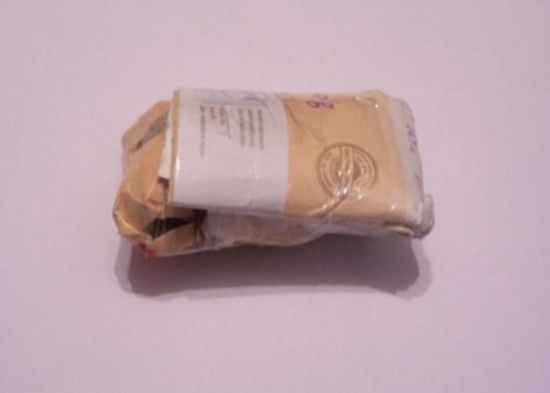 Ticked a match on the box and abruptly cast aside. The package, with a deafening noise and a bright flash, exploded.
I also liked to make different experiences with magnesium at home. For example, he put it in acetic acid and collected the bubbling hydrogen in a jar. And then with a match this hydrogen set fire to. He burned with a ringing sound. Or set fire to powdered magnesium on the tip of a knife and quickly threw it into the water. Magnesium hydroxide, as a result of a violent reaction with burning, sublimated to the ceiling and fell from there with white flakes, like snow. By the way, never try to extinguish burning magnesium or titanium with water - there will be an explosion of hydrogen.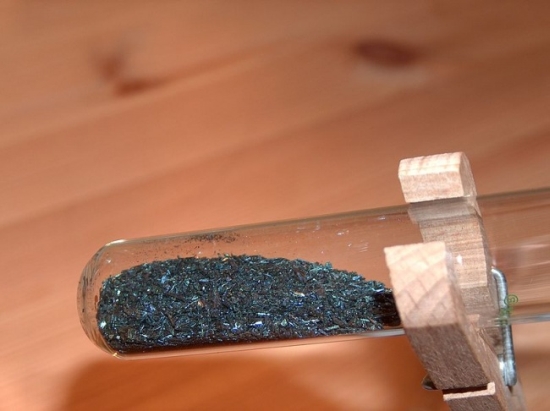 In our aviation capital (Ulyanovsk) in the 90s it was easy to find magnesium. It was enough to find the Aviastarovsk dump or saw off a piece of the rim of a monument plane, which in the new city were several. Once one such landfill burned and magnesium ceased to be thrown from the factory - everything fell into strict accounting. Magnesium sawing was very difficult - it took a hell of a lot of time. But the end justified the means.
Slate in the fire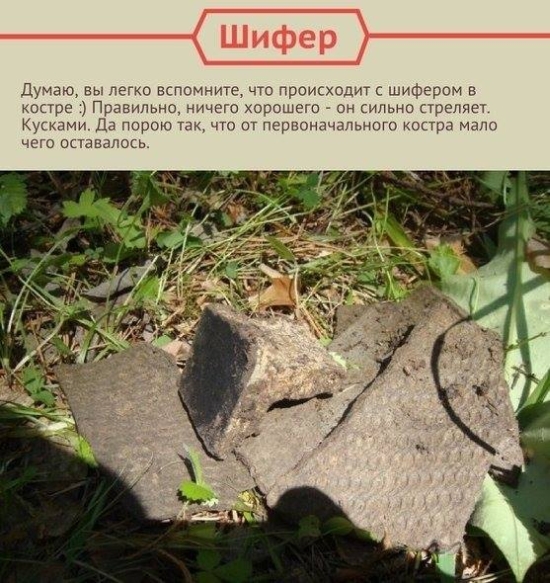 I think you can easily recall what is happening with the slate in the fire. That's right, nothing good - he shoots hard. Chunks. Yes, sometimes so that from the initial campfire there was little left.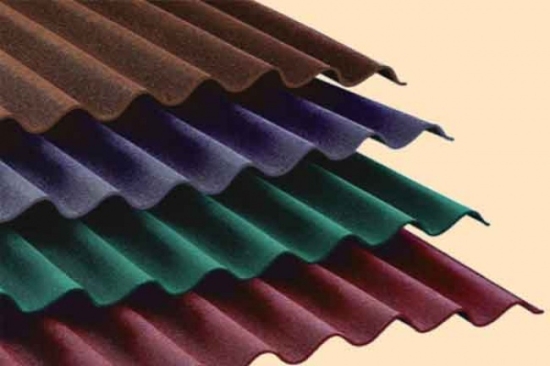 Shooting slate just scattered it to the sides. To the joy of us.
Crossbows and pugachi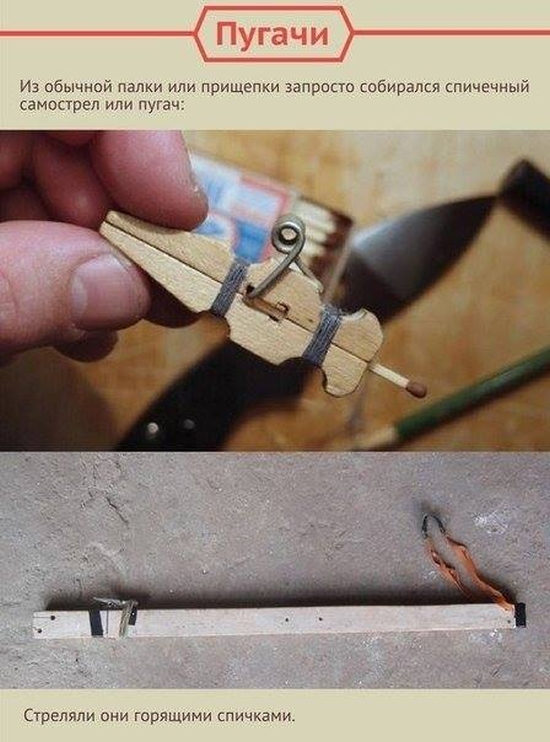 From the usual stick or clothespin easily going matchstick gunner or pugach. They shot with burning matches.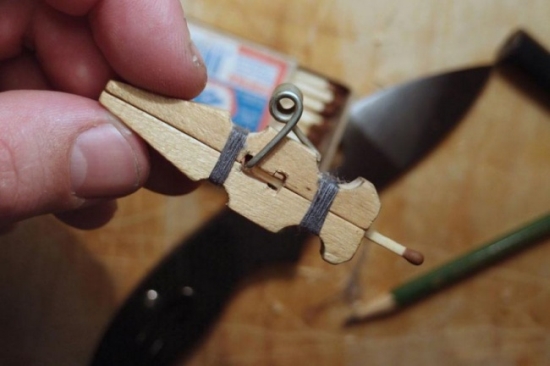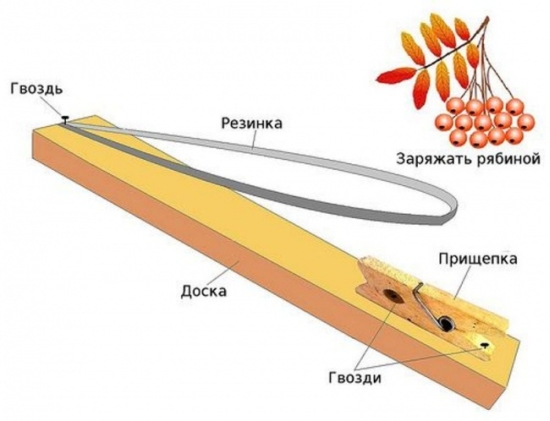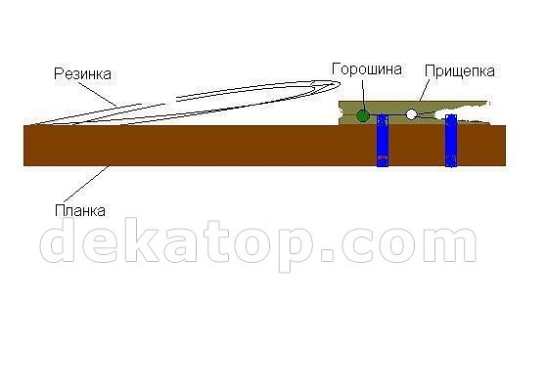 This was the lowest link of the Soviet schoolchildren's small arms. A pea gunner was made like this: a wooden clothespin was attached to the plank, with an insulating tape, then there were no others.
To the other end of the strap was attached a "elastic from panties" linen underwear, zigzag stitched with thread, everything. We take a pea, we put in a gum and we clamp in a clothespin - the weapon is ready for battle. Small pebbles were used instead of the pea.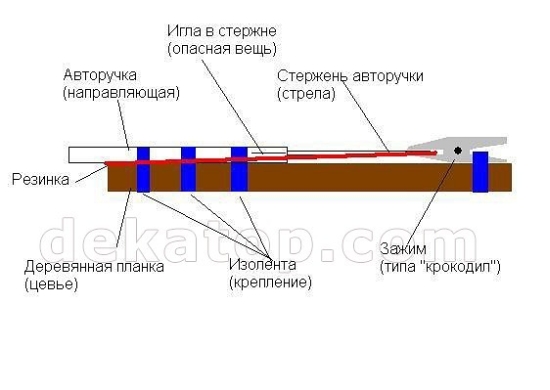 A tube from a fountain pen was fastened to the wooden plank with an electrical tape, a clip, such as a "crocodile", was fastened at a distance of half of the ampoule from the fountain pen. Ahead of the strap was attached a ring of aviation gum.
Now the ampoule itself, the upper part of it was cut to a depth of 5 mm, a large needle was inserted into the lower part, instead of the rod (therefore, the crossbow was very dangerous, with a range of 10 meters, it was very dangerous for the eyes).
Used such a self-gun, as a rule, in the winter, indoors. They fired at matchboxes or any other targets, thanks to the needle, the arrow caught any surface.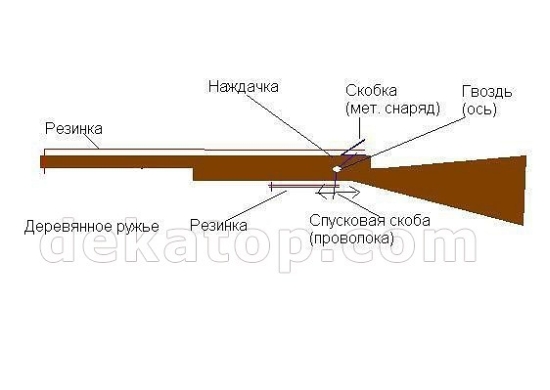 Very common weapon. The most important detail was becoming a wooden gun. The gun was very valuable, because to cut out a gun even with tools for a child was not a matter of five minutes, it took half a day, or even the whole day.
Happiness to the one whose father helped make the gun, usually such guns had rounded shapes like real ones. For reliable fixation of the staples, it was recommended to nail a piece of sandpaper to the stapler - this excluded an accidental shot and allowed to run with the weapon.
Erasers for brackets were a separate topic. In the shops at that time there was no gum, and we ran to the warehouses in which we unloaded cement, there we were given gauze bandages with elastic bands. The bandages were torn to pieces for gas masks.
Usually they went there once a month, the road was far and the danger of being caught by their parents became closer than ever.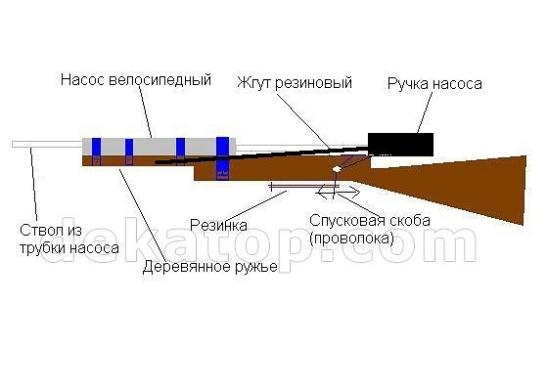 The figure shows that I used the same gun as for the staple gun. In life, too, so often happened, the next step in the evolution of the "bracketman" was becoming a "airway".
There are many reasons for this: finding a decent board was problematic; for this, you went to warehouses or warehouses, where, if lucky, there is a package for anything made of wood with boards of the required width.
The pump is usually used from your bike with modifications. The changeable fashion then lifted the pistons from felt, then returned to the standard leather pistons.
Any attempts to break into the process of creating an adult blowgun ended in a complete and devastating fiasco. Trunks, screwed by adults on the thread, for some reason, always fired worse than glued on children's electrical tape snot. Pistons made by adult turners from duralumin, with rubber o-rings, led to sticking in the cylinder and always lost in performance with the old pistons cut from felt boots, nailed to a wooden plank and saturated with oil.
Such guns were shot with plasticine or potatoes; the clay charge, reinforced by a shot or ball from a bearing, had a significant damaging force and could kill a pigeon at a considerable distance.
Bombs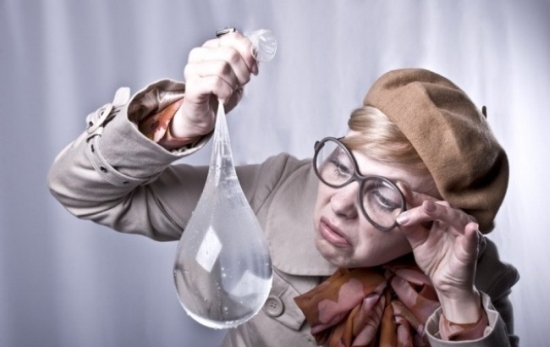 In childhood we already used condoms. Just not on purpose. Those who lived higher, periodically "bathed" passers-by, dropping huge balloons of water on them, three or four liters. Especially frostbitten added potassium permanganate there.
Keychain

I remember doing such hangs on a string and went to twist them)))) Rings with bottles were in short supply
Lamps and picture tubes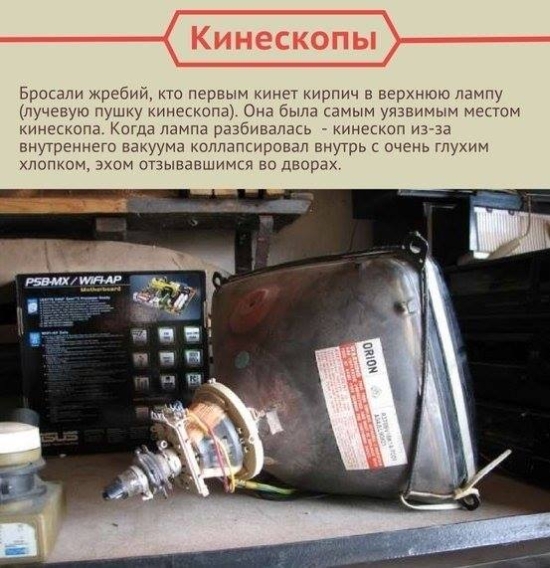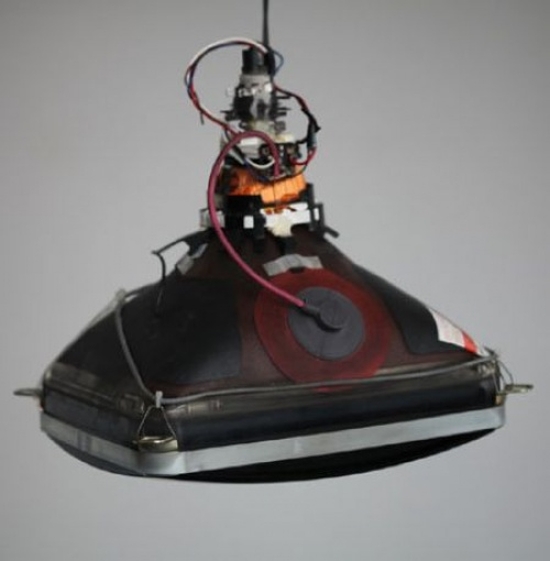 Sin was not to break the fluorescent lamp thrown into the trash. They broke up with a loud bang, if you throw the lamp on the asphalt end. About ecology then did not think.
But the discovery of the whole kinescope in the garbage was extremely rare and always brought great joy to the boys.
Casting lots, who will first throw a brick into the top lamp (ray tube of the kinescope). She was the most vulnerable spot of the kinescope. When the lamp broke - the kinescope collapsed inwardly due to an internal vacuum with a very deaf bang that echoed in the courtyards. Neighboring boys immediately ran to look at this action. But more often we found picture tubes already with a broken lamp.
Barrels for siphon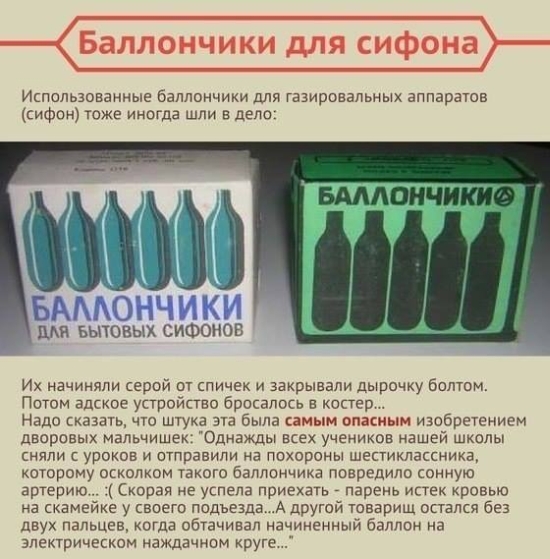 Spray cans for gas diffusers (siphons) were also sometimes used. They were filled with sulfur from matches and closed the hole with a bolt. Then hellish device was thrown into the fire.
I must say that this thing was the most dangerous invention of the yard boys. Once all the students of our school were removed from classes and sent to the funeral of a sixth-grader who was damaged by a carotid artery by a splinter of such a can. Ambulance did not have time to come.
And the other comrade was left without two fingers when he was grinding a filled cylinder on an electric emery wheel. Personally, I have never made such a balloon, and I strongly advise others not to.
Flying bolt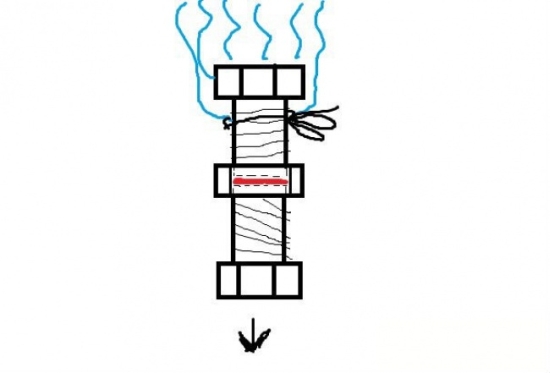 A simpler way to make a "boo" was to twist two bolts and a nut, with the package attached to it all as a stabilizer. I also did such a thing, but without the package. Just throwing on the asphalt. And in the end he received a fragmental wound of a finger ... In the Central City Hospital they performed a mini-operation without the knowledge of the mother. She already much later found a hidden extract from the emergency room about shrapnel wounds. It was a shock.
Dowels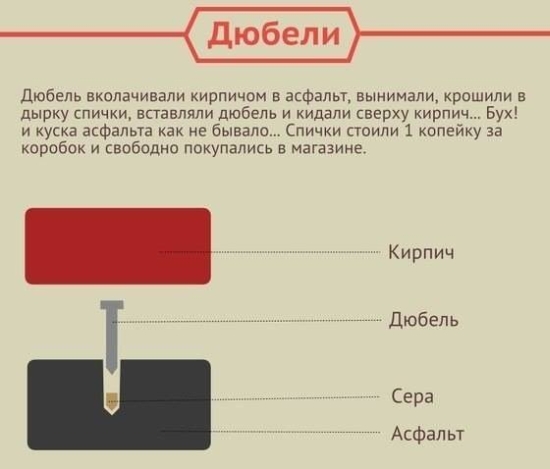 The dowel was hammered into the asphalt with a brick, removed, cut the sulfur from a match into a hole, inserted a dowel and threw a brick on top.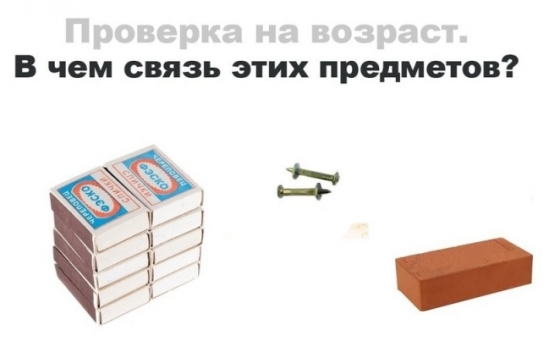 Boo! and a piece of asphalt was gone ...
Matches cost 1 penny per box and were freely bought at the store, and the dowel was easily located with the father in the bins

Vizryvalka handle

More babahali such things ... in general, there were such ballpoint pens - with a thick metal rod. It was from such a rod that the whole paste was blown out, then the resulting tub was washed, dried, wrapped and flattened at one end, filled with sulfur. From the open end of the nail is inserted into it.
Children's Pugach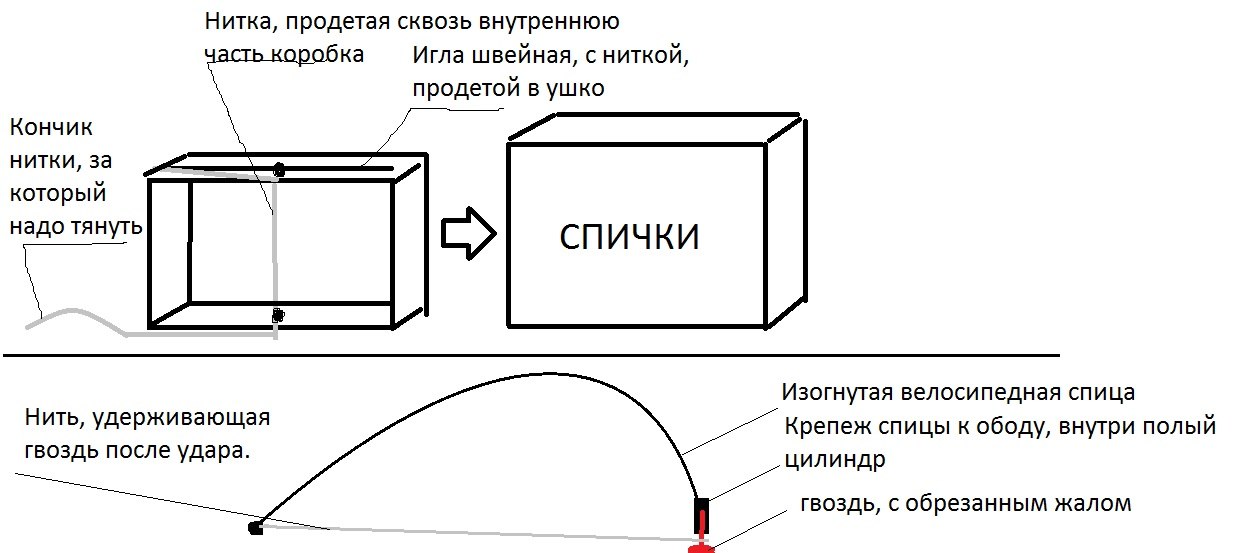 To do this, we need the following: A bicycle needle from an old bicycle, a beam of the "Ukraine" mark, two caps with a knitting needle and rim mount! Another carnation is so the diameter of the fastening hole of the knitting needle of the cap, a thin, sturdy, insulated beam, a small wire, and our powder! Sulfur with ordinary matches!
Work: Bicycle knitting needles are bent on both sides so that the semi-curved part of the side grip is obtained, and from the side of the bicycle fixing the needles are bent so that our carving is in the vertical position! Then we thread the needles to the rim on the knitting needles! Let me remind you: this part we need two, one part is fixed with the lower part to the top, and the other as usual, so that the hole is on top!
Fasten our wire to the handle of the spokes, and the other part to the stud: firmly so as not to go! Sulfur with matches we hammer into the hole of the cap and lightly press a nail into it! A little effort, a nail hit any hard surface, and a shot happens! So recharge and the next shot! If you do everything carefully and intelligently - injury is excluded !!!
May beetles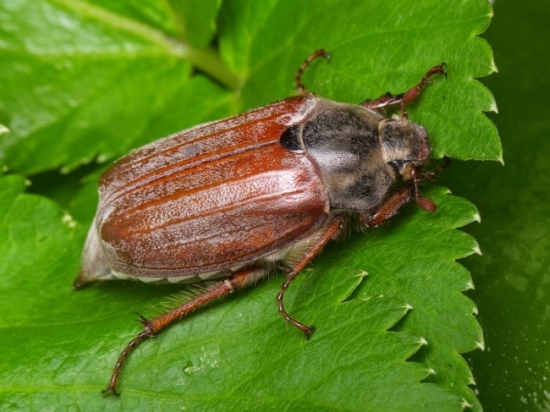 We already started to look for May beetles in April. They went into the forest and dug them with a shovel from the ground. May bugs were very valuable in the yard while they were alive. Stuffed their full banks. And even distinguished them by the color of their heads: red - firefighters, black - workers. There were still with a greenish tint - border guards. Long mustache - male, short - female. Once there was a rumor in the courtyard that the pharmacy was accepting beetles for e-fenders. I will not continue to continue - this could be called genocide. Wings in the end did not accept.
Watch (drones) on a leash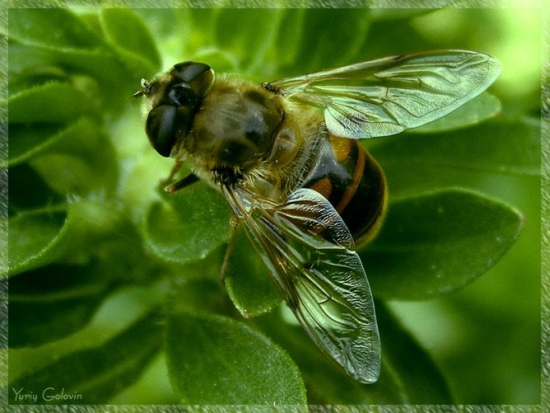 In childhood they used to catch drones, tied them on a string and they flew on a string (controlled by their own bugs) and then of course released.
Pistons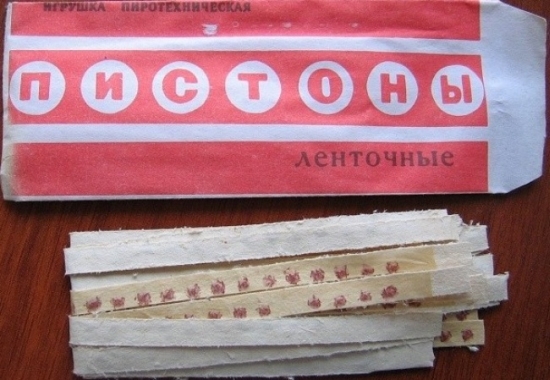 Who had a revolver that shot with such pistons?
But it was more interesting to strike sharp brown spots with something sharp and watch them ignite.
Or even more interesting: roll a roll of strip and shake it with a hammer. Tinnitus for 10 minutes was provided.
Sleeves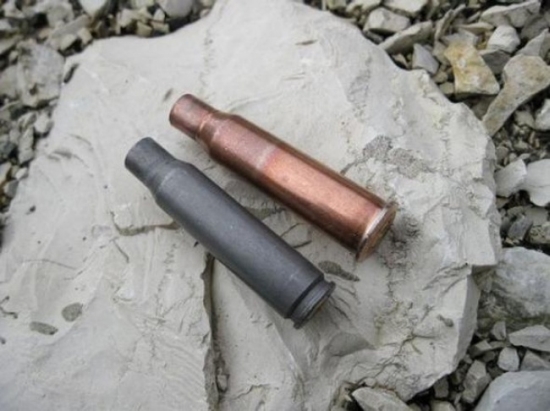 Empty cartridge cases also went into action. They were filled with sulfur from matches, they bent their necks and into the fire. Personally, I made a rationalization offer and filled my sleeves with gasoline for lighters.
Bahallo not so much, but effectively. Instead of gasoline, it was possible to fill in diesel fuel, which easily merged from the tar colliders.
Or even more interesting: roll a roll of strip and shake it with a hammer.
Mounting cartridges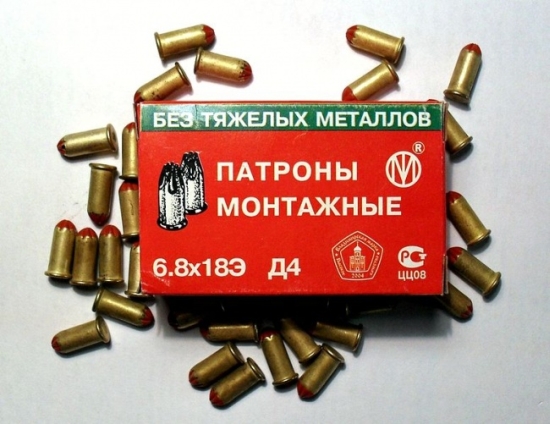 Occasionally someone had such building cartridges that were loaded into a construction pistol to drive dowels.
They also went to the fire. But it was more interesting to wrap them with thick wire, and holding its long end to knock the cap on the corner of the transformer box.
Cartridge Babahal and unfolded "rose".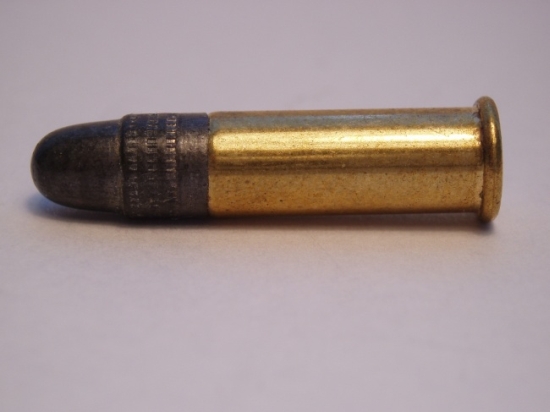 The guys who were engaged in biathlon sometimes had such bullet cartridges from home. Gunpowder was simply taken out of these, since the bullet was easily pulled out with pliers (there were idiots).
Capacitors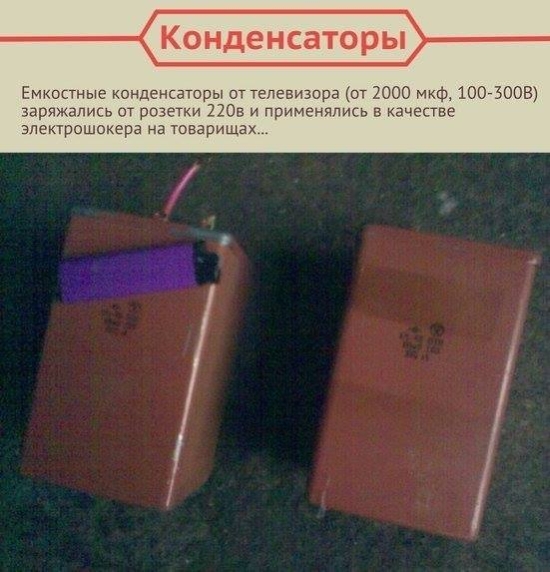 Capacitive capacitors from the TV (from 2000 microfarads, 100-300V) were charged from a 220V outlet and used as a stun gun on the comrades ...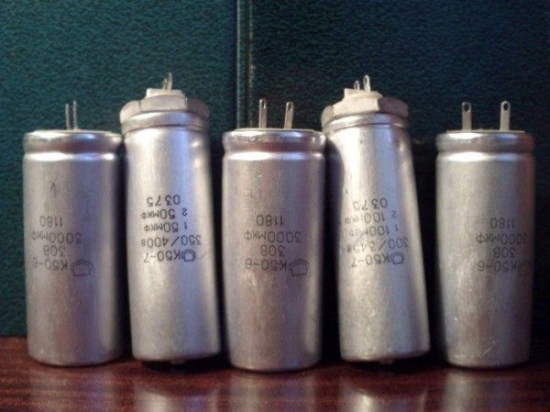 In fifth grade, the school overwhelmed the craze for radio components. Capacitive capacitors from the TV (2000 microfarads, 100-300V) were charged from a 220-volt outlet and were used as a stun gun on the comrades.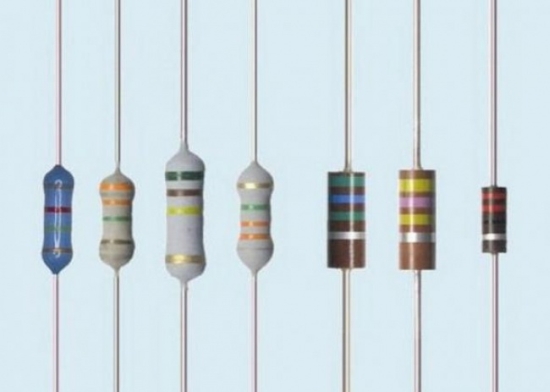 The smaller parts, such as resistors and diodes, were plugged with a textbook into the socket, which led to a normal explosion with a sheaf of sparks.
Pistol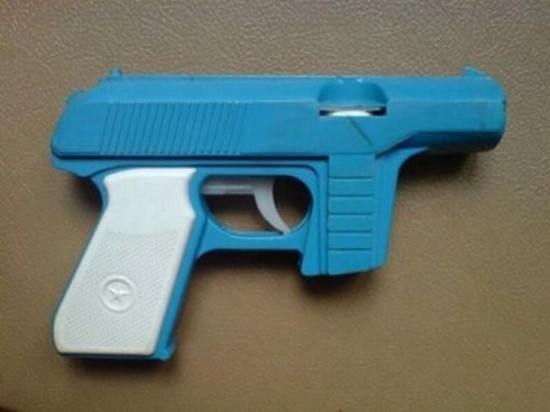 Yet there was a legal factory-made weapon. Remember what he shot?
Bow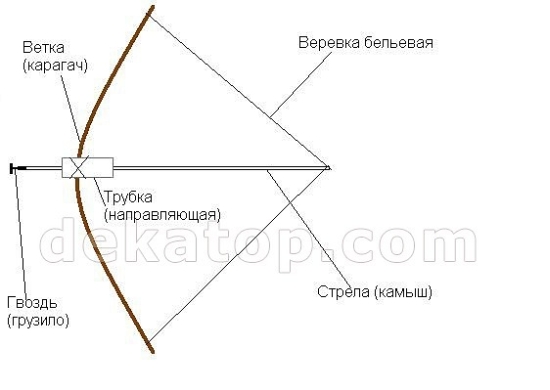 Onions, as a rule, we made elm (birch) of trees not very thick, so that they would spring well.
Arrows for onions were made from dry reed stalks, loading them with a metal nail in front. The bowstring was made of thick clothesline.
An arrow shot out of such a bow straight up, rose so high that it disappeared from view.
Shmargolka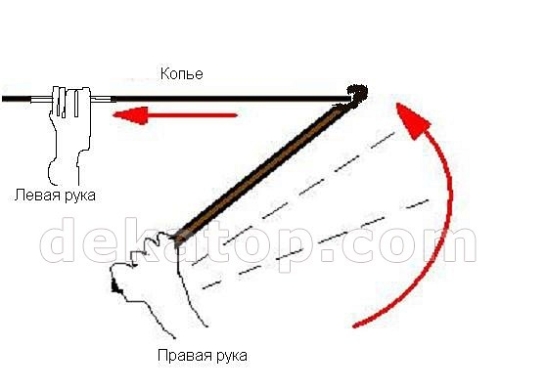 This cannon was made of reed (outline), used as a rule in winter, because that was when the ice was used to approach the longest reeds.
This tool is striking simplicity, actually shmargolka is a meter stick from a reed, in the last knee of which a blank window is cut.
If you insert a reed spear into this window with a thin side, then with certain skills it is not difficult to send a spear 100-150 meters into the distance (shmargalka lengthens the arm by about 1 meter).
Due to the natural trajectory caused by gravity, the spear lands at an angle of 30-45 degrees and is usually stuck in the snow, accurately marking the place of the fall.
The shmargolka itself was made with the help of a knife in 2 minutes, another 5 minutes was required to make copies, with a sharp kick of a boot on the stalk, right on the ground (ice), a reed spear was cut from the root, otherwise it was very difficult to break it. And then the competition, who will fly away the spear.
Peaceful hobbies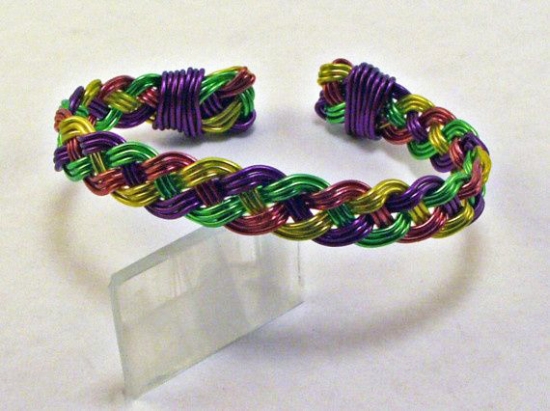 Of the peaceful hobbies I remember braids from the system and colored wire.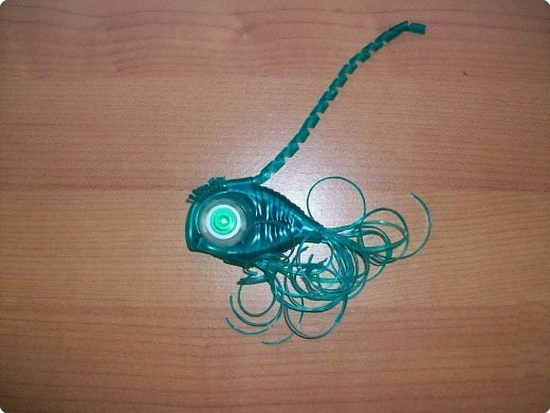 Cherkash on the boot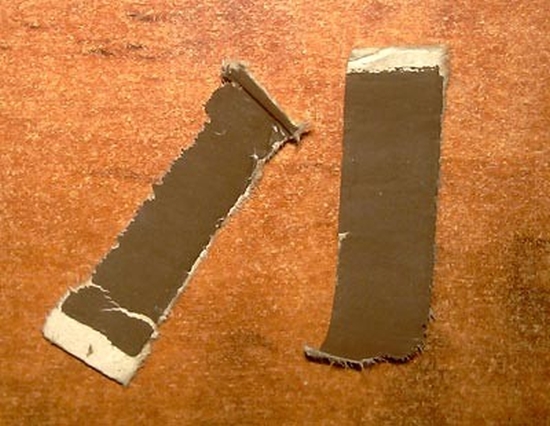 Koster was a constant companion of the boy. It was easy to find a match, but not from the boxes with Cherkash. Out of the situation in this way: they took a cigarette filter, put it on the end of the sole, set it on fire and waited for it to melt a little. Then dramatically applied boxes brown side. A rough base stuck to the shoe. Thus, the "boxes" was always with him. True, I had to update it periodically, as my mother scrubbed him off his shoes.
Magnifying glass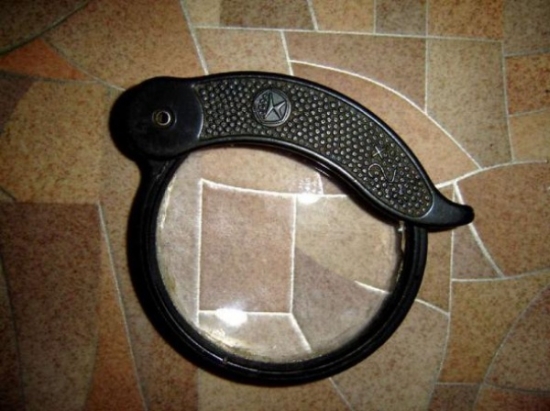 The magnifying glass was considered one of our main treasures - with the help of it, it was possible to make out the beetle, and to kindle a fire in sunny weather. The latter function was used much more often. The larger the magnifier, the more productive it is in this regard.