Actress, Singer, Film Director, Film Producer Salma Hayek (Salma Valgarma Hayek Jimenez-Pinault)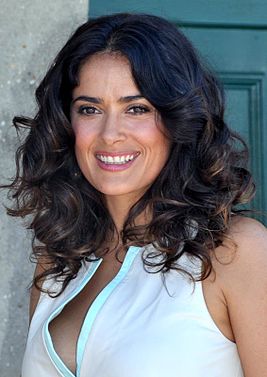 Salma Valgarma Hayek Jimenez-Pino (Spanish Salma Valgarma Hayek Jimenez-Pinault, born September 2, 1966) is a Mexican-American actress, director, producer and singer. Hayek has starred in more than 30 films.
She is the first Mexican who was nominated for an Oscar for Best Actress (2003). The second after Fernanda Montenegro of the three Latin American actresses in history nominated for this award (the third is Catalina Sandino Moreno).
Born: September 2, 1966 (49 years old), Coatzacoalcos, Mexico. Height: 1.57 m. Spouse: Francois-Henri Pinault (married since 2009). Children: Valentina Paloma Pino.

Birth Name: Salma Walgarma Hayek Jimenez
Date of birth: September 2, 1966
Place of birth: Coatzacoalcos, Veracruz, Mexico
Citizenship: Mexico, USA
Profession: actress, singer, film director, film producer
Career: 1988 - present
Filmography: wiki
IMDb: ID 0000161
Charming Salma, fresh photos November 2015
From Dusk Till Dawn - Salma Hayek's Dance Full HD 1080p
More test photos of Salma Hayek
early years
Salma Hayek was born in Coatzacoalcos, Veracruz, Mexico. She is the daughter of Diana Jimenez Medina, an operatic singer of Spanish origin, and Sami Hayek Dominguez, manager of a Lebanese-born oil company who once ran for mayor of Coatzacoalcos. Her name, Salma, (derived from the male name Salim) comes from the Arabic word salima, which means "peace, security, health." She was raised in a wealthy, pious family and at the age of twelve she was sent to study at a Catholic boarding school for girls in Louisiana. While Salma was there, the doctors diagnosed her with dyslexia.
After leaving school due to behavioral problems, Salma briefly returned to Mexico, and soon moved to Houston, where she lived with her aunt for up to 17 years. She then entered the Ibero-American University in Mexico City, where she studied international relations.
Personal life
Hayek met with actor Edward Norton for four years, from 1999 to 2003, and then with Josh Lucas from 2003 to 2004. Later, Salma Hayek was going to marry Francois-Henri Pino (he is the owner of many famous fashion houses (Yves Saint Laurent, Gucci) and is one of the hundred richest people in the world), on September 21, 2007, the couple had their first child in Los Angeles. The girl was named Valentina Paloma Pino. In July 2008, the couple broke up, the daughter stayed with Salma. However, after a while they reconciled and on April 25, 2009, the couple married in the ancient theater of La Fenice in Venice.
Her best friend is Spanish actress Penelope Cruz. Together they starred in the 2006 film Bandits.
Director, producer and actress
Around 2000, Salma Hayek founded the production company Ventanarosa and started producing films and television projects. Her first experience in this type of activity was the film "Nobody writes to a colonel," which was chosen by Mexico for the Oscar award in the Best Foreign Film nomination.
In 2002, the film "Frida" was released, in which Salma co-produced, and also played the main role of Mexican artist Frida Kahlo, for which she was nominated for Oscar as the best actress. This made her, along with Katie Jurado and Adriana Barras, one of three Mexican actresses who were nominated for this award. Largely due to her participation in the project, it was possible to assemble a star acting ensemble from Alfred Molina, Antonio Banderas, Ashley Judd, Jeffrey Rush, Edward Norton and Valeria Golino.
In 2003, Hayek shot the film "The Miracle of Maldonado" for the Showtime cable network, for which she received the daytime Emmy Award in the nomination "Outstanding Direction of Children's, Youth or Family Programs".
In December 2005, Hayek shot a music video for the singer Prince entitled "Te Amo Corazon" ("I love you, sweetheart"), in which her friend Mia Maestro played.
In September 2006, Salma Hayek became the executive producer of the television series Ugly Betty, which was broadcast around the world from 2006 to 2010. When adapting to American television, she was helped by Ben Silverman, who owns the rights and texts of the Colombian telenovela "Yo soy Betty, la fea", released on screens in 2001. Initially, in 2004, the project was planned as a half-hour sitcom for NBC, but later, in 2006, it was picked up by ABC and given to producer Silvio Horta.