Farm Frenzy 3 [ONLINE]
The long-awaited continuation of the casual series. Business arcade in a rustic style. Welcome to Farm Frenzy! During your absence, much has changed - the money-hungry bureaucrat Orson took over as chairman of the Farmers' Union and does not want to know about the needs of the simple peasantry. Cheerless Scarlett is taken to help his comrades in misfortune. The girl will go on a journey around the world, and not just like that, but with a good purpose - she will raise unprofitable farms. Ahead - 90 exciting levels and plenty of opportunities for development. This wonderful strategy offers you an updated game mechanics. Now it is not at all necessary to buy poultry, the chicks can be bred in their own incubator. Tired of bears? Dress up these marauders in colorful carnival costumes and sell three times more expensive! This is your business!
Game Features Farm Frenzy 2
* 90 exciting levels
* 15 exotic animals
* 5 farms in five different countries
* improved graphics and sound
* many other improvements
In addition, you will help Scarlett lead the Farmers Union.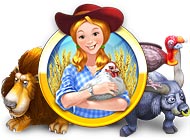 [
DOWNLOAD GAME
]

Cheats for the game Farm Frenzy 3
* Z - sow the whole field with grass
* M - each click - +10000
* N - level passed
* S - level passed for silver
* G - level passed for gold
Passage of levels of Farm Frenzy 3: